You can turn off low data mode in the iPhone or iPad to unleash the internet bandwidth in the device. Apple added LDM in the iOS software, similar to what is available on the Android operating system. It's not a complex feature, and the developers made it easy for the users to apply during low data situations. I will show you how to enable and disable low data mode in iPhone and iPad and provide in-depth information on it.
What does low data mode do in iOS software?
Internet is an essential commodity in the modern era, and there is a survey that proves it. A statistic shows that 90% of the users choose a smartphone to go online, and that's about 4.28 billion devices around the world.
Larger battery capacity is a demand coming from the consumers, and it is a selling point in the newer models.
The latest Apple iPhone 12 Pro Max houses a 3687 mAh battery, whereas, iPad is housing Li-Po (40.88 Wh) battery. I won't say that it is the best battery capacity in the smartphone market, but it gets the job done in most cases.
Apple optimized the software to utilize the battery in a way, where it will last an entire day without charging twice under normal usage. It has control over the hardware and software, and that's what they did with the internet data consumption in the iOS device.
The "low data mode" will restrict the background services from using the internet, so you can save data.
The iOS software halts automatic updates, iCloud sync, photos sync, and other services. A lot of restrictions come into play and will reduce internet data usage.
How to disable low data mode in your iOS device?
Open the Settings and choose Mobile Data.
Tap on Mobile Data Options.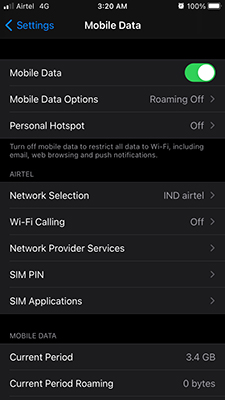 Toggle to disable "Low Data Mode" and it will turn off.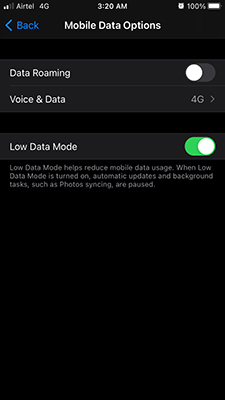 That's it, you have successfully turned off the Low Data Mode in the iOS device. The internet restrictions are no longer bothering the iPhone or iPad.
How to turn off low data mode on Wifi network?
Yes, you can turn off the low data mode of the Wi-Fi network and unleash the maximum internet speed.
Open the Settings and choose Wi-Fi.
Tap on the "i" button beside the connected network.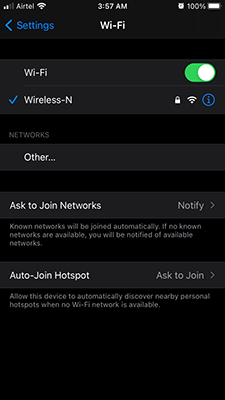 Toggle to enable "Low Data Mode".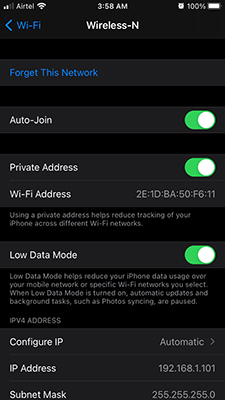 Low data mode is turned off in the connected Wi-Fi network.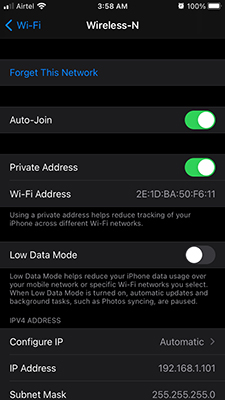 I did look for a way to add a shortcut in the Control Centre, but it was missing. Apple should add more controls in the system, so you don't have to enable such minor features manually.
How to reset iPhone mobile data statistics?
Monitoring is part of the process, and that's how you can determine whether Low Data Mode is working or not. You can reset the mobile data stats manually and track how much is being used on an hourly basis.
Open the Settings > Mobile Data.
Tap on "Reset Statistics".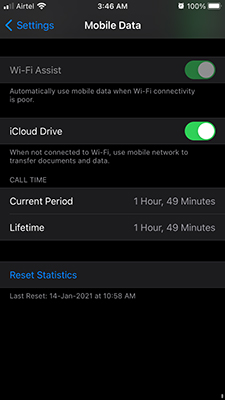 Confirm the action by tapping on "Reset Statistics".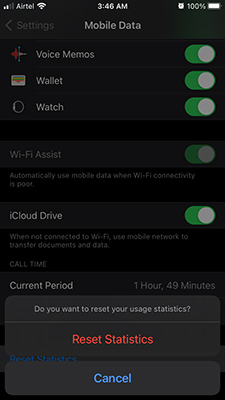 The old history is removed.
Now, you can monitor how much mobile data is being used with and without low data mode.
What restrictions does low data mode adds?
The concept of saving comes from sacrificing something equivalent, and that theory applies here as well. You are indeed sacrificing quality and saving data instead, which is a fair bargain in this case. Allow me to list down several things that have been affected by the low data mode.
A. Background apps won't fetch new updates.
None of the apps will fetch new updates such as new emails, new messages, notifications, and more. It disables the background refresh feature, so you have to open the apps manually for unread emails.
B. Downloads stops.
Yes, if you were downloading an app update or iOS version update, and then it will promptly stop.
C. Apple Service will be paused.
iOS is all about Apple services such as iCloud sync, Weather app, Photos sync, backup, and more.
D. FaceTime quality will decrease.
Yes, if you are receiving FaceTime video calls, then the iOS device will decrease the bitrate, so you can save data. Higher bitrate in the video call results in good picture quality and lowering it will bring the output quality down.
E. Video content quality drops.
We consume a lot of media from streaming apps such as YouTube, Netflix, etc. The LDM will reduce the quality because it consumes a lot of internet data.
F. Music quality will be reduced.
I said something about streaming, and services like Spotify come under the streaming category. If you stream music over the internet, and then you can expect Apple Music, Spotify, and other services to adapt to the low data mode rules.
Does turning on low data mode save battery?
The answer is "yes" because the background apps and services frequently refresh, so you can receive newer updates. A lot of processes run in the background that we don't monitor and they end up consuming a lot of battery charge.
The low data mode blocks the background running apps from accessing the internet, so your device juice is not being used up.
Whereas, other apps didn't even use a single charge, so your device will only let active apps use the internet. I wanted to watch a couple of videos, so I opened the YouTube app, so it will allow the YouTube app to access the internet.
Is low data mode bad for iPhone?
Misconceptions do create a panic state among the iOS device owners, and it's important to know whether this will damage your device battery or not.
No, low data mode does not harm your device or internet plan whatsoever.
Do not worry about the battery charge issues or any problems with the carrier.
Bottom Line
You can turn on and turn off low data mode on iPhone and iPad devices. Apple added a dedicated option to restrict internet data usage in the connected Wi-Fi network, so make sure to utilize it.