Is your iPhone battery drains in an idle state? Many iOS users have reported that the latest iOS 15 and 14 is draining the battery in older devices. We have to blame the manufacturer for it as they did not test the battery impact on the older iPhones, but they are taking necessary precautions in the next software update. We are going to explore contributing reasons and solutions to resolve battery drain.
Why is the iPhone battery draining in standby mode?
iOS is an optimized software for the iPhone and iPad that ensures that your battery is not draining throughout the night or when you are not using it. There is no doubt that iOS optimization consumes less than 5% while you are sleeping the entire night.
The iOS 14 update has taken a toll on older smartphones because it's consuming a tremendous amount of battery charge. Many device owners have reported that they are charging thrice a day after the iOS 14 update.
We encourage the users to update the software to the latest version and read online reviews to ensure that it doesn't invite new problems.
Battery Consumption Stats
Many apps that are not optimized for the latest iOS software can end up consuming more power. Apple developers team added the battery statistics section in the iOS software, and you can find out which app is using more charge.
Tap on the Settings > Battery.
Swipe down to find out which app was using a higher battery charge.
Tap on the app or service to view on-screen battery charge time.
You can find which app or service is using battery charge and time as well. You can find out whether this was happening due to your heavy usage or iOS is failing to optimize the battery. There are times when apps consume plenty of charges while running services in the background, and you can find out by taking a look at stats.
Battery Health
iPhone battery is not unique, and Apple is using the traditional Li-Ion technology. Unfortunately, the iPhone 12 battery capacity is 2815 mAh only and if it begins to degrade then you have to suffer from lower battery life. Older Apple devices do suffer from battery degradation and in such cases, you should consider a replacement. You can find out whether your iPhone's battery life is healthy or requires battery replacement.
Tap on the Settings > Battery > Battery Health.
Find out the battery health via percentage.
If you don't know what a healthy battery percentage looks like then we have listed below for knowledge and understanding of your iPhone battery health.
Good Battery Health: 91% or above.
Average Battery Health: 80% or above.
Battery Replacement Required: 70% or below.
Your iOS device will inform you with a message saying, "Your battery's health is significantly degraded." Many old device owners replaced the battery for optimal performance and long-lasting battery life.
Turn on Low Power Mode
Apple developer's team introduced a new way for the iPhone and iPad users to conserve energy when the battery charge is lower. Fortunately, if you cannot afford a new replacement battery or don't have access to the power socket, then you can use this feature to prolong the battery charge.
Click on the Settings > Battery > Low Power Mode.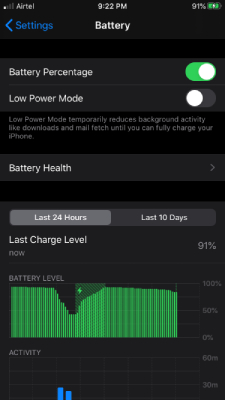 Tap on "Continue" to enable it.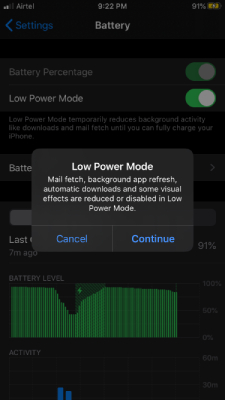 Your iOS device will stop background applications and services to continue running the functions. The iOS software will converse energy to ensure that you will have enough time to charge the device at 100%. Remember, you should turn off the Low Power Mode, once you have charged the device because it does interrupt background services.
Control Background Activity
If you cannot depend on the Low Power Mode to limit the background activity, then you can take matters into your own hands. iOS does allow the device owners to take control over which service or app is running in the background.
The good part is that you can turn off specific apps from running in the background, such as WhatsApp or location services. All apps or services will work normally when you open them, so you are not losing any important features.
If you disable the Twitter app, then it won't refresh the service, and you won't get new information such as notifications and replies.
Tap on the Settings > General > Background App Refresh.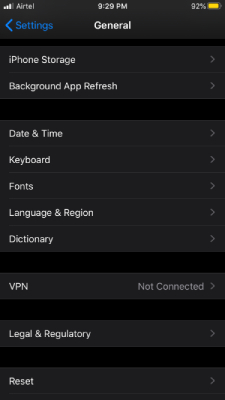 Click to disable the apps and services from running in the background.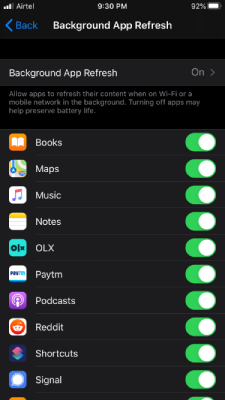 In case, if all options are grayed out then turn off Low Power Mode.
Reset iPhone
Resetting the iPhone is the worst-case scenario because it could be a software-related problem. I had minor iPhone software-related errors, which were solved after resetting the iPhone, and it was worth it. The battery drain might be happening due to incorrect configuration or software bugs. You can get rid of all software-related errors by resetting the iOS device.
Tap on the Settings > General > Reset.
Choose to Erase All Content and Settings > Erase Now > Finish Uploading Then Erase.
Complete Face ID or Passcode confirmation, and resetting will begin.
Let your iOS device reset all settings and erase content, and it takes less than ten minutes. Set up the iPhone as a new device and do not restore any apps because you have to identify the culprit. Install one app at a time and test the iPhone battery drain.
Final conclusion
Battery drain in iPhone is directly connected to degraded battery or iOS software update, so you should read online news before making a decision. Older iPhones do suffer from performance decline and lower battery life due to modern software demand, but a battery replacement can resolve all problems to some extent.