Did you find iMessage bubble color changing options in the latest iOS 15 version? Ever since I got my hands on an iPhone, I could not get over with iMessage, and that's how powerful the texting platform is on Apple devices.
The company unable to keep up with the modern features that rolling out in Android phones and customizations plays a big role. In iOS 12 and iOS 13, we did not find enough customization options.
Apple introduced Animoji, Memoji, and Stickers that changes the interaction level in the texting platform, but they missed out on the idea to change the iMessage bubble color.
In this tutorial, I'm going to show you how you can add change to the bubble color in iMessage and it works on the older iOS version.
How to change text color on iPhone in iOS 15/14
The world has enthusiastic developers around the globe, who understand the value of customization, and came up with a solution, which is an application.
You can download Color Text Messages for iMessage that works on iPad and iPhone. The solution supports iOS 10 or later running phones.
Create a new message or open an existing text message and tap on the "Color" icon to view the section.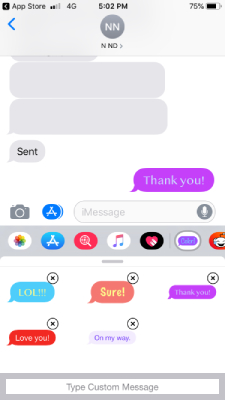 Tap on "Type Custom Message" to send a message in your own words.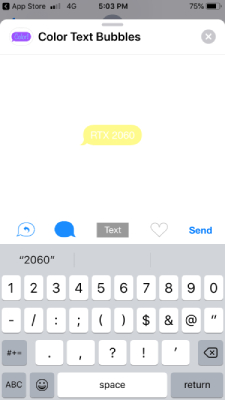 Enter the text that you want to rely on the recipient, and then tap on the blue "Text Icon" or bubble icon to continue.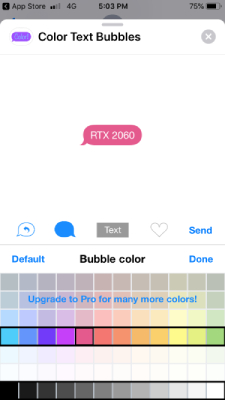 Now, you have a color bar opened in the keyboard, and select one desired color to continue.
The bubble iMessage is created, and tap on the send button to deliver it.
In this short guide, I have shown you how you can change the Messages Bubble Color. I did not mention plenty of features and limitations of the application.
Make sure to read the entire guide properly because I mentioned everything that you need to know about the Color Text Bubbles on iMessage.
Top Color Changing Apps For iMessage
There are now a plethora of apps on the Apple App Store that allow you to alter the color scheme of your iMessages. But how exactly will you choose?
Below is a selection of iOS applications offering extensive color customization options:
Step #1: Choose your bubble style, Color, and typeface
Step #2: New Awesome Keyboard Fonts
Step #3: iPhone Keyboard Skins
Step #4: Optional Color Texting Message Personalization
Step #5: FancyBubble, iMessage Skins for Text and Emoji.
Step #6: Messages in Real Time: StickLive
Step #7: Colored iMessage bubbles, number seven
Step #8: Chat With Colors
How Can I Make iMessage Blue?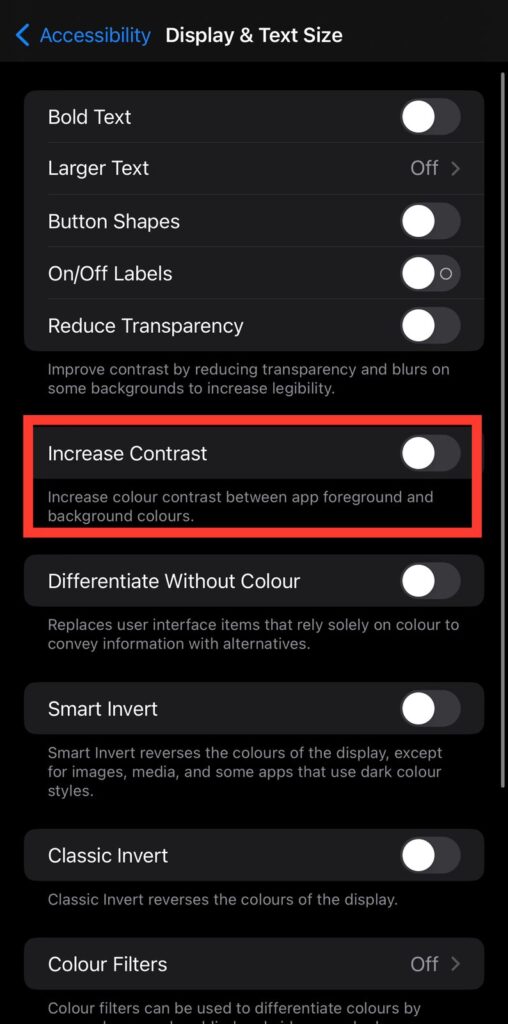 If, for whatever reason, you are unable to alter the iMessage color, merely darkening the blur will provide the same stunning effect.
Seeing a friend's dark blue iMessage bubble color may have inspired you to seek out that option for yourself.
Learn how to make iMessage blue with the following simple steps:
Step #1: Access the iPhone's "Settings" menu
Step #2: Select "Accessibility" from the menu.
Step #3: Select "Display & Text Size" from the "Vision" menu.
Step #4: Click "Increase Contrast."
You don't need a third-party program or jailbreak your iPhone to get this dark blue iMessage coloration.
Are We Altering The Message Bubble?
No! On iOS, you can't alter the Color of the chat bubble. You may choose between blue, green, or grey bubbles by default.
You would have to jailbreak the phone to change the iMessage color, which is obviously against Apple's policies. In that case, why are we even here?
Everything you find in the Apple App Store will give you the impression that you are sending a personalized speech bubble.
But unfortunately, that's not the case. Remember that you are not genuinely sending a message but rather a picture with some text.
The Quickest And Easiest Way To Modify Your iMessage's Color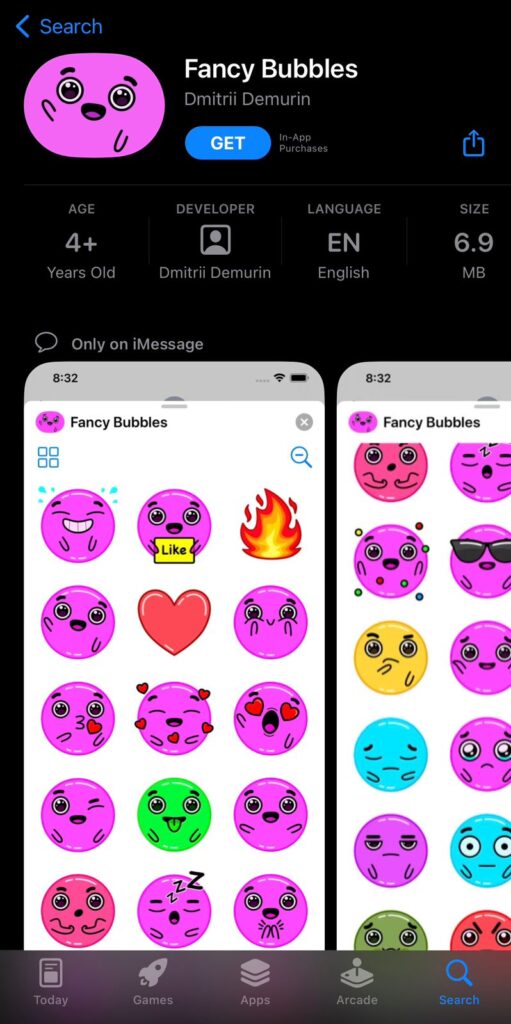 To modify the color scheme in iMessage, we'll use a third-party program called FancyBubble. You may use any other apps mentioned in this post to change the Color of your iMessage bubbles.
Step #1: Go to the Apple App Store.
Step #2: Download "FancyBubble."
Step #3: After installation is complete, launch "iMessages."
Step #4: Assuming a dialogue is already in progress; step four is to initiate it. Create a discussion if there isn't already one going on.
Step #5: The FancyBubble symbol will appear on the keyboard when you start typing a message (on the app bar).
Step #6: Now select a bubble color and a message from the available options.
Step #7: Enter some text and hit the Send button.
If you prefer not to use the keyboard to alter the Color of your iMessages, you should know that this can also be done within the app.
If you want to use the FancyBubble app to customize the Color of your iMessages, follow these simple instructions.
Step #1: Open FancyBubble on iPhone.
Step #2: A wide variety of speech bubbles may be seen in the screen's footer. Pick the one that best suits your needs.
Step #3: Enter your text into the text box.
Step #4: A menu will appear to the left of the "Send" button. To access it, tap the icon and choose "Messages."
Step #5: Select "Messages" from your list of apps, then hit "Send."
Step #6: Launch "Messages" Choose the person you wish to send the message to.
How to uninstall the Bubble color of Text Messages or iMessage
The controversial low-ratings were contributed by a lack of information on how to uninstall the application from the keyboard. Unfortunately, you don't find the application in the menu to uninstall it traditionally.
We cannot blame the developers because Apple designed it in this fashion, and everyone has to follow the pattern.
Open iMessage thread.
Tap in the texting box and swipe left in the application bar until you find (…) option.
Tap on (…) to continue.
You will find "Color Text Bubbles" in the keyboard extensions.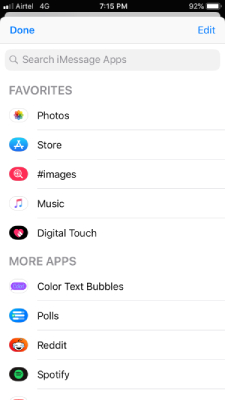 Now, swipe left to view the "Delete" button and then tap on it to remove it permanently.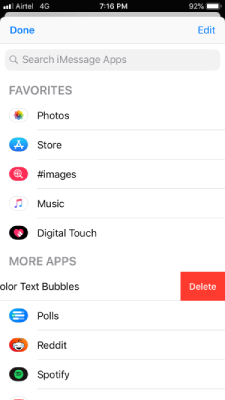 Wasn't that easy to follow? We cannot blame the developers, and Apple designed the keyboard in such a way that it could land the consumers in space of confusion.
Regardless of the complex method, you can uninstall the keyboard extension permanently and it is the same method for other similar apps.
Additional Ways To Change Text Message Color In Messages On An iPhone
Download The Text Bubbles Coloring App
Using the third-party program "Color Text Bubbles," iPhone, iPad, and Mac users may choose the Color of their outgoing messages. Here are the steps to take to utilize Color Text Bubbles on your iPhone:
Step #1: Search "color text bubbles" on the App Store.
Step #2: You may get it by tapping the result and tapping "GET."
Step #3: Launch the program and create a new iMessage or access a current one.
Step #4: Access the app's coloring features by tapping the "Color" icon, which should be located above the on-screen keyboard.
Step #5: To leave a personalized message, select "Type Custom Message," then write your words inside the speech bubble. You can also use one of the pre-written standard messages
Step #6: Please select the blue "Text Icon" or bubble icon to proceed.
Step #7: A color palette called "Bubble Color" will appear next to the keyboard. Pick a hue to express yourself.
Step #8: When you are ready, click the "Send" button. If an advertisement appears, you may avoid it by waiting five seconds and then tapping "Later."
Step #9: It will be used in your message if you've selected a color.
Sending a Message with Effects
You may use animated full-screen effects or bubble effects to modify the appearance of your bubbles.
A "Memoji" sticker, available in a bubble or full-screen format, is also an option. To incorporate a bubble effect, you should do the following:
Step #1: Launch iMessage on your iOS device, and then hit the "Compose" button to start a new message or pick an existing conversation.
Step #2: After writing your message or attaching your photo, hit and hold the "Send" button.
Step #3: To activate the bubble effects, press the gray dot.
Step #4: If satisfied with the results, click the "Send" button again.
To implement a full-screen mode, do as follows:
Step #1: Click "Compose" to start a new iMessage or find a chat.
Step #2: Input your message here.
Step #3: Select "Screen" by holding down the "Send" button.
Step #4: Swipe left to see the transitions in all their glory.
Step #5: Select the "Send" button when you're ready to send your message.
Sending With Camera Effects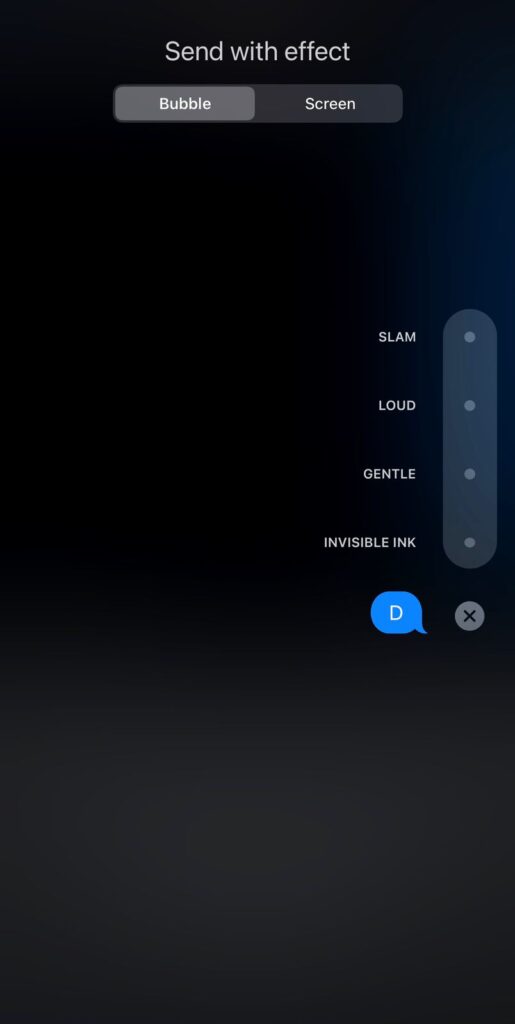 Add some drama to your chats by using the camera effects. Incorporating Memoji, fun stickers, filters, text, and more into your images and videos is now a breeze with this tool. Here's how to communicate using camera effects:
Step #1: Open Messages, create a new message or locate an existing one.
Step #2: Invoke the camera by clicking its icon.
Step #3: Select an effect, such as a Memoji or an iMessage app, by tapping the star-shaped "Effects" icon. You may modify a video or photograph in several ways.
Step #4: Once you've reached the desired outcome, click "Done."
Step #5: To add a message, click the "Send" button or "Done." If you decide you don't like the photo or video, you may select another by clicking the "X" in the upper right corner.
Adjust Your iPhone To Your Specs
It's possible to add a little flair to your iPhone by learning how to alter the color scheme of iMessages. For a long time, Apple was notoriously restrictive regarding customization options.
Users of more recent versions of the iPhone have far more leeway in aesthetics. You may now use Dark mode or install custom fonts on your iPhone for an even more distinct appearance.
Conclusion
Various updates keep coming every day for iPhones. You may find new features now and then. However, many of us still have trouble changing the bubble color on iMessage.
The abovementioned methods will help you change your bubble's colors on Text Message or iMessage. Hopefully, this article helped you know how to change the text message or iMessage bubble color.
That's it from my side. For more information, stay tuned!