There are times we send embarrassing text messages and then try to find ways to unsend Messages on iPhone and iPad. Millions of texts are sent every day from iOS running devices and iMessage is the major platform for iPhone & iPad. If you are looking for a way to reverse a delivered message in the inbox of your loved ones, client, friends, or colleagues, then this tutorial is for you. You can find many solutions out there that promise to unsend the sent message and we are going to bust some myths and provide accurate information on the situation.
Can you delete a text message sent to the wrong person from your iPhone?
Many have the misconception that Apple allows the users to remove sent messages from both devices, but the American company is known for privacy. Apple's selling point is "Privacy" and they have made an advertising campaign for a long time.
If you have sent an SMS, MMS, or iMessage, then it will be delivered to the recipient.
iOS official developing team designed the technology keeping "Privacy" in mind. In short, you cannot delete the sent messages from both devices.
You can remove the sent or received texts from the phone, but it won't reflect on the recipient device.
In short, there is no way to unsend a delivered message regardless of its format. Apple doesn't allow the users to play around other privacy and make them fool using this function. WhatsApp & Facebook implemented this function, but it is not available on iMessage or regular SMS because the Cupertino-based is thinking a lot here.
IOS 14 might have the removal function in the official release, but it doesn't exist in iOS 13 or earlier versions due to privacy issues. Even though many social media applications have already implemented it, and it did receive a lot of support from the users. Apple might implement the delete function in the upcoming mobile operating system update, and they will roll the feature for MacBook & iMac operating system as well.
How to prevent iMessage from delivering?
Yes, there are technical limitations in Apple's instant messaging platform. You can use the loopholes to prevent sending embarrassing texts, videos, images to colleagues, or unknown contact. iMessage takes a little bit of time to compress images, videos, and other elements and then deliver it to the recipient. Apple server also makes a difference in this process and if it is working slowly or under maintenance, then you can experience delays.
Try to send the picture or video via iMessage.
Swipe up for the control panel to access quick settings.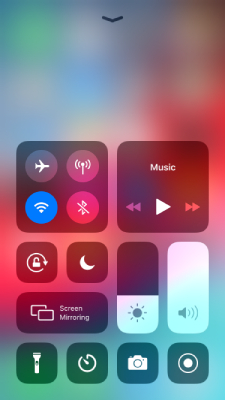 Your message won't go any further, and remains in the device.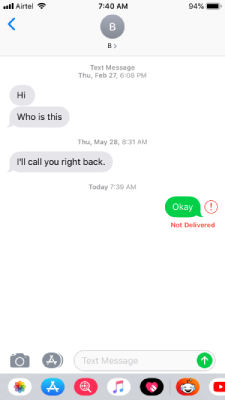 Tap & hold for "More" options.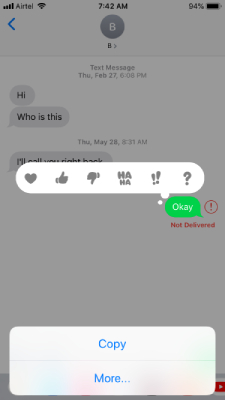 You have two options here,

Delete All
Trash can icon located at the bottom left side

Tap on the "Trash Can" icon to remove the one message. You can tap on "Delete All" to wipe it an entire conversation.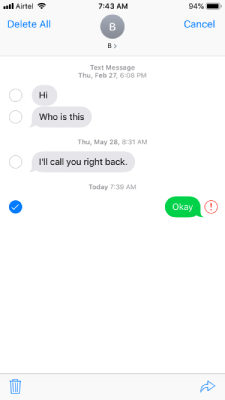 I have chosen to wipe out the entire conversation, and it's empty now.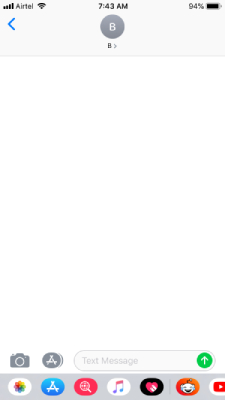 That's it, you can go back, and your message will be unsent. However, this technique doesn't work with plain texts because text size is always below 1 KB. If you have a good internet connection, then it would be sent instantly. However, the message won't reach the recipient, if the element is media like Image, Picture, Video, etc.
Frequent Asked Questions (FAQ)
Why iOS 13 doesn't have unsend feature?
Apple has always been slow in adding new features because they have many things to consider like old devices and create a stable environment.
Reversal feature is going to come anytime soon?
iOS 14 is rumored to have this function in the software, but there is no official announcement on it.
Can I do unsend an iMessage on iPad & iPhone after Jailbreaking it?
No, do not try any shady applications from Cydia that promises to do it.
Is the explain method applies to iPad & iPhone?
Yes, it works flawlessly with iOS 13 running devices and you can experience the best out of the latest version. However, this method might not work on Mac OS X as Wi-Fi connectivity is faster and superior in many ways.
Bottom Line
As of now, there is no official way to retract an iMessage on iPhone and iPad. The Cupertino-based manufacturer doesn't seem to add the feature anytime soon in the iOS 14 and maybe introduced in iOS 15. Regardless of the fact, you cannot reverse what is sent but you can prevent it from happening shortly. Let us know your thoughts about iMessage's missing features in the comment section below.