We face problems when we have an important meeting coming up and find out that the iPhone is not receiving text messages. We cannot blame the network for all the things that happen to our phone, and we have to look deeper into the problem and solve them accordingly. I understand the position of the individual and provide solutions that could be implemented anywhere and in any place. Make sure to create a full back up of the device because there is a higher chance of losing personal data.
Check Network Connection on an iPhone
The obvious suspect would be the network connection because SMS/MMS is directly connected to the network operators. Check the connectivity problems and then consider calling the customer support team for further information. Your network operator may not have a proper installment in the region and that could be the reason for frequent disconnections.
Fire up "Settings" and click on "Airplane Mode" to enable it.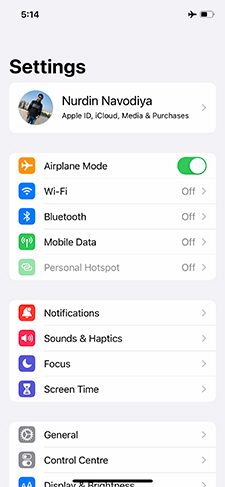 Leave the phone for two minutes, and disable the "Airplane Mode" by tapping on it again.
You can remove the SIM card and clean the card physically using cotton buds. Old SIM cards do suffer from wear and tear, and they need cleaning occasionally to remove dust particles and building rust. Occasion cleaning removes plenty of dust particles and increases SIM card lifespan.
iMessage Misconfiguration
Apple devices designed to assist consumers in day-to-day life but things can wrong anytime. Do not ignore early notifications about service failure, and it could lead to many problems, and I encountered one of them. iMessage signed out of the device without my knowledge, and I had to sign in again for unknown reasons. Make sure to have enough credit balance for the regular SMS and connectivity.
Open the "Settings" app and search for "Messages" and then tap on it to continue.
Tap to enable iMessage service. In some cases, iMessage will remain enabled but it doesn't work normally, so you have to disable it and then re-enable it to remove software glitch.
A confirmation popup shows up and taps on "OK" after reading the message.
The iPhone will contact the Apple server for registration or sign-in process, and you will receive a confirmation.
Try to contact any recipient and double-check, whether the service is working normally or not. Remember, if iPhone Messages is not working including iMessage, then none of this will work out. iMessage is an internet-based service provided by Apple, and contacting customer care can provide further information on the regional network problem.
Activate or Enable Wi-Fi Calling (Quick Solution)
Many Telecommunication companies have brought Wi-Fi calling services to the platform. The newer technology embraces Wi-Fi connectivity and by enabling Wi-Fi calling, it will start searching for not received messages.
Open the "Settings" and search and tap on "Phone" to continue.
Tap to enable "Wi-Fi Calling" to continue.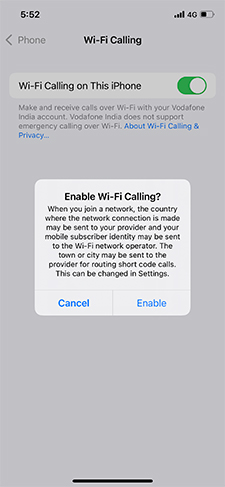 Unfortunately, the Wi-Fi calling feature is not available in many countries. I could not show the unique technology compatibility due to limitations in my region. The newer technology shapes slower in many nations due to the internal telecom problems and challenges in spectrum business. Currently, Apple supports Wi-Fi Calling on iPhone 5c, iPhone 6 or later models. Contact carrier support team for further information on the development and features availability.
Check Apple Message Server Status
Apple added a webpage on the official website, where you can check online services status including iMessage. I have already mentioned above that iMessage is directly connected to the Apple server.
Green color indicates that everything is running smoothly, while yellow color signifies that there is a problem and certified engineers are fixing it. Red color means that they have identified the problem, but yet to be addressed.
Switch off the iPhone and Turn it On
In a small survey, we found that only 1% of the smartphone consumers turn off the device in a week. Even a machine is required to have sleep time in a week because of many contributing reasons, and I want to point out the "Rebooting" function here.
Restarting the device triggers the phone to dump temporary files and cache from the phone. A new session does not hold previous session data; thus you have glitches free mobile operating system. Reboot the phone and give it a minimum of half an hour of sleep time in a week.
Update or Reset your iPhone Network Settings
Update Network Settings
In iPhone devices, the carrier doesn't send separate SMS/MMS settings for it in many regions. Apple devices receive all-in-one configuration, and you have to update it manually. Sometimes, the smartphone doesn't renew the configuration automatically or we could have ignored the alert and that could land us in trouble.
Click on the "Settings" and "General" and then tap on "About phone" to continue.
Swipe down a little to find "Carrier" or "Network Operator" and tap on it to update the settings.
The mobile operating system will automatically start looking for new information and apply the configuration. After tapping on the "Carrier", if the field says "IMS Status – Voice & SMS" then you don't have to take any further action.
Reset Network Settings
The last resort is resetting carrier settings and iPhone & iPad allows the consumers to do so. Remember, you could lose saved form network-related data and nobody can recover and keep this one reminder in mind.
In a few moments, your carrier will realize the changes, and send newer configuration thus solving the problem. Also, you are losing network-related data including Bluetooth, and Wi-Fi saved form data.
Conclusion
You can solve iPhone not receiving text by resetting the "Network Settings" but you will lose Wi-Fi connections including saved passwords and more. However, I do recommend network settings reset, only, if you are willing to give up some of the network-related data.