iPhone and iPad is a revolutionary device coming from Apple. Only a few consumers are educated about delete documents and data from the iPhone or iPad. Apple developers bundled the iTunes for the MacBook and Windows PC, but it lacks features. Apple is known as a control freak when it comes to their technology so that they can expose customers to the premium eco-system.
About Documents and Data : You Must Know
You might be thinking, why would someone remove documents and data on iPhone? Apple's smartphone integrated with 64GB to 256GB of internal storage without no memory expansion option. No one can find an iPhone offering memory slot so that they can expand the storage. The consumers stuck with limited storage and there are so many iPhone's in the market with 32GB (27GB free memory) available.
A smartphone runs at least twenty apps on average, and you can imagine the kind of cache, and apps information saved in the internal storage. Nowadays, demanding & popular games have gotten larger in file size, and no one can do anything about it.
A game like PUBG Mobile takes 2.2GB of download + 4.0GB after installation. Over time, the mobile game consumes plenty of space in the internal storage leading to unnecessary bloatware. Whatsapp application easily consumes 2.0GB from received data and sent data.
The RAM management on an iPhone has gotten better, but the smartphones cannot control the applications cache, received files, sent files, saved form data, etc. A consumer has to work on the application saved data because smartphones cannot delete them because of personal choices.
How to Delete Documents and Data from your iPhone and iPad
No one can solve the problem permanently because the users keep using the mobile internet, send texts + media, receive texts + media, and keep downloading new applications. You have to keep an eye out on the applications and control the internal storage consumption.
Smartphone software cannot control the application saved form data because it is a personal choice. App developers might need the data to run the services smoothly. In short, consumers cannot blame Apple, App developers, and us.
Apple optimization algorithm doesn't eliminate unnecessary files from the phone. The device owners have to step-up and start cleaning the phone because time fills up the yard with unwanted files in the core system. You don't need the junk files, and iOS cannot determine it. I'm going to suggest a few things that everyone can follow to keep the phone clean by deleting Documents and Data manually.
Offload unutilized Application
Delete an application manually along by using the document and data feature. By reinstalling the app, you can restore the files, but this time it won't recover the piled up junk.
Tap on the "Settings" icon to explore the options.
Scroll down a bit, then tap on the "General" option.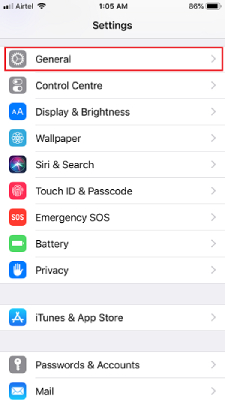 In the middle of the options, you can find "iPhone Storage" tap on it to continue.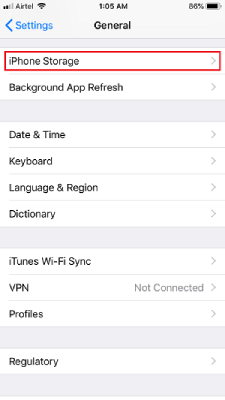 Select applications that you think consume a lot of storage on the phone.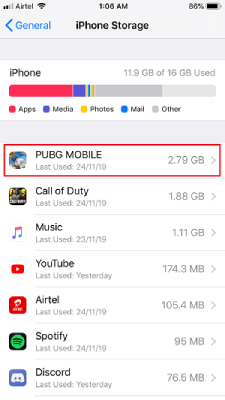 Tap on "Offload App" in the options.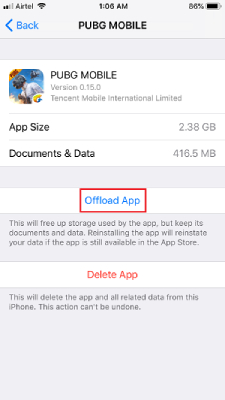 A confirmation pop-up will appear on the screen and click on the "Offload App" to confirm.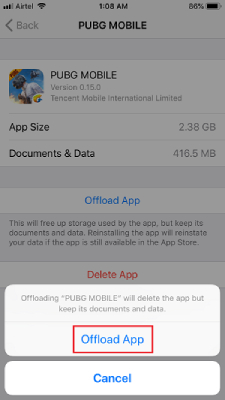 In a few moments, iOS will unload the application from the system and offers a reinstallation option.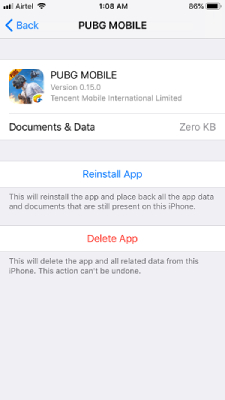 Apple mobile operating system allows reinstallation of the game or utility, and you can access the game without interruptions. I've seen PUBG-M, Spotify, WhatsApp, and other similar innovative creations consume plenty of space with time.
Remove Messages
Nobody pays attention to the "Messages" function because it is kind of irrelevant in the subject. Not everyone thinks that plenty of large file size content exists in the Messages application, and that's your assumption. Even small files can make a bigger impact on the storage space when the number grows gradually with time. You need to keep an eye on the texting platform because they do contain media files and can increase storage space.
Tap on the "Settings" icon to start the process.
Find "General" in the settings and tap on it.
Click on "iPhone Storage" and it should be somewhere in the middle.
Find "Messages" from the list and tap on it to continue.
Tap on any media folder to continue and start deleting the files manually.
I recently reinstalled iOS software using iTunes, and I got nothing in the Messages folder to show. However, you should find plenty of data stored on the phone, and detailed information is available in the SMS media folders.
Remove Media Files from the Phone
I recommend deleting Photos, Videos, GIF's, and other manually. You don't need a special guide to learn to remove the media manually because it is an easier job. By opening the Photos, you can access pretty much all media files in one place, and it will consume plenty of time. Be patient and start removing unwanted files from the phone.
Delete Browsing Data and Website Data
Safari is a flagship browser offered by Apple, and it is a premium browser that rivals Google Chrome & Mozilla Firefox. The behavior of the browser doesn't follow Chrome or Firefox whatsoever. Safari stores plenty of data related to the websites to offer stability and responsive loading speeds. We have to clear the website data and browsing history from time-to-time. Nowadays, millions of websites have become responsive, and Safari stores plenty of sites saved form data.
Open "Settings" and then scroll down to tap on "Safari" browser.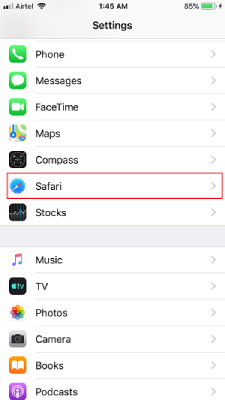 Scroll down to the bottom and then tap on the "Advanced" option.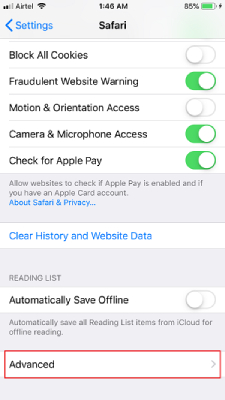 Tap on "Website Data" to continue.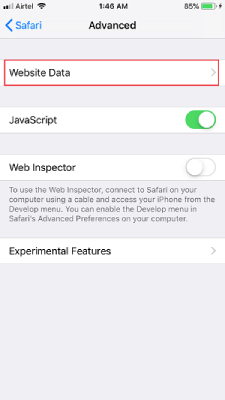 Now, tap on "Remove All Website Data" to continue.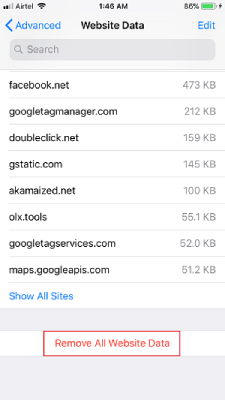 Tap on the confirmation pop-up, and it will automatically clear the data.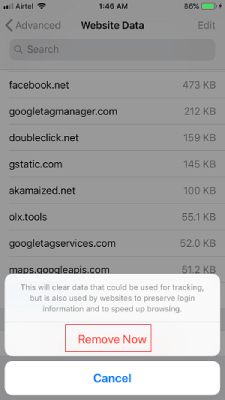 Do not worry about deleting saved formed data because none of the passwords, usernames, saved information, and others will be deleted. You need to wipe out bookmarks manually from the phone, and removing the website's data will not cause personal data loss.
Clear Browsing History along with Website Data:
Open "Settings" and then scroll down to tap on "Safari" browser.
Scroll down to the bottom and click on "Clear History & Data."
A small window will pop-up on the screen and then tap on "Clear History & Data" to complete the process.
Remember, you won't lose bookmarks whatsoever, and you will lose saved Passwords, Credentials, Login information, and others.
Bonus Tip
There is a Windows and MacBook software called "Dr.fone," and it has a feature called "iOS Optimizer." You can download the software from the official site for free, and start using the functions immediately. It is premium software, so check out the second method as it is a free option.
Step 1: Connect the iPhone or iPad to computer via USB cable. Once the lighting cable connected to the computer, then click on "ERASE."
Step 2: The next page is all about erasing or optimizing the phone, and click on "iOS Optimizer."
Step 3: Again, you have several options on the next page, and click on each of them to clean the data from iPhone or iPad.
iOS System Speed-up: Dr.fone will begin an in-depth scanning in internal storage. All junk files, and deleted fragment files permanently, and it improves the performance in the next restart.
Temporary Files: An in-depth scanning will reveal temporary files like deleted fragments, interrupted downloaded files, remnants of old files, corrupted files, and more.
App Generated Files: Applications are the main cause of junk filling in the storage. The iOS system does not touch them due to the policies, but you can wipe them up using iOS optimizer.
Log Files: Apps installed in the iPhone or iPad create log files, and it doesn't wipe them from time-to-time.
Cached Files: The features allow the consumers to get rid of the cached files such as apps generated and iTunes synchronized.
Removed Unused Apps: A quick solution to remove not used applications for 15 days.
Now, we have explained the options, so go ahead and try them out.
NOTE: Create a back up of the files to ensure that you have not lost Photos, Texts, Media, etc. from Messenger, Whatsapp, Telegram, and more.
Step 4: Select the files to delete them from your end, and then click on "Cleanup."
Step 5: The software will begin scanning the device for such files, and you can monitor it.
It might take a few minutes to complete scanning because it depends on the number of files installed in the device. Your computer hardware plays a major role in speeding the function.
Reduce or Delete App Data on iPhone
There is a popular saying in the states "protection is better than cure," and it does apply to an iPhone or iPad device.
You don't have to go through all of the manual steps until or unless you are following the crucial steps.
Always keep an eye for Whatsapp, Messenger, Twitter, etc. saved media files. Immediately delete media files that do not impact your life.
Delete the files from the downloaded folder. You don't want to keep interrupted files, corrupted files, and unrecognized files in downloads.
Always delete unnecessary documents and data that do not have a purpose.
Save important content in iCloud.
Delete duplicate Photos or media manually.
I utilize a cleaning app for getting rid of caches such as Image thumbnails, Apps data, and more.
Conclusion
iPhone & iPad devices might have reached peaks in the market today, but the hardware doesn't seem to add greater value to the world. The limitations of an iPhone & iPad still exist in 2021, which is ironic. The most valuable company "Apple" is restricting iOS in several ways.