iPhone cleaner is a popular term among iOS loyal customers because iPhone's slow down a little bit on daily usage. I don't deny that iPhones do get slower, and it doesn't get an inbuilt option to clean the phone. Although, Apple claims to have high optimized iOS software, and it doesn't require a cleaner because iOS is good at managing RAM and storage.
I do agree that iOS 12 or above devices are highly optimized because I have experienced it on iPhone SE running iOS 12. For older generation phones such as iPhone 6 or iPhone 5S, indeed need a cleaner. They might be running iOS 12 or above, but they don't seem to do well with lower RAM and older CPU.
How to clean up my iPhone or iPad?
The app store policy allows third-party developers to come up with unique applications, and they allow in the store to download. Apple does not provide cleaners, so there is no official solution, and I will put up a list of cleaners for Apple iPhone and iPad customers.
The number of cleaners that I have mentioned in the list may work or may not work. High-end iPhone's don't need cleaners because the hardware in the phone should won't get bothered by the junk. Mostly, older phones or entry-level iPhone's will suffer from the performance.
4 Top Best iPad and iPhone Cleaner
I'm going to introduce four cleaners that will bring the smartphone back to its glory. The cleaners will get rid of the system cache, unusable files, thumbnails, unwanted files, similar content, etc. By removing the junk from the phone, you are freeing up storage space, and it will get rid of the unwanted system junk file, which boosts the speed. Originally, the cleaning applications do not increase the speed, but it will eliminate the elements causing slower performance.
1. Smart Cleaner – Clean Storage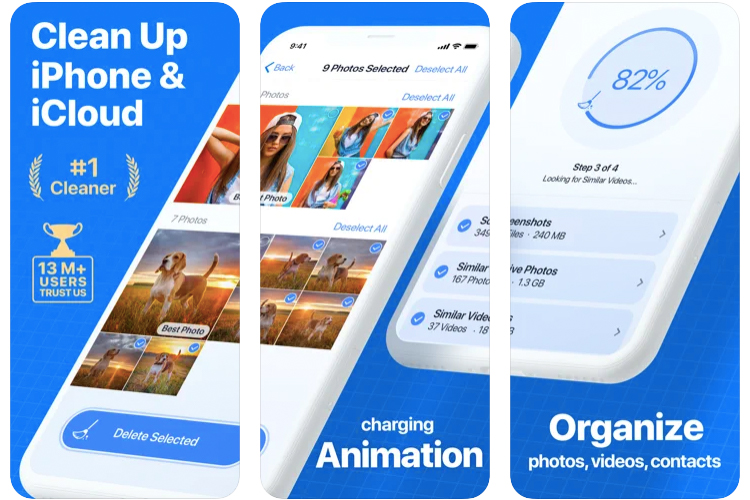 Smart Cleaner is an advanced iOS cleaner, which works on iOS 11 or later. The service enables the customers to identify the junk stored in the phone and get rid of them immediately. iPhone automatically saves WhatsApp, Instagram, and other social media application photos in the gallery. Smart Cleaner provides the removal of screenshots, similar photos, burst photos, etc.
Finding duplicate contacts using the application shouldn't be a difficult task, and start merging them to avoid missing information. An advanced option that assists the customer in finding multiple contacts that no longer needed, and delete them faster. Start searching for videos with large file sizes, and start removing them based on the file size.
2. Clean Doctor
Clean Doctor is a lightweight that requires iOS 9 or above to run smoothly. The Clean Doctor supports English, Korean, Simplified Chinese, and Traditional Chinese languages. It designed to clean the storage device, where media files are never checked properly, which takes plenty of space.
The inbuilt feature allows the photo lovers to find duplicate pictures, and delete them from Camera roll or albums. Search for large file size photos from the gallery, and remove them to free up storage space. You can search for duplicate large Live Photos that consumes plenty of internal memory, and delete them at your fingertip.
3. Quick Heal Optimizer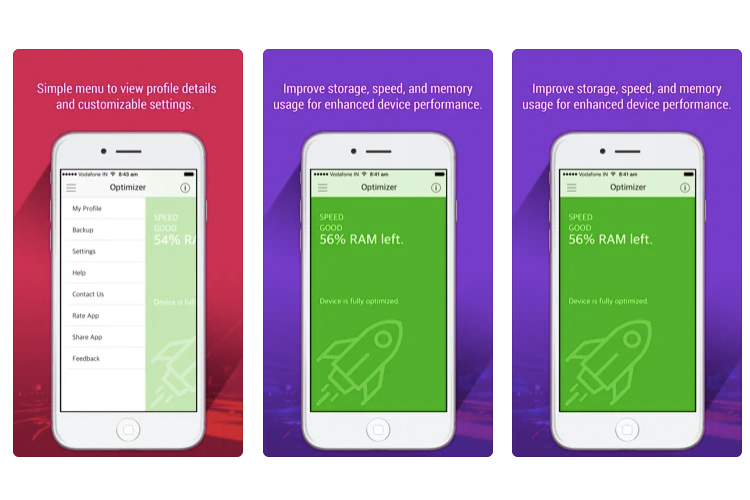 Quick Heal is an advanced system file optimizer that works smoothly on iOS 7 or later. If you are using iPhone 4S, 5S, and 6 edition, then Quick Heal should come in handy. This designed for lower RAM phones, where application and other services consume a lot of the resources.
Quick Heal optimizer gets rid of the unwanted background running application from RAM. By hibernating unusable apps from the application, you can free up RAM resources. Even though iOS 12 or above is a high-optimized operating system, it consumes plenty of storage, and it cleans temporary files.
The temporary files accumulated by applications installed, and they increase depending on the period of usage. The difference can be experienced on low-end phones only, and I don't think, It will make any difference on iPhone 8 or iPhone X variants.
4. Cleaner Pro
Cleaner Pro is a storage cleaner, which supports iOS 9 or later devices. It is an effective solution for removing junk files from the phone, and I will discuss it. Cleaner Pro is available in 15 languages, including English, Dutch, Espanol, and more.
It provides an advanced function that allows users to find duplicate contacts. If you got additional information in one of them, then you can start merging them. The missing information on both contacts will merge. Backing up contacts in the local shouldn't be an issue, and you can back up using the inbuilt feature as well.
Bottom Line
During my test on iPhone SE running iOS 12, I found that Apple optimized the operating system extremely well. Unlike Android, Apple iOS RAM management is excellent, and I believe that optimization is not required for performance on 2GB RAM models. Of course, the cleaner does come in handy in saving internal storage.