iPhone and iPad Screen Time not working may create a problem for parents to add restrictions. There are many reasons for the Screen Time stops working because of interference from the young ones, or you might have misconfigured it. We are going to address the problem and solve them using official solutions, and we don't need third-party programs to resolve it.
Turn off and Turn on Screen Time
Let's start from basic, and this is important for beginners. There are millions of iPhone and iPad device owners, who don't know how to use it, and they no longer remember its functions.
Tap on the "Settings" icon to start the process and then click on "Screen Time" to continue.
Check if it is enabled or disabled, and if it is enabled, then disable it by swiping to the bottom. Tap on "Turn Off Screen Time" to begin the process.
Confirm the action by "Turn Off Screen Time" and it will disable the function.
If you have added a passcode, then it will prompt the password, and then confirm the action by entering it.
Remember, you can set up Screen Time again, and it will remove all those data that are creating the problem. Creating fresh content restrictions and privacy restrictions again, and if anyone is creating a problem for you, then you can easily create a new password to strengthen the security.
Add Fresh Restrictions
Apple privacy functions don't stop working randomly, and there must have been an issue, so you have to set up the device all-over again. You don't want to leave loopholes and set up the device with new restrictions & passcode.
Open "Settings" to select "Screen Time" and then tap on "Turn On Screen Time" to begin the process.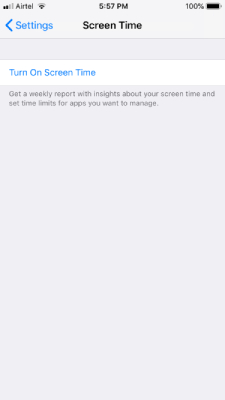 Read the information on the screen and then tap on "Continue" to continue.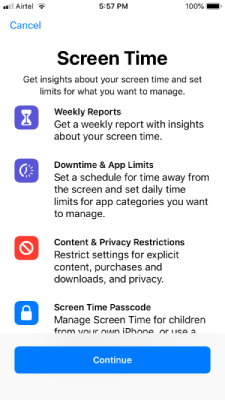 Choose one option to continue.

This is my iPhone
This is my child's iPhone

Select Downtime and it will start limiting the usage of the device from 10 PM to 7 AM and that's the default time that we have chosen for the tutorial.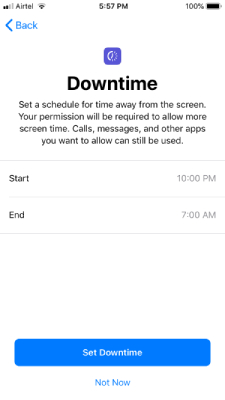 The app limiter will add restrictions, and the device user won't be able to do much after the restriction period has begun. Tap to select the apps, and then tap on "Set App Limit" to confirm the action.
If you want to add limitations like 10 minutes break per app, then you can do it individually or categorized way. Set the time from minutes to hours and tap on "Set App Limiter" to continue.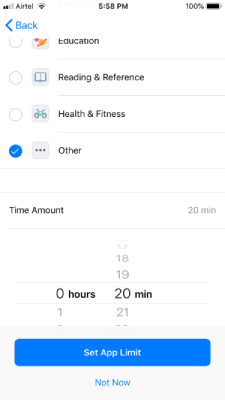 Tap on "Continue" to set up the password.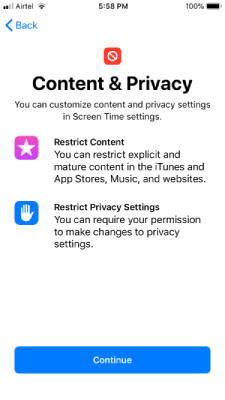 Now add parent password, and you have to enter first and re-enter to confirm the password.
Your child's account is ready to roll.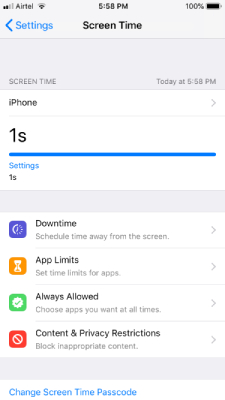 Remember, do not hesitate to turn off and turn on to reconfigure everything. Remember, what you want to add and what you want to restrict, and it takes less than two minutes to complete the process.
Adjust the Downtime
If you are not interested in the first and second solutions, then you can adjust the downtime to ensure that Screen Time is working on your device. It is an easy process, and it works on your device or child's device, so do not hesitate to check out.
Fire up "Settings" and tap on "Screen Time" to continue.
Click on "Downtime" to increase or decrease the downtime.
Enter the password to continue.
You can either delete the existing limiter or add a new limit. We recommend you to create a fresh limiter and then tap on "Add Limit" to continue.
Read every category and then select one to continue.
Now, choose apps and then tap on "Next" to continue.
Now, add time, and it is the time that will restrict the app. If you set the 23 hours, then it won't allow the app to open for 23 hours, and that's how it is. Add restrictions time and then tap on "Add" to complete the process.
You can edit the app restriction and customize it later on.
Take a few minutes to create a new app restriction or edit an existing one for perfection.
Turn on Share Across Devices
Screen Time is not working because you did not share the statistics with other users. It can create a problem for you, and you can do it if you are sharing the iCloud account. You can view the stats and understand whether things are going on smoothly or there is some problem.
Tap on the "Settings" icon to start the process.
Swipe down a little, and then tap on "Screen Time" to continue.
Swipe the screen to the bottom and then tap on "Share Across Devices" to finish the process.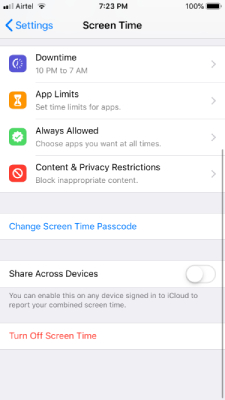 Wait for at least 24-hours to witness the changes in the statistics and you can monitor the app usage & device usage of your child's iPhone or iPad in your device.
Restore your iDevice
Your iPhone or iPad might have a software-related problem and you cannot resolve it without proper iOS replacement. Fortunately, Apple added iTunes in the eco-system that allows you to restore the device operating system. If you have forgotten the Screen Time password, then this is your only option.
Note: Make sure to back up the data because you are going to lose it. We recommend you create as a backup in local storage and cloud because the local backup file restores data faster.
Bottom Line
It should be resolved by following our solutions. Fortunately, it is very easy to set up fresh Content & Privacy Restrictions in the device, and if you feel someone has tampered the rules, then you can always create a fresh one.