Screen Time is one of the most loved features of parents who want to have device usage reports or want to set limits on what their child can use. The Screen Time feature of the iPhone sometimes does not function for Family Sharing. Screen Time not working properly can be frustrating. Here, you will find methods to help you eliminate this issue.
Screen Time is a robust feature on the iPhone that allows you to set limits, view real-time reports about your device usage, and more. You can find a comprehensive user manual here.
Users have reported issues with Screen Time, including inaccurate reports, an inability to ban applications on a child's phone, difficulties setting privacy controls, problems viewing weekly messages, and more. Let's find out why Screen Time isn't functioning correctly on your iOS device.
Methods to Fix iPhone Screen Time Settings Not Functioning on Family Sharing
Problems with Screen Time are common, and you'll probably discover them while adjusting other settings like Downtime, App Limits, etc. For instance, you may find that Downtime continues to fail even after you have enabled it. And sometimes, it will not turn on Downtime for several apps.
Setting App Limits may also be problematic. When Screen Time isn't working, you need to initially propose taking 10-15 minutes to investigate these options. Settings > Screen Time hides a plethora of options.
Method #1: Turn off and Turn on the Screen Time
Let's start from the basics, and this is important for beginners. There are millions of iPhone and iPad device owners, who don't know how to use it, and they no longer remember its functions.
Tap on the "Settings" icon to start the process and then click on "Screen Time" to continue.
Check if it is enabled or disabled, and if it is enabled, then disable it by swiping to the bottom. Tap on "Turn Off Screen Time" to begin the process.
Confirm the action by "Turn Off Screen Time" and it will disable the function.
If you have added a passcode, then it will prompt the password, and then confirm the action by entering it.
Remember that you may restart Screen Time and it will delete all the problematic data. Generate brand-new privacy and content limitations once more, and if somebody is causing you trouble, you may quickly create a new password to bolster security.
Method #2: Try Force Restarting your iPhone
The most straightforward and commonly practical solution is to restart your iPhone or iPad. In most cases, the problem may be resolved simply by continuing the affected device, as doing so would erase all data from the RAM.
In addition, it will not destroy your gadget or its information. To turn on your iPhone 6/5S/5 or iPad, press and hold the Power and Home buttons simultaneously. Hold until you see the Apple logo.
The power button for an iPhone 7 or 7 Plus may be on the device's right edge or top. Maintain that button press. The Volume down button is found on the left side of your phone.
Hold this button down until the Apple logo appears. For the iPhone XS, XS Max, XR, X, X, or X Plus, press and hold the Volume Up button until it stops beeping, then repeat the same with the Volume Down button. Join forces to press and hold the Side key until the Apple logo appears.
Method #3: Try Cleaning the Data
You can try clearing the information that Screen Time has collected to see if it fixes the problem with the child reports not working. To delete all your Screen Time histories on an iOS device, Scroll down under the Screen Time section and hit on "Clear Usage Data."
Method #4: Involve Yourself In A Family-Sharing Plan
Join a Family Sharing Plan and toggle "Add Family Member" on. Select "Add Family Member" from Settings > Apple ID > Family Sharing. If it is grayed out, you are not the family organizer. To add a family member, you must contact the Family Organizer.
Method #5: Active Parental Controls
Please ensure that any adults identified as parents or guardians have their approvals turned on. To enable the Parental Controls feature, launch the Settings app, navigate your profile, and tap the Family Sharing button next to your name.
Method #6: Get Rid of That Outdated iPhone
If you upgrade your child's iPhone but don't move their data over, the old iPhone will remain in the list of devices and will be used as the default until you delete it.
You may erase an inactive iPhone by going to its settings, tapping on the Apple ID at the top, and then scrolling down to the appropriate section.
Method #7: Use the Most Recent iOS Version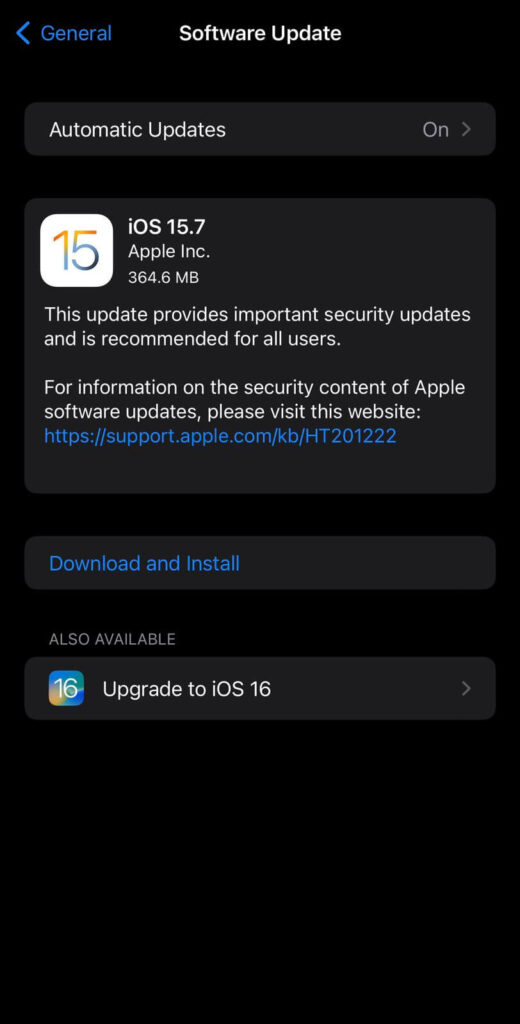 Apple continuously releases updates that you may apply on your smartphone to solve different faults that may develop on your device. You should probably upgrade to the most recent version of iOS if you're still on an older version.
Launch the Settings app and navigate to General > Software Update to check for software updates. When prompted, select Download and Install from the update screen.
(Note: Apple has launched iOS 16, so you will most likely find the update in your settings. I recommend you use the latest version.)
Method #8: Automatically Establish a Time and Date
Screen Time won't function properly if your device's clock isn't set correctly. If you're having this problem, switching to an automatic date and time on your device will fix it.
To change the time and date on your smartphone, go to the Settings menu, tap General, and finally, Date & Time. Everything will work as expected as soon as you move the switch for Set Automatically to the ON position.
Method #9: To Default All Settings
If you have already tried these steps without success, you can try resetting your device to factory defaults. This is the solution if there is a problem with the configuration.
To do a factory reset, go to Settings > General > Reset. Select the Reset All Settings option to return your smartphone to its original settings.
Method #10: Add Fresh Restrictions
Apple privacy features don't quit functioning at random, thus there must have been a problem if you need to start the device from scratch. You don't want to add additional limitations and a passcode to the gadget and leave gaps.
Open "Settings" to select "Screen Time" and then tap on "Turn On Screen Time" to begin the process.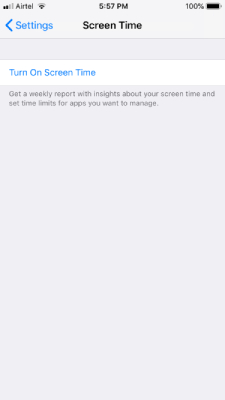 Read the information on the screen and then tap on "Continue" to continue.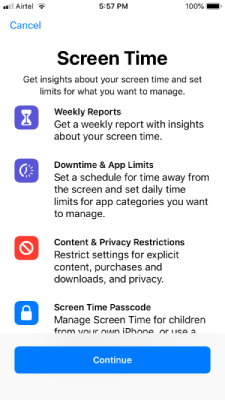 Choose one option to continue.

This is my iPhone
This is my child's iPhone

Select Downtime and it will start limiting the usage of the device from 10 PM to 7 AM and that's the default time that we have chosen for the tutorial.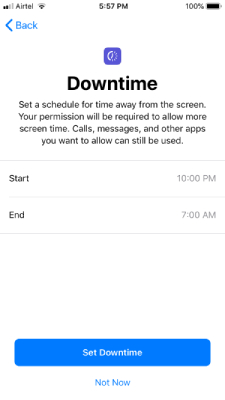 The app limiter will add restrictions, and the device user won't be able to do much after the restriction period has begun. Tap to select the apps, and then tap on "Set App Limit" to confirm the action.
If you want to add limitations like 10 minutes break per app, then you can do it individually or categorized way. Set the time from minutes to hours and tap on "Set App Limiter" to continue.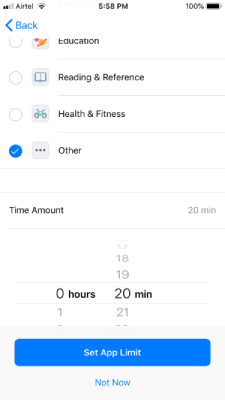 Tap on "Continue" to set up the password.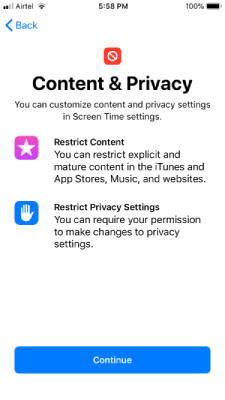 Now add the parent password, and you have to enter first and re-enter to confirm the password.
Your child's account is ready to roll.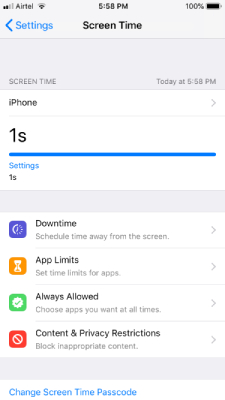 Don't forget to switch everything back on and off to adjust it. It takes less than two minutes to finish the procedure; just keep in mind what you want to include and what you want to prohibit.
Method #11: Adjust the Downtime
If you are not interested in the above solutions, then you can adjust the downtime to ensure that Screen Time is working on your device. It is an easy process, and it works on your device or your child's device, so do not hesitate to check it out.
Fire up "Settings" and tap on "Screen Time" to continue.
Click on "Downtime" to increase or decrease the downtime.
Enter the password to continue.
You can either delete the existing limiter or add a new limit. We recommend you create a fresh limiter and then tap on "Add Limit" to continue.
Read every category and then select one to continue.
Now, choose apps and then tap on "Next" to continue.
Now, add time, and it is the time that will restrict the app. If you set the 23 hours, then it won't allow the app to open for 23 hours, and that's how it is. Add restrictions time and then tap on "Add" to complete the process.
You can edit the app restriction and customize it later on.
Take a few minutes to create a new app restriction or edit an existing one for perfection.
Method #12: Turn on Share Across Devices
Screen Time is not working because you did not share the statistics with other users. It can create a problem for you, and you can do it if you are sharing an iCloud account. You can view the stats and understand whether things are going on smoothly or there is some problem.
Tap on the "Settings" icon to start the process.
Swipe down a little, and then tap on "Screen Time" to continue.
Swipe the screen to the bottom and then tap on "Share Across Devices" to finish the process.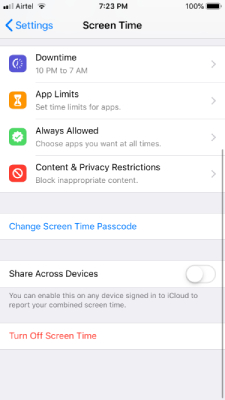 You may keep an eye on your child's iPhone or iPad usage in your device by waiting at least 24 hours to see changes in the statistics.
Method #13: Restore your iDevice
You might not be able to fix a software issue with your iPhone or iPad without a suitable iOS replacement. Nevertheless, Apple included iTunes in the ecosystem so that you may reinstall the operating system of the device. This is your only choice if you have forgotten the Screen Time password.
Note: Make sure to back up the data because you are going to lose it. We recommend you create a backup in local storage and the cloud because the local backup file restores data faster.
Method #14: Tenorshare ReiBoot Fixes iPhone Screen Time
If you have an iOS-based device and have tried resetting the settings without success, you may want to try Tenorshare ReiBoot, software designed to solve the underlying issues.
A function can repair your device's entire operating system, eradicating the problem. How to use this program to resolve the problem with your device's Family Sharing Screen Time:
Step #1: Download Tenor Software on your Computer.
Step #2: Connect your Device
Step #3: A screen will pop up. Click on "Repair."
Step #4: Download Firmware for your iPhone by clicking the Download Button.
Step #5: Let the Software Do the Repairing
Step #6: Now, your Phone is repaired. You will not have trouble with Screen Time now.
Conclusion
You may have encountered issues when family sharing on your iPhone does not work correctly using Screen Time. This article covers all the remedies you must implement to prevent the issue from occurring again.
The Article "How To Fix iPhone Screen Time Not Functioning on Family Sharing/ Ways To Fix iPhone Screen Time Not Working In iOS 15/16" has come to an end.
Stay tuned for more insightful topics!