There are many ways to log in iCloud account officially without third-party programs. Apple simplified the cloud storage system, but they did not explain it properly to the registered users. iCloud plays an important role in security, data, storage, backups, and more. You should learn different ways to take control over the Apple cloud storage, or else, you could end up with problems like iCloud locked devices.
Millions of new users are joining the Apple products community, and they don't fully understand the extent of iCloud. Apple started the cloud storage option called "iCloud" as an integral part of the ecosystem. One account to connect with all Apple electronic products such as iPhone, iPad, MacBook, iMac, Mac Mini, Watch, AirTag, AirPods, AirPods Max, and more. The company added security functions in iCloud to prevent unauthorized access and bring "Privacy" back to the customer.
iCloud is an overall account to store data, save data, backup data, and protect the device from all threats.
How to Sign in iCloud account on Windows and Mac
Apple added a web application or a website to control the account, and all you need is a desktop-class browser. You can use any secure browser such as Safari, Chrome, Chromium, Firefox, and more. Pick up your iPhone or any Apple ID-enabled device for a Two-Factor Authentication code.
Go to the iCloud site (www.icloud.com)and enter the email address associated with iCloud.
Enter the password and then click on the continue button.
Now, you have to confirm the identity by entering the Two-Factor Authentication.
Confirm the location and then click on "Allow" to continue.
Here's the code that we have been looking for and then type it in the browser, and it will automatically redirect the page.
You have an option to choose "Don't Trust" or "Trust" the browser. You can choose "Not Now" if you don't want to make a choice now.
The Apple iCloud dashboard shows up on the screen and takes control over the account.
You can make tons of changes from the website and even remove iPhone or other connected Apple products.
How to sign out iCloud email account?
Readers have the knowledge to sign in iCloud account, and we should also show you how you can sign out.
Click on your name located at the top right side to reveal the drop-down menu.
Click on "Sign Out" to continue.
A pop-up shows up on the screen, and then click on "Sign Out" or click on "Trust and Sign Out" to log out from the account.
Do not trust a browser on an unsecured network and log in manually next time.
How to login iCloud storage from iPhone or iPad?
Every piece of data in the iCloud is present in your device, and whatever change you make in the device will reflect in the iCloud account. Allow us to show you how you can access iCloud on iPhone or iPad.
Tap on "Settings" to start the process.
Click on your name on the top.
Tap on "iCloud" located in the second row.
You can enable or disable services connected to iCloud. Tap on "Manage Storage" if you want to control the data.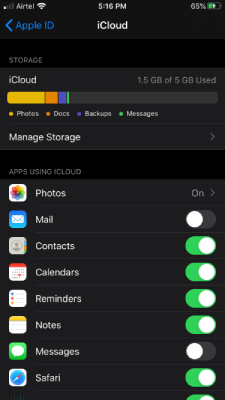 Monitor what is taking cloud storage space and what isn't from here.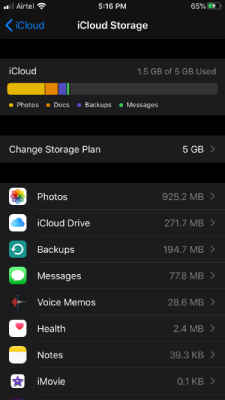 iCloud is cloud storage that connects across Apple devices, and what's going on your iPhone reflects in Mac computer as well.
iCloud Precautions
Follow the precautions to prevent third-party access and intervention.
Never share Apple ID credentials.
Browse in private mode or incognito mode.
Do does not save any data in the browser, such as username & password.
We recommend the users log in to iCloud on secure networks (HOME) and avoid public networks such as restaurants, coffee shops, railways, etc.
Your iCloud contains vital information, and every user should take precautions to prevent unauthorized access.
Bottom Line
We have shown you how you can log in to your iCloud account from a desktop browser and an Apple device. Mac computer owners can access iCloud accounts and take control over what's being stored and saved.