Don't know, who uses Discord push-to-talk feature because the VOIP calling application for professional gamers invented for seamless communication throughout the game. I got a Discord server, and I frequently communicate with my team members using it. I must say that Discord produces high-quality seamless voice calling without issues.
What is Push to Talk in Discord
For beginners, who are confused over PTT and regular communication method, I will this break down in simpler words. The function PTT is a popular term in the gaming industry, where gamers have to press a button on the keyboard to use voice chat.
By default, you have to configure or enable Push to Talk in Discord manually. You can join the voice channel and expect seamless communication line.
How do I enable Push to Talk in Discord
Enabling Push to Talk on Discord mobile or desktop version is easy, and follow the lead for further instructions. I recommend the readers to update the software to the latest version for a smooth experience.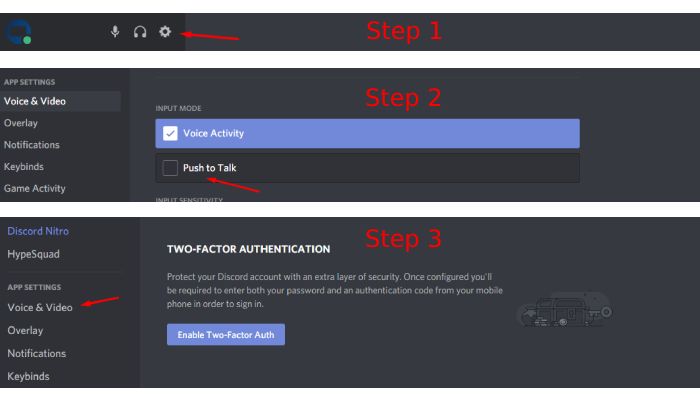 Launch Discord application on Windows or Mac OS or Linux. The user-interface does not change on desktop-class programs or web application.
Access user settings located at the bottom of the screen, and click on the gear icon.
In the settings section, you got "Voice & Video" and click on it to view more options.
In the V&V settings, you can find the option called "Input Mode" and select "Push to Talk."
That's it, and you have successfully converted "Voice Activity" to "Push to Talk." End the program from the computer, and then restart it to apply the changes. I'm using desktop and connected an external microphone, and the settings apply to inbuilt hardware and external hardware. In case if it doesn't work, then make sure to set microphone preference in the audio manager.
Enable PTT in Discord on Smartphone
I cannot ignore mobile Discord users because 70% of my current audience is on mobile. I cannot deny the fact that the majority of my Discord members communicate using a portable phone. It would be an injustice for mobile communicators to leave them behind, and focus on the desktop-class consumers only. Allow me to show you how you can enable Discord push to talk on an Android, iOS, and other devices.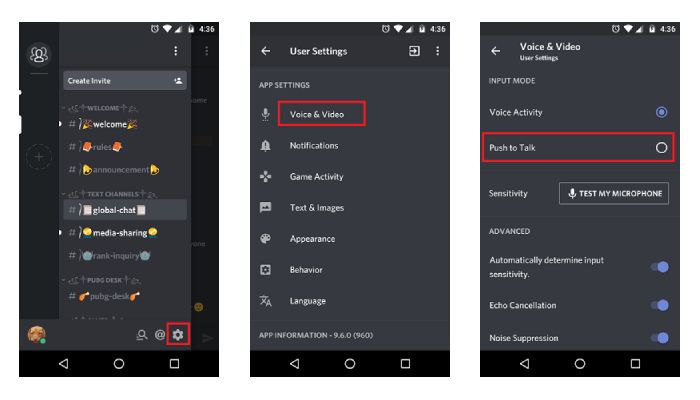 Fire up the application, and swipe left on the screen to view more options. Tap on the gear icon located at the bottom, and I'm talking about user settings.
Scroll down until you find the settings Voice & Video, and tap on it.
The first function is Input Mode, and then click on "Push to Talk."
How to change Push to Talk Key in Discord
I already mentioned that AAA title games provide a PTT function, and they set one key by default. You don't want to create problems while playing in the intensive match. Usually, players set T or K, which collides with games like Counter-strike Global Offensive or Players Unknown's Battle Ground. It is essential that you set permanent keybinding and make sure it doesn't collide with Apex Legends or other games.
Click on the user settings gear icon located at the bottom. I have already shown you in the above solution.
Click on Voice & Video, and then select Push to Talk in the input mode.
Below, you can find the option "Record Keybind."
Click on record keybind, and carefully select a key on the keyboard.
You can always reset it by clicking on the same option, and re-entering a new key from the keyboard.
Also, change the keybind on Battle Royale because it can intrude at some point in your match. I recommend setting the key based on multiple games because I play Apex Legends, PUBG, Counter-strike, and other FPS games. For the safe side, I recommend considering various games, while setting the key for PTT.
Bottom Line
Enabling Discord Push-to-Talk doesn't take more than a few seconds to complete the process. In a few scenarios, the program doesn't function at all, and I have provided enough information to resolve that issue as well.