Millions of smartphone users want to record calls on iPhone & iPad devices. You have an inbuilt record button in many Android phones but it is not present in Apple devices. Apple promotes privacy and that is why they avoided the function in the phone. Allow us to lay down a few ways you can record calls in iPhone and iPad that supports calling features.
Can I Record a Phone Conversation or Calls on iPhone?
It is crucial for the readers to be aware of the laws of the land because you don't want to end up behind the prison or end up with legal issues. Many countries have taken serious steps to ensure citizens' privacy. Many Chinese phones come with a record button because China doesn't have strong privacy laws but Apple follows it in the Chinese market.
We cannot give you exact details on where to look and how to look as there are several countries that have a unique system in place. Call recorder apps are available in the market but you should consider the laws to prevent legal issues.
Apple followed basic doors that attackers use to invade privacy and they shut the common doors in the iOS mobile operating system. The Cupertino-based company spent a lot of time on shaping the iOS software and they decided to block third-party apps to access the microphone, while the inbuilt phone app is active.
You don't have a lot of alternatives but we can suggest a few apps and methods that you can use to record calls. Fortunately, there are a few apps available in the market that allows device owners to record calls.
Record Calls via third-party apps on iPhone
Many software companies have taken advantage of the missing feature and introduced a working app.
You have two apps available in the market and they are Rev Call Recorder & RecMe.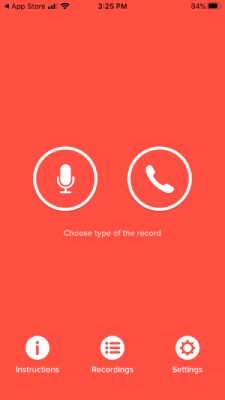 You can try the free-to-use apps, but they have a PRO version that starts from $4.99 and if you believe that it is worth trying then go for it. We recommend the users try the limited version because it will help you make the final decision on whether to subscribe to the service or not.
Note: Many call recording apps are not available in the country due to country laws & policies. The developer choose to avoid a few countries to prevent legal issues with the Apple App Store policy.
Record an iPhone Conversation via QuickTime Player
If you have an iMac or MacBook computer then you can make good use of it. Apple macOS comes with a proprietary audio & video player called QuickTime Player, which is an advanced media player designed for modern computers. QuickTime Player comes with recording capabilities, which is by far the best one to record iPhone & iPad screen.
You can record voice calls from iPhone or iPad to QuickTime Player. Readers can record FaceTime audio & video calls via QuickTime Player, and it is the best solution available for free-of-cost. Yes, you need an Apple computer like the MacBook or iMac to make it work.
The audio & video quality will be top-notch, and it will be available in MOV file format that is playable on QuickTime Player. You can download VLC Media Player on Windows, Linux, and Android phones to play the video & audio.
Professional Audio Equipment
Fortunately, we have reputed manufacturers supporting smartphone audio recording. You can purchase a piece of professional audio equipment that is compact in size and records high-quality audio.
Purchase Zoom H5 4-Track Recorder, which is one of our favorite choices.
Buy Male to Male XLR Cable.
Purchase Apple Lightning to 3.5 mm Headphone Jack Adapter.
Readers have to spend a few hundred of getting the audio equipment to record the caller's audio. However, it won't record your audio because the Apple phone app has access to the internal microphone and the equipment is not able to pick up the device owner channel.
Purchase any Cardioid Dynamic Vocal Microphone from the store.
Purchase XLR Male to Female Microphone Cable.
Connect the external microphone to Zoom H5, and your audio will be recorded in the audio equipment. We have to say that this is an expensive process for the newbie, but you can watch a tutorial on YouTube to solve the problem. You can seek guidance from the Zoom forums to get existing users' instructions.
Bottom Line
Apple did make the call recording process difficult for the device owners because privacy is the selling point of the iPhone & iPad. You have three ways to record calls and we have started from inexpensive solutions to expensive solutions.