You have a quick website to check and Safari will not open at all, then it becomes a problem. Most of the iPhone, iPad, and macOS machine users stick to Apple's Safari browser because it is a stable, lightweight, and privacy-oriented browser. Apple optimized the Safari browser for all machines and, rarely, some of the functions work normally, but overtime usage ends up having problems down the line.
Why is Safari quit unexpectedly and won't reopen?
There are several contributing reasons why Safari won't open in your iPhone, iPad, MacBook, and iMac. We cannot look at one specific problem as there are multiple reasons for the failure. Apple software is known for corruption and bugs, so you have to update the software to the latest version. Do not skip this part because iOS 13 or later versions have bugs in it, and the Cupertino-based company is working on improving it.
Now, we request you to install Firefox Focus in your device, and Chrome in your desktop machine to know if the problem is with the software or with the Safari browser.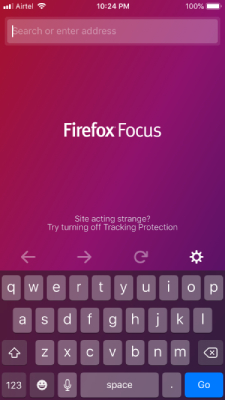 Test the software for a couple of minutes to determine, whether the problem persists in other browsers. In most cases, Firefox & Chrome should work normally, and you won't see any major problems. Safari is software and is prone to corruption & many other issues, and we can resolve it without additional assistance from third-party programs.
Clear Data and History
An iPhone, iPad, and macOS machine is being used for years without reset builds up a lot of unwanted data in the system files. In such cases, you have to get rid of every single piece of history and it will wipe out hindering & useless browsing files.
On iPhone & iPad:
Open "Settings" to begin the process.
Swipe down to the bottom and then tap on "Safari" to continue.
Click on "Clear History and Website Data" to clear site data.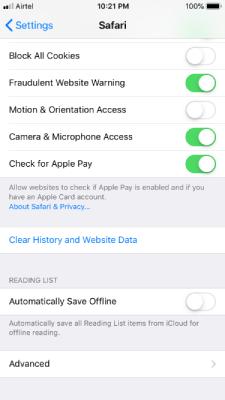 A confirmation pop-up show up on the screen and tap on "Clear History and Data" to complete the process.
You can clear the history, and related data on iPhone and iPad, and the technique will remain the same on previous iOS versions.
On macOS:
Open the Safari browser.
Click on "History."
Click on "Clear History" to continue.
The confirmation pop-up to confirm the action and then click on it to complete the process.
Your Mac machine Safari browser history and site data has been cleared and restarts the Apple device. Now, you don't have to deal with Safari not opening problem again, and you should update the macOS software to remove bugs & glitches from the machine.
Turn off or Disable Experimental Features
Apple introduces new features in the latest software editions, and you don't have to update any inbuilt software manually.
Open "Settings" and tap on "Safari" to continue.
Now, tap on "Advanced" to continue.
Click on the last option called "Experimental Features" to continue.
Now, deselect "Experimental WebKit Features" that you don't need from the list.
Apple enabled a few by default, even though, they are an experimental stage, and it could be causing the problem. However, you should keep a list of features enabled by default and you can always reset the settings to get the original default settings.
Repair Storage Device
Your macOS machine might have software-related problems or corrupted files in Safari. Apple bundled the "Disk Utility" program in the Mac and you should try repairing the disk to remove & repair corrupted files. Overtime usage also triggers system file destruction, and Disk Utility will repair it without complications.
Open Disk Utility app.
Now, click on "View" and then click on "All Devices" to continue.
Now, select the partition or drive and then click on the "First Aid" button to continue.
You will encounter many errors on the way like "Overlapped Extent Allocation" because Disk Utility found similar files in one space, and you may have to take action.
There are times First Aid cannot fix corruption and that's when you have to focus on operating system re-installation.
You have to re-install the macOS operating system in the machine, and that's your last hope because software-related corruption does not resolve easily.
Third-party Add-ons
Safari supports third-party add-ons because Chrome & Mozilla opened the doors for the world, and Apple wanted to keep up with the competition. However, you might have noticed that Apple Support does not recommend the system administrators to install add-ons. The first contributing reason is performance, and then security and the incompatibility might be the cause of the crashing browser.
Open the "Home" folder.
Now, find & open the user-level Library in the Home folder.
Go to the file location (/Library/Internet Plug-Ins/ /Library/Input Methods/ /Library/InputManagers/ /Library/ScriptingAdditions) to access the browser add-ons.
Now, you can start sending one add-on to trash, and avoid deleting them as they might create problems later down the line.
Open the Safari browser from the menu, and replace the files one at a time.
We recommend the users to remove third-party add-ons because they don't have excellent stability that follows Apple optimization standards. If you have no choice but to install third-party add-ons, then do not install multiple of them at once because we don't know which one will cause the issue.
Fix Firewall Settings
A firewall is a powerful tool that blocks major functions in the system and prevents third-party apps from accessing information, writes, reads, and other things in the machine. There is a chance of Safari getting blocked by Apple's Firewall and you can access the internet.
Click on the Apple logo, and then click on "System Preferences" to continue.
Click on "Security & Privacy" and then select "Firewall" to continue.
Apple locks the Firewall, so no one can modify the settings, and you have to click on the lock and enter the system password to unlock "Firewall Options."
Go through the list of programs and if Safari is on the list, then click on "Allow Incoming Connections" to unblock it.
Click on "OK" to continue.
Restart the machine and re-open Safari to check, if things are working normally or the problem is persisting.
Bottom Line
The worst-case scenario would be re-installing the macOS or use Chrome or Firefox if Safari is not working. We recommend choosing Firefox over Chrome due to privacy concerns, and the open-source community ensures quality & performance.