Safari crashing on iPad and iPhone is not a common problem, and you can solve it by applying official methods. Apple-designed the default browser for iOS mobile devices, and it is highly optimized compared to Chrome, Firefox, etc. Your device software might have unknown problems, and we have provided solutions to resolve the issue.
Why is Safari crashing or freezing on iPhone?
Safari is the Apple developed browser, which is highly optimized and works flawlessly on older devices as well. We have to say that it is uncommon for Safari to crash because the developers have eliminated complicated parts of the system. In short, you should have such problems whatsoever, but there is a slight chance that it could not an internal software-related issue. We are going to solve them by applying the solution one-by-one.
Note: Reboot your iPhone or iPad if you have never done before, and restart the device if you have not shutdown the device for a while.
Clear your Browser Data
iOS mobile operating system does give the users minimum control over the default apps, and you can use it to solve the issue. You can clear the saved form data like browsing history and other browser-related data. Remember, you will lose a lot of temporary files in the browser like recently visited sites.
Click on the "Settings" and find "Safari" in the menu and then tap on it to continue.
Tap on "Clear History and Website Data" to continue.
A confirmation pop-up shows on the screen, and then tap on "Clear History and Website Data" to finish the process.
iOS will remove all temporary browsing data, and it won't touch personal data, so don't worry about data loss. You won't lose manually save form data like bookmarks.
Turn it off Experimental Features on your device
Apple loves to experiment with the latest software and it is a well-known habit that has been going on for decades. The latest iOS brings new features on the Safari browser and you should be able to experience the best out of default apps. You may not know but there are a few experimental features enabled by default, and if someone has tampered or you forgot, then it could create issues. We have listed a number of features that are turned on by default and you can disable those that are not needed.
Blank anchor target implies rel-noopener.
Intersection Observer.
Swap processes on Cross-Site navigation.
Block top-level redirects by third-party.
WebRTC H264 Simulcast.
WebRTC mDNS ICE Candidates.
WebRTC Unified Plan.
WebRTC VP8 Codec.
Turn on or disable other experimental that is not on the list and we have got this information from our browser setting. Do not turn on or off experimental features, if you don't know how they work and what they do in the device.
Remove or clear website data
Safari stores data of websites that you have visited earlier or in the past and it stores files with a minimum of 200KB and can go up to 1.2MB. It should not be surprising because Apple does not want you to reload the same again-and-again. Safari is using this technique to load the pages faster in a matter of moments and it saves mobile data. However, it may contain threats that you may not know about it and there is a chance of junk filling. You have to get rid of it from time-to-time, so the junk won't bottleneck the device.
Tap on the "Settings" and then "Safari".
Swipe down to the bottom and tap on the "Advanced" option.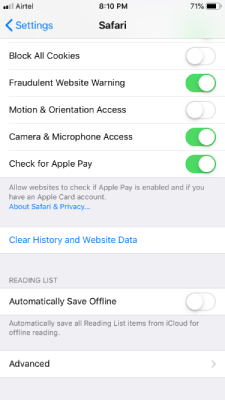 Tap on "Website Data" to continue.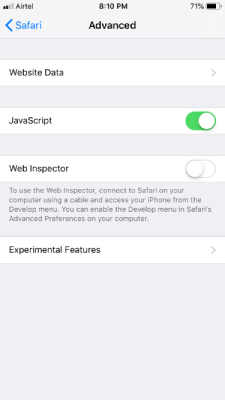 A huge list of websites shows up on the screen, and you should wipe to the bottom.
Click on "Remove All Website Data" to continue.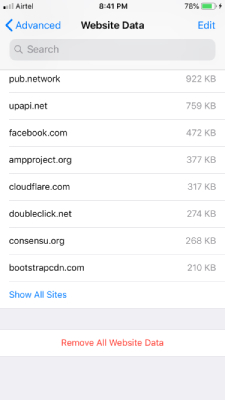 A confirmation pop-up shows up on the screen, and tap on "Remove Now" to complete the process.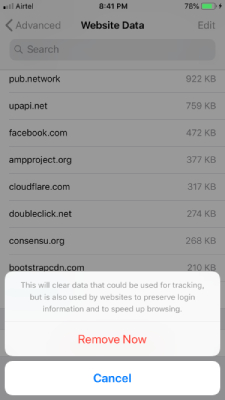 All website data is removed.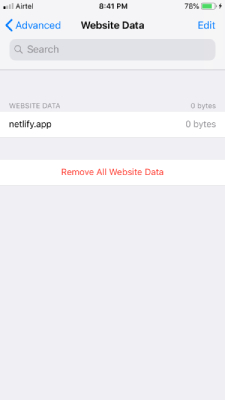 Your personal information is untouched, so do not worry about the website data removal. Restart the iPhone or iPad to solve the crashing issue.
Close Tabs
Most of the iPhone & iPad device owners don't know that Safari does not close the opened tabs automatically. You can force close the app or close the app still it won't remove the tabs in the browser. Remember, the number of tabs will consume a lot of internal data and RAM, which leads to random crashes.
Tap on the Safari browser.
Click on the icon located at the left bottom to view all opened tabs.
You can view all tabs opened and tap on the X button to close all tabs.
We use the "Private" mode daily and you should also check out, whether there are multiple tabs opened in private mode.
You can solve Safari crashing issue on iPad and iPhone by closing the number of tabs running in the background. iOS designed to load all web pages in the opened tabs, when you launch it, and it increases CPU load and RAM load. Make sure to clear the Safari browser from time-to-time for optimal performance.
Software update
Apple software is a well-known product in the market because it offers stable environment like no other mobile operating system. However, it is not the truth at all, and you can check out the iOS 12 and iOS 13 updates for instance. iOS 12 had twenty software updates in two years and iOS 13 had seventeen software updates in one-year life cycle. Apple is launching new software version every single year and you have to suffer from software bugs, glitches, and shortcomings. We recommend you to update the software daily for smooth & lag-free experience.
Go to "Settings".
Swipe down to tap on "General" setting.
Tap on "Software Update" to continue.
Keep your internet (Wifi preferred) connection active and install the update.
Remember, you should back up the personal data because there is no guarantee that your device won't suffer from data loss or corruption. Even Apple says that you should back up the data via iCloud and iTunes, so do not take the risk because it's not worth it.