Is your iPad or iPhone not getting notifications until you open the app? It's not an uncommon problem in the iOS device because you've been granted access to advanced options to set, manage, enable and disable notifications. I have disabled notifications several times after installing a new app and regretted it later. A minor change in the setting can trigger the problem in the iOS device. Nonetheless, there's no need to bother yourself any further and resolve it in a few minutes.
Reboot your iPad and iPhone
When was the last time your iOS device gets to sleep for a few minutes? Machines need periodic sleep time to function properly, but millions of iPhones and iPads go on months without a break.
Apple equipped the device with high-quality components and has installed optimized software, but it's not perfect. A quick restart will resolve the software-related issue and give a minimum of ten minutes of break time.
Tap on the Settings > General > Shut Down.
Toggle the button to the right side to shut down.
The most advanced mobile software in the world doesn't have a restart option. So, you have to turn off the iOS device and turn it back on manually. Nonetheless, it does resolve half of the software-related problems with a quick restart.
Turn on Notification Preview from your iPhone
Many Apple mobile consumers have reported that they are not able to review the notifications. You may have disabled the preview feature in the iOS software, which is leading to the problem. You can enable the preview options in the iPhone and iPad without limitations.
Tap on the "Settings" icon.
Swipe down and select "Notifications" to continue.
Tap on "Show Previews" to continue.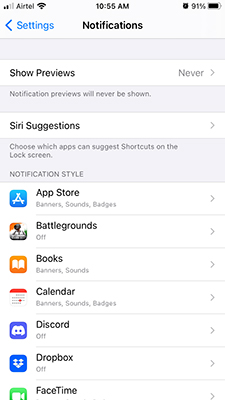 Choose "Always" to enable the preview.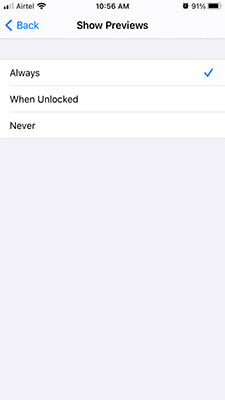 Close the Settings app and keep an eye on the new notifications, and if the problem persists, and then you can move on to the next solution.
Turn on App Notifications on your iOS device
I have disabled a lot of app notifications in the past, and if you have done something similar, and then you won't receive any alerts anymore. Let me show you how you can re-enable app notifications in iOS software.
Tap on the Settings and select the installed app.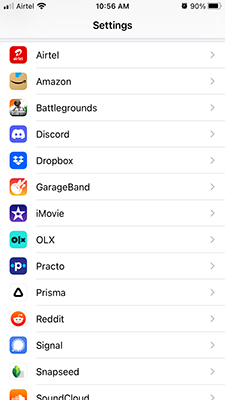 Click on "Notifications" to continue.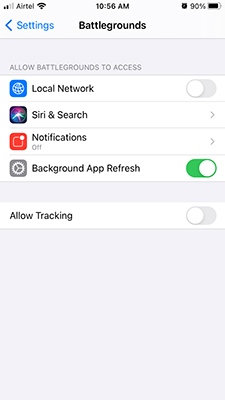 Tap on "Allow Notifications" to enable the alerts.
Make sure to leave every set to defaults.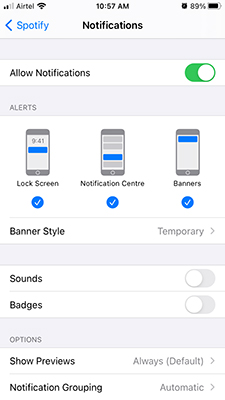 Of course, you can customize the app notifications, but do not play around, if you don't know what you are doing. Now, you will start receiving app notifications from now on.
Enable App Lock Screen Notifications
Are you not able to see notifications on the lock screen? You have full control over the notification alerts, including what you want to see and what you don't want to see on the lock screen. Let me show you how you can enable lock screen app notifications, so you don't have to unlock the device next time to read unread messages quickly.
Click on the Settings icon and select the app.
Tap on "Notifications" to continue.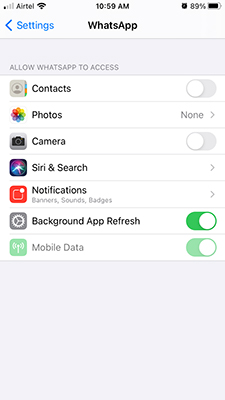 Make sure to turn on app notifications.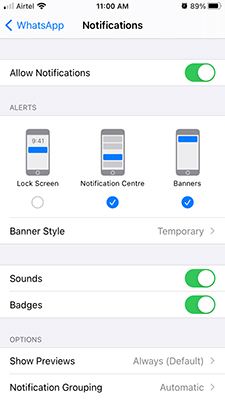 Tap on "Lock Screen" to display the notifications from now on.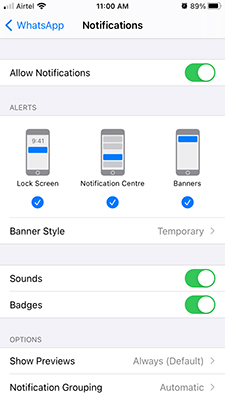 Close the app, and you will be able to see unread messages on the lock screen. However, you have to repeat the same instruction on all apps that are restricted to show unread messages and alerts on the lock screen.
Remove the limit on Restricted Apps
Screen Time is a parental control feature, and it could be creating a problem for you. Device owners can add limited screen time for specific apps, and you will stop receiving alerts from those apps.
Tap on the Settings > Screen Time.
Tap on "App Limits" to continue.
Choose a category or app that is listed in the section.
Tap on the "Edit list" option located below Entertainment.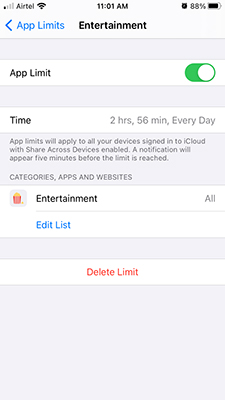 Tap on the category "Entertainment" to view all apps.
Deselect the app that you want to receive notifications by tapping on it.
You can delete the app limits by tapping on "Delete Limit."
Confirm the action by tapping on "Delete Limit" and then remove it completely.
You can always go back and add "App Limits" again, but make sure to remember the timestamp. However, you cannot make advanced changes without device owner or parent privileges.
Switch to Mobile Data
Millions are connected to the internet via Wi-Fi wireless networks, and we don't know what is causing the local network to fail. We can switch to a 3G or 4G network to create a secure connection and consistent connection between iPhone/iPad to carrier servers.
Tap on the Settings > Mobile Data.
Toggle on "Mobile Data" to turn on, and then select "Mobile Data Options" to continue.
Choose 4G over 3G, if it is available in your plan.
Make sure to turn on VoLTE or LTE, if the option is available on your device.
Wait for a few moments to let your iPhone or iPad synchronize the apps, and notifications will appear on the screen normally. Several local networks have added limiters to reduce the bandwidth consumption from a single device, so that leaves your carrier to take care of the internet connection.
Bottom Line
Apple policies have structured iOS software for modern users, and you can take full control over app notifications. You no longer have to worry about iPad or iPhone not getting notifications on the screen. You do have to spend a few minutes on each app to figure out which app has restrictions that were customized earlier. Let us know which solution helped you to resolve iOS notifications problems in the comment section below.