Are you trying to learn Screen Time on iPhone? Apple-designed the feature for the parents, and they have simplified it for beginners & average device users. You can restrict the iPhone or iPad using the Screen Time feature, and it is a Privacy & Content Restriction feature after all. In this tutorial, we are going to show you how you can use Screen Time functionalities to ensure that your children are not playing during study time.
What is productivity on iPhone screen time
Apple wants to sell premium products to the young ones including children. The Cupertino-based company had to come up with something unique that will let the parents hand over the device in the child's hands. Of course, it is an obvious action from young ones that they will skip study time to play games, watch movies, and listen to music on the device.
Screen Time is a wonderful feature for the parents to add restrictions to the device and ensure that you are letting them do whatever they want. The wonderful part of the Screen Time is that it maintains the privacy of the device user, and you won't have to look into the device to monitor because restrictions are in place.
In short, Screen Time works, and we have experienced it first-hand. We are going to cover the important parts of the feature, and then you can play around to set up a customized plan for your children or a young one.
First-time setup
We have spent a minimum of ten minutes playing around with the device, and you should do the same as well. You will learn a lot from playing around with Screen Time on iPhone, and turn off to remove all changes made during the playtime. Allow us to show you how to set up, and turn on at the same time, so you can always reset changes & start all over again.
Go to the "Settings".
Swipe down to open "Screen Time" in the settings app.
Tap on "Turn On Screen Time" to continue.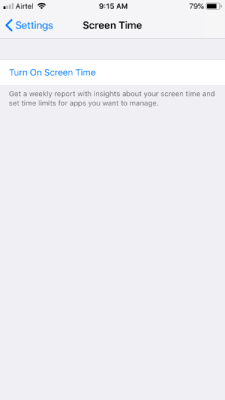 Tap "Continue" but make sure to read the content on the screen.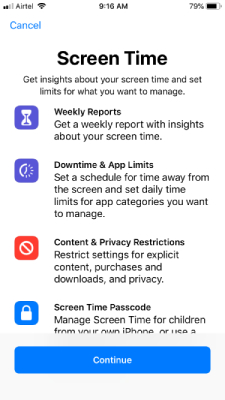 Now, choose appropriate action because the two options have dedicated functions required for the process.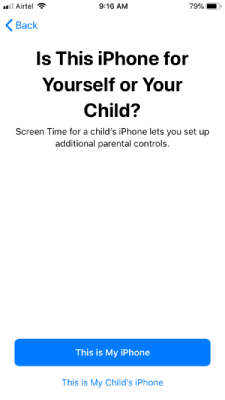 Select the start time and end time of Screen Time, and it will ensure that the user won't be able to use the device during that period.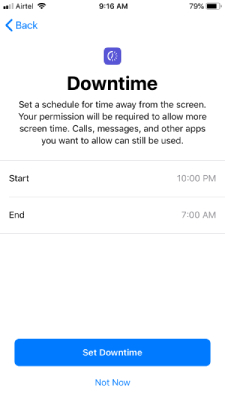 Select the category of application to add restrictions and block them during study time.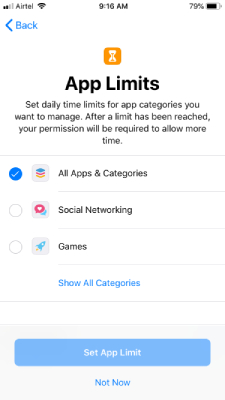 Now, set the time like ten hours a day and the device will lock social media application for ten hours a day. Set the time and then tap on "Set App Limit" to continue.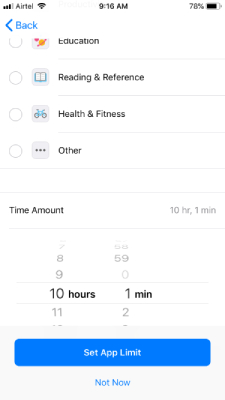 Tap "Continue" to complete the process.
Enter a new password, and re-type the password to complete the process.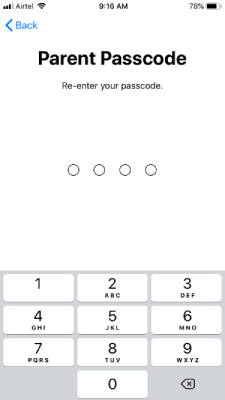 You have finished the process, and good to go.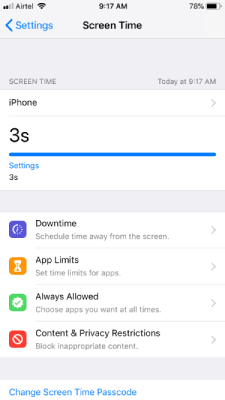 You have successfully set up the Screen Time and you can make changes later on as well.
Modify Downtime
You can modify the Downtime and assign time limits on a specific day. Everything is editable, and you can make changes later on. If you don't like a certain thing, then you can remove to completely or decrease the downtime.
Open "Screen Time" from Settings, and then tap on "Downtime" to continue.
As of now, we have set "Every day" and you can customize the time from the bottom option. You can edit the "From & To" to set new timings for the device user, and it is can be multiple times a day.
You can set different downtime every day, and you can customize it.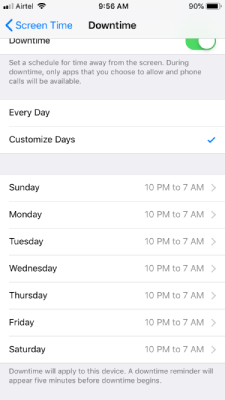 Tap on the day, and then you can make changes to the "From & To" and you can customize it for the rest of the days. If you want the device user to experience the best of the device on Holidays, then you can disable it.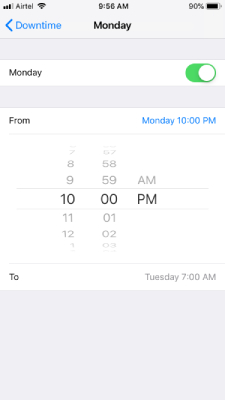 You have plenty of options and complete control over the functions. Do not worry about messing everything up because you can come back, and modify the settings.
Allow Apps or Remove Apps
We have set downtime, which will restrict all applications during that period, However, there are a few apps that we have to allow like Contacts, Camera, Calculator, and others. The device users need to use specific apps for the work or book a ride back home. We cannot add certain restrictions because it is important for them to lead a normal life. Allow us to show you how to add additional apps during downtime.
Tap on the "Setting" app and then open "Screen Time" to continue.
Open "Always Allowed" and then you have many apps below.
Tap on the green plus button to add them to the list.
We have added many apps like Calculator, Calendar, Contacts, Camera, etc.
Tap on the red minus button to reveal the remove option, and then tap on "Remove" to remove it.
Wasn't that easy?
You have complete control over what applications do you want to allow the users. This is a global setting, and it will apply to all settings like downtime and app restrictions.
Content & Privacy Restrictions
We recommend the readers spend a minimum of five minutes in Content & Privacy Restrictions.
You can allow or disallow iTunes & in-app purchases.
Tap on Allowed Apps, and you can disable & enable apps from here.
Content Restrictions allows users to restrict explicit content from the device. Apple eco-system recorded every data that allows the device owners to block all formats of explicit content out of the system.
You can take control over the "Privacy" and enable & disable the services.
Spend a few minutes checking out the options, and it will give you a complete picture of what you can do and what you cannot do in the device.
Monitor the usage
A phone is a subject of privacy, and you don't have to pick up the iPhone & iPad of your children to monitor the usage. Sign in your iCloud account in children's device, and then you will receive the Screen Time statistics in your device. You will learn a lot about app usage, and when they are active in the device.
Open "Screen Time" and then tap on "Share Access Devices" to continue.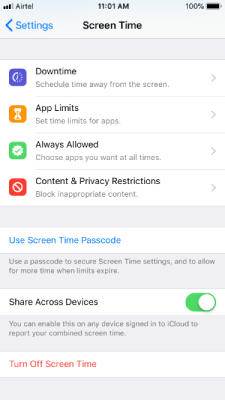 Wait for 24 hours for the iOS to collect the data, and start transferring it to your device. Parents don't have to invade the children's privacy to learn statistics, and it will allow the device owners to keep an eye on the children.
Final Words
We have taught you everything you need to know about Screen Time on iPhone and iPad. iOS developers outdid themselves by adding advanced privacy features and simplified the functions.