Apple unique video communication application errors are common and "FaceTime waiting for activation" is a common problem that iPhone and iPad device owners face during setup. Even though Apple suggested plenty of solutions, but they don't work on-time. In this tutorial, we are going to revisit Apple official solutions, and other working methods to solve the activation error in FaceTime.
Turn off FaceTime and iMessage and turn it on again
Turning off the service and redoing the service is an excellent way to solve the problem and it works, I do recommend the readers to reboot the phone because you might not have turned off the phone in a long time.
Go to the "Settings" and find "FaceTime" in the settings and continue.
Tap on the green button to disable the function.
Remember, do not skip the rebooting process because it dumps the temporary software cache. iOS mobile operating system is far more optimized than Windows, and Android but it is prone to software problems that Apple is trying to improve.
Yes, turning off iMessage is also important because FaceTime & iMessage is directly linked to the Apple innovative communication service.
Tap on "Settings" and find "Messages" in the settings.
Click on the green button to disable and enable the function again.
Wait at least 24 Hours
Apple stated that device owners have to wait for 24-hours of time, and it is a common procedure. However, iPhone & iPad consumers don't have to wait that long and I didn't wait at all because iMessage/FaceTime instantly activated.
You can also check Apple Server Status and confirm that the service is not experiencing downtime.
Check your network settings and Compatibility
Telecommunication companies are constantly evolving but I have witnessed carriers in many developing countries don't have proper support for the premium smartphones. Apple is constantly improvising the technology, but carriers is unable to follow it.
Do not turn off the internet connection throughout the process. You will receive a notification from the carrier that the sum of amount was charged for the SMS. Remember, an error might show up, and you have to wait for a while for the service to register at Apple server, and it will automatically show up on the screen.
Ensure time zone is set correctly
I know that iPhone & iPad consumers may be thinking that this is a trival method, but correcting Time & Date is an important one. The security layers don't work, when everything is not in the right place, and in this case, it's the security certificates.
Tap on "Settings" and click on "General" and continue.
Now find and tap on "Date & Time".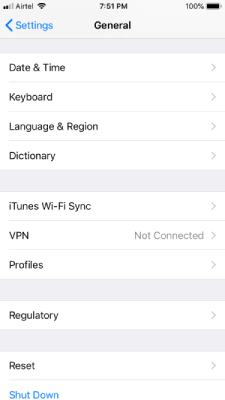 Disable "Set Automatically" and set the time manually.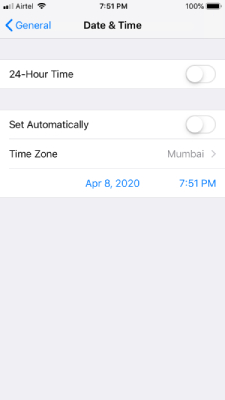 You can even set "Time Zone" that suits your local time zone.
Now, restart an iPhone to start a new session, even though that's not necessary. I do have to mention that you can set the time zone to automatic later on, but only after trying all solutions that I have mentioned here.
Make sure your iPhone or iPad has the latest iOS version
The latest iOS plagued with bugs and glitches that are well-known to the industry. I do recommend the Apple device owners to update the software because it contains plenty of unknown software bugs that are not reported yet.
The newer software edition will bring stability and performance.
You can reset the entire phone, and start a fresh journey, but make sure to backup the device because you might end up losing personal data including Contacts, Photos, Videos, SMS, and more.
Bottom Line
Contact Apple customer care, if still facing FaceTime activation error "waiting for activation" and doesn't solve after following the instructions. Most of the time, the network doesn't respond and end up having the errors. Make sure to repeat the process, and have enough credit balance to process the SMS.