It is not uncommon for FaceTime call to fail on the iPhone, iPad, or Mac because it requires multiple services to function the feature. It takes one non-working function to trigger the error, and you will end up with FaceTime issues. Of course, there are multiple reasons behind the problem, and you have to identify the culprit and then apply the solution.
Check the current internet connection status
FaceTime requires a good internet connection for uninterrupted conversation. Check your internet connection like Wi-Fi router, Mobile data, and others. FaceTime does not work without a good internet connection, so make sure to check internet status. You may have heard about ping testing, and it will reveal a lot of information about internet consistency.
Check Apple server current status
Apple pays more than $30 million per month to Amazon AWS Cloud Services. Yes, Apple cloud services are dependent on Amazon AWS infrastructure and many other companies as well like Netflix, Valorant, etc. You should check, whether Apple servers are facing downtime or interruption. Yes, FaceTime call failure can happen due to unresponsive servers and you can check the status.
Make sure to check the updated time located at the bottom of the screen so you can get the latest scanned time. Remember, there are times when Apple servers do have problems, and we have seen a yellow bubble, which signifies that there is a problem. However, Amazon has a powerful engineer team working behind the scenes to fix the issue so you won't face the same problem repeatedly.
Set the time and date based on your current location
Your conversations on FaceTime are secure because Apple is utilizing SSL/TLS Certificate in the process. However, the security certificate requires the device to have an updated Time & Date for signature. You have to check the device and fix it if the time and date are not updated to the latest.
Of course, you can let the device to find the correct timings based on your current location. Do not worry iOS is using the carrier for the updated information and not location services. Now, you have solved the problem but ensure that this doesn't happen again.
Disable the FaceTime feature and turning it back on
FaceTime & iMessage are brothers & sisters, and they don't work sometimes which is a common issue. We have faced FaceTime call failure and iPhone messages not receiving and sending to other recipients problems. You can solve the error by disabling the feature and turning it back on.
Tap on Settings > FaceTime and then tap on the green button to disable it.
Go back and tap on the Messages app and then tap on the green button to disable iMessage.
Turn off the phone.
Let the device remain turned off for ten minutes and then power it back on.
Go back to turn on FaceTime and iMessage and tap to enable it and then "OK" to enable the services.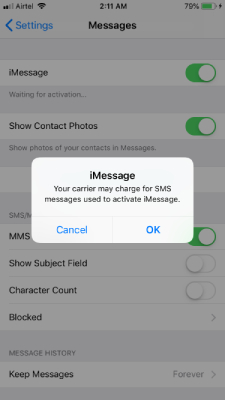 The iOS device will send an SMS to Apple servers for re-activation. There are times when iOS devices will unlink a phone number from iMessage and FaceTime, and it has happened to us multiple times in the past. You have to keep in mind that the phone number should be active and should have enough credit balance.
Restart Your Apple Device
When FaceTime stops functioning, restarting your smartphone is one of the most excellent troubleshooting steps you can do.
Exiting all applications before restarting the computer is recommended to prevent losing unsaved work and to ensure a clean start for all programs. Learn to do a hard reset on your iPhone or Mac if it stops responding.
Check To See If Everyone Else Can't Use FaceTime
When Apple's services are having technical difficulties, nobody can use FaceTime. You may now check all Apple services' availability by visiting the Apple System Status page. Scheduled FaceTime outages will also be announced here.
Ensure FaceTime Works In Your Country
Although it's close, FaceTime isn't accessible everywhere just yet. Not all cell phone service providers support it either. To see if FaceTime is compatible with your cell phone service provider and your country of residence, visit Apple's carrier support website.
If you cannot use FaceTime due to location restrictions, you may be able to do so by connecting your iPhone to a virtual private network.
Always Use The Proper Contact Information
To view your personal FaceTime contact information, open the iPhone's Settings app, tap FaceTime, and then tap FaceTime At Can reach you.
If you want to be sure you have the appropriate information for the person you're phoning, have them do the same.
Make Sure Your Gadget Supports Group FaceTime
If you're using an older device, you may have trouble joining Group FaceTime calls. This may be the case even if private FaceTime calls are fine.
To participate in a Group FaceTime call, each participant must have one of the following devices, all of which are running iOS 12.1.4 or later:
iPhone 6S or later
iPad Pro, iPad Air 2, iPad mini 4, or iPad (5th Gen)
iPod touch (7th generation)
Macs running 10.14.3 of macOS Mojave or later
Limit Group FaceTime Participants
Group video calls with FaceTime may include up to 32 participants. However, if so many individuals use FaceTime, it might be hard to pinpoint who exactly is causing the issues.
Start with a conversation between two individuals, then gradually add more participants until you identify the point at which problems arise.
If FaceTime doesn't connect to anyone, there must be a problem with your gadget or internet connection. The issue is usually on the other end if FaceTime isn't connecting with a specific individual.
Test Your Camera And Microphone
There may be an issue with your device's camera or microphones if your FaceTime call is ignored or not received. Open the Camera app and capture a brief video of yourself chatting into the front-facing camera to see whether this works.
You can do this with the Photo Booth program on a Mac. See whether there are any issues with the video's audio by playing it back. In case there are, check out solutions for the iPhone's camera. If those solutions don't work, contact Apple Support to get your camera or microphone fixed.
Activate Your FaceTime Camera And Microphone
Your FaceTime call recipient may be unable to see or hear you because you've turned off their camera or microphone.
To access more options while on a FaceTime conversation, tap the screen on an iPhone or iPad, or move the mouse over the FaceTime window on a Mac. To toggle the use of your camera and microphone during the call, click the corresponding icons.
Turn off Content Limits In FaceTime
The FaceTime app may have disappeared from your iPhone, iPad, or Mac because you have Screen Time limitations set.
To implement content and privacy controls on an iPad or iPhone, tap Settings > Screen Time > Controls. Turn on FaceTime and the camera by going to Settings > Allowed Apps.
Screen Time may require a separate password from your regular password, so be prepared to enter it if needed.
Select Content & Privacy from the left pane after opening System Preferences > Screen Time on a Mac. Select Camera and FaceTime from the Apps tab's toggle switches. Get ready to input your Screen Time passcode if required.
Open Up Ports In Your Firewall
If your Mac's firewall prevents FaceTime from making the required connections, FaceTime won't operate. This sometimes occurs while using a third-party firewall that isn't compatible with FaceTime.
Without turning off your firewall, you may address these problems by allowing specific traffic through. To learn how to unblock ports in your firewall, contact the manufacturer.
Bottom Line
Now, you have fourteen solutions that can help you in solving the FaceTime call failed issue. You can solve the issue by following these methods and never have to worry about persisting errors.