It is not uncommon for FaceTime call to fail on the iPhone, iPad, or Mac because it requires multiple services to function the feature. It takes one non-working function to trigger the error, and you will end up with FaceTime issues. Of course, there are multiple reasons behind the problem, and you have to identify the culprit and then apply the solution.
Check the current internet connection status
FaceTime requires a good internet connection for uninterrupted conversation. Check your internet connection like Wi-Fi router, Mobile data, and others. FaceTime does not work without a good internet connection, so make sure to check internet status. You may have heard about ping testing, and it will reveal a lot of information about internet consistency.
Check Apple server current status
Apple pays more than $30 million per month to Amazon AWS Cloud Services. Yes, Apple cloud services are dependent on Amazon AWS infrastructure and many other companies as well like Netflix, Valorant, etc. You should check, whether Apple servers are facing downtime or interruption. Yes, FaceTime call failure can happen due to unresponsive servers and you can check the status.
Make sure to check the updated time located at the bottom of the screen so you can get the latest scanned time. Remember, there are times when Apple servers do have problems, and we have seen a yellow bubble, which signifies that there is a problem. However, Amazon has a powerful engineer team working behind the scenes to fix the issue so you won't face the same problem repeatedly.
Set the time and date based on your current location
Your conversations on FaceTime are secure because Apple is utilizing SSL/TLS Certificate in the process. However, the security certificate requires the device to have an updated Time & Date for signature. You have to check the device and fix it if the time and date are not updated to the latest.
Of course, you can let the device to find the correct timings based on your current location. Do not worry iOS is using the carrier for the updated information and not location services. Now, you have solved the problem but ensure that this doesn't happen again.
Disable the FaceTime feature and turning it back on
FaceTime & iMessage are brothers & sisters, and they don't work sometimes which is a common issue. We have faced FaceTime call failure and iPhone messages not receiving and sending to other recipients problems. You can solve the error by disabling the feature and turning it back on.
Tap on Settings > FaceTime and then tap on the green button to disable it.
Go back and tap on the Messages app and then tap on the green button to disable iMessage.
Turn off the phone.
Let the device remain turned off for ten minutes and then power it back on.
Go back to turn on FaceTime and iMessage and tap to enable it and then "OK" to enable the services.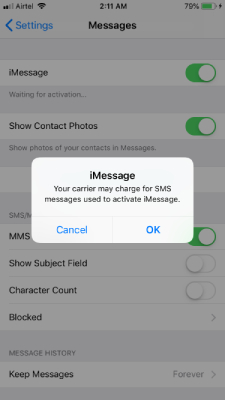 The iOS device will send an SMS to Apple servers for re-activation. There are times when iOS devices will unlink a phone number from iMessage and FaceTime, and it has happened to us multiple times in the past. You have to keep in mind that the phone number should be active and should have enough credit balance.
Bottom Line
Now, you have four solutions that help you in solving the FaceTime call failed issue. You can solve the issue by following official methods and never have to worry about persisting errors.