Apps are not downloading on the iPhone running iOS 15. Yes, it's a concern, when your iPhone is not able to download the apps from the official App Store. Fortunately, there are official solutions that you can try to resolve the app installation errors. Do not try to use any third-party tool to resolve the problem because it could breach Apple's security and put your data at risk. Let me start with simple solutions that I have applied in the past and move on to advanced solutions.
Fixed: Why are my iOS apps not downloading on the new iPhone?
iPhone is a well-equipped devices and if you believe that the new Apple device is faulty, then get it replaced at the nearest Apple store.
You should restart the iOS device before applying any solution. Use the Side button to turn off and turn it back on. In case, if the power button is not responding, then try this solution.
However, the apps are not downloading from the server due to internet connectivity issues or limitations in the bandwidth. We have to investigate the situation properly and then fix it at once.
Do not fall into assumptions by reading online feedback because the problem may seem similar to others, but it could be driven by a setting or software corruption. Let me show you proven solutions that will fix the iOS 15 apps downloading problem.
Disable Low Data Mode from your iPhone
Low data mode was introduced long back in the iOS software, so users can control the amount of data consumed. If you are downloading large file-size apps, then it will prevent the network from doing so to preserve the data. We covered an article on how you can disable Low Data Mode in iOS 15 and works similarly in iOS 14.
After completing the process, Close the App Store and then re-try downloading the same app from the library. It should work since there are no restrictions in place anymore.
Check Apple App Store server status
Almost 99% of iPhone and iPad owners download apps from App Store, which is hosted on AWS. CNBC reported that the Cupertino-based company spends $30 million monthly on the servers alone.
Yes, AWS is not perfect, and it suffers from downtime rarely.
Let me show you how you can find out, whether App Store servers are facing downtime or active.
Open "Safari" or desktop-class browser.
Go to the Apple Server Status page.
The status page says "All services are operating normally", which is a green signal.
You can confirm it by tapping on the "+" button.
App Store servers are working normally.
Make sure to confirm the region by swiping the page to the bottom.
Apple enabled geo-location tracker on the website, so it will detect your region based on IP address. However, VPN users end up seeing another country's server status results, so it is better to confirm the region beforehand.
Switch to Wifi Network on your iOS 15 Device
Your iPhone may not be the problem, or rather, it's the network issue. I switched to 4G network a few years back, and it was an essential feature to have while traveling.
I did not have any problems with the connectivity while watching videos, or texting on apps. However, I did encounter a lot of problems with downloading apps from the App Store.
Yes, I was trying to install an app that was 98 MB only but it was taking forever to finish. We don't know what sort of bandwidth restrictions were added by the carrier under the download department. I haven't dug deeper into the subject and resolve the issue by switching to a Wi-Fi network.
Sign Out from your iOS device App Store
It's not uncommon for App Store to have glitches, and you can fix it by signing out from App Store. iCloud is not affected by the App Store Apple ID, and you don't have to worry about losing any saved data.
Open "App Store" from the Home Screen.
Tap on your face located at the top left side.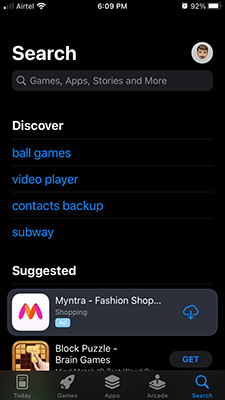 Swipe down to the bottom and tap on the "Sign Out" button.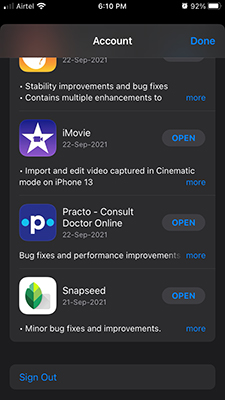 App Store will instantly sign you out.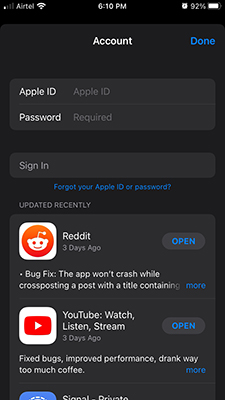 Close the app and sign in again.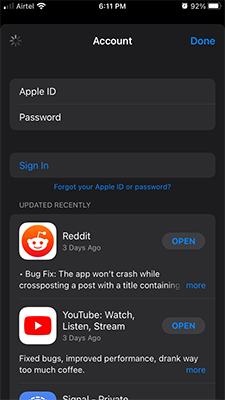 Now, try to install the app again.
Signing out from App Store won't impact the iCloud backup and the account itself. Even the apps are not affected whatsoever, so signing out from App Store is a safe-to-apply solution.
Remove Restrictions from your iPhone
Does Screen Time ring a bell to you? Yes, it's a nightmare for many students, who have the device under their parents' control. Every feature in the software can be controlled via Screen Time, and that's why Apple promotes iPad for students. Let me walk you through the Screen Time restriction removal process.
Tap on Settings and choose Screen Time.
Tap on App Limits > App Store > Delete Limit.
Confirm the action by choosing "Delete Limit" to remove it permanently.
App Store limitation has been removed, and you can re-download the app without any restriction in place.
Not Enough Storage
Apps save the setup file in the local storage and then install it from the package. If you are installing a 1.2 GB app, then it will download the entire package in the device, and then install from the same package. In short, you need a minimum of 3 GB of free space to install the 1.2 GB app.
Now, you can analyze the storage and removed apps that are no longer needed in my library. Readers should maintain a minimum of 5GB of free space in the iPhone and iPad for a smooth experience.
Upgrade your Apple iPhone or iPad with latest iOS
It shouldn't come as a surprise that I'm asking the readers to update iOS software to the latest version. I implore the readers to check out online news and reviews related to the latest iOS software, and it should be specific to your device.
Bottom Line
Apply the solutions that I have suggested to address apps are not downloading on the iPhone running iOS 15. Try local backup using iTunes and prevent data loss as a precautionary measure. Let us know which solution resolved the apps downloading issue in the comment section below.