Millions of people don't know much about iMessage with effects because the company pre-settings disable it. Apple does not want the consumers to experience slowing down smartphone performance, so they disabled effects. The consumers can send effects in iMessage without downloading or installing third-party applications.
Anyone can send effects on iMessage from an iPhone to another iPhone. The graphics might not support cross-platform such as emojis. iMessage is a unique texting platform introduced by Apple, which is a different kind of application compared to other solutions in the market.
Apple improved iMessage even further by adding Animoji in iPhone X, iPad Pro, iPhone XR, and iPhone X Max. Animoji is part of the effects, and the entire effects make the texting service unique and appealing.
How to Use and Send iMessage with Bubble Effect
I am guiding the readers on how to send effects on Messages in a few steps. The entire process is not difficult at all, and the iOS supports older smartphone's as well. In this case, we are going to use iOS 11 and iOS 12, so the compatibility should not be an issue on this one.
Step 1: Launch the texting application from the menu and then tap on upwards arrow for more options.
Step 2: Type something in the texting box, and hold (↑)send button for two seconds until effects show up on the screen.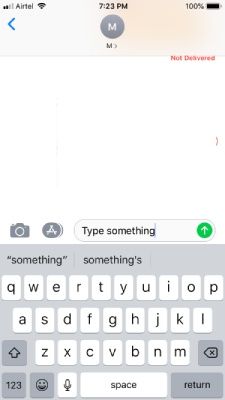 Step 3: Select any effects such as Slam, Loud, Gentle, Invisible INK, etc.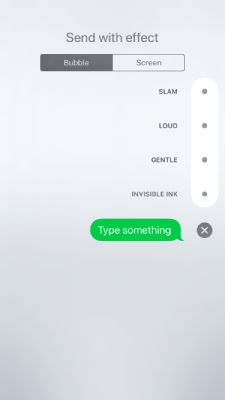 Step 4: Tap on (↑) to send it.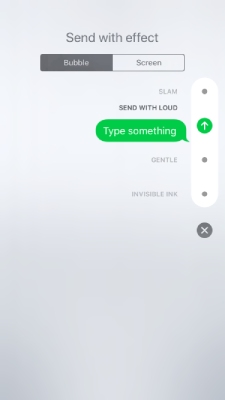 Start playing around with effects and then apply them to make texting more appealing.
How to Use and Send Screen Effects in iMessage
Keep in mind that effects were introduced in iOS 11, so it does not support on an older device. Even iOS 12 and iOS 13 consumers can try the new effects in the smartphone, and it doesn't cost a single penny.
1) Launch the application from the menu.
2) Create a new message or open an existing thread.
3) Tap on the keyboard to show up and enter your message in the box. Tap & hold Arrow (↑) to view more options.
4) Swipe right or click on "Screen" to view more options.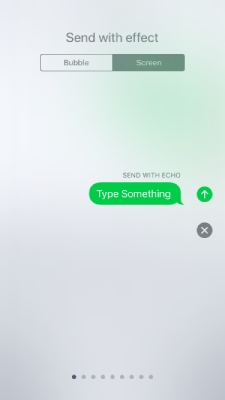 5) Tap on Arrow (↑) to send it to the recipient.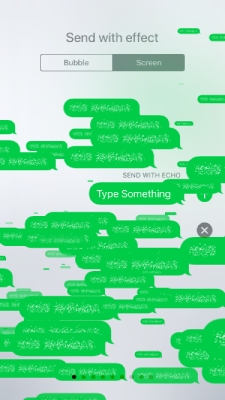 The Arrow (↑) button is not visible in the above snapshot, but it is a preview of the effect, and you can send it once the effect preview is finished. Older devices such as iPhone 5S might struggle to view the options, so be patient.
How Do I Send Camera Effects Text in iMessage
1) Launch Message, then create a new message.
2) Tap on the Camera icon located in the keyboard main section.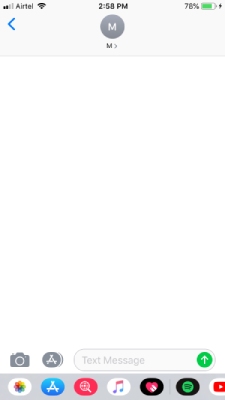 3) Point & click the photo of the subject.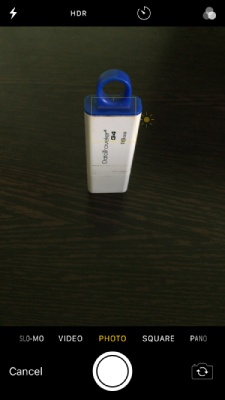 4) The camera application will fire up the editor and start editing the photo. I don't have stickers or emojis available on the phone, that's why I couldn't show you. Readers require iOS 13 running devices to add advanced Camera Effects such as Emoji, Stickers, Animoji, and others.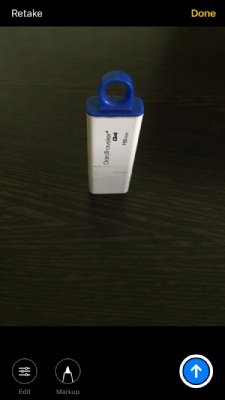 5) Once the editing is finished, then tap on Arrow (↑) button to complete it.
Currently, I'm using iPhone 6 running iOS 12, and none of the advanced functions are available in it. Unfortunately. Apple cannot provide advanced features on older machines, and I cannot blame the company whatsoever.
How to enable and send Handwritten Message in iOS 14 and 15
Handwritten notes, letters, messages, and texts are much more valuable than a simple mechanical text. Handwritten texts often get a lot of value & attention compared to the printed texts. Fortunately, the touchscreen allows consumers to send handwritten texts.
1) Open an existing message thread or create a text from the message.
2) Turn the phone in a horizontal view for the full-sized keyboard to spread. Tap on the mark that I have highlighted in the keyboard.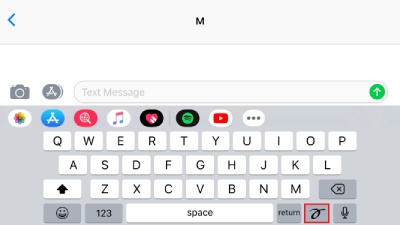 3) Now, the writing board will appear on the screen and start writing a few lines. You can use a stylus and hands to start delivering a few lines.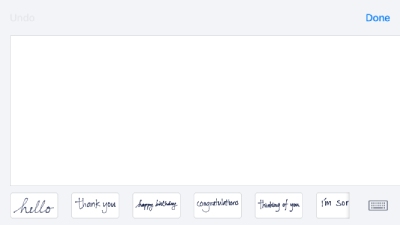 4) Tap on the Up Arrow (↑) button or "Done" to send the message.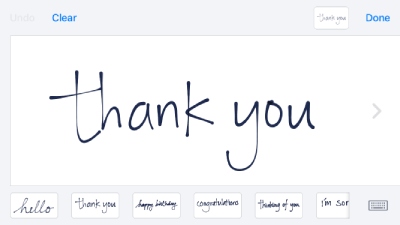 5) Click on the Up Arrow (↑) button to send the message.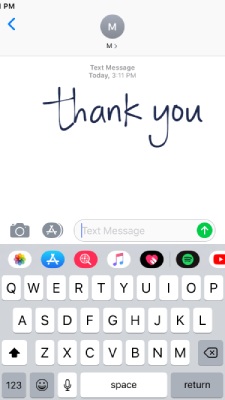 Note: Turn the smartphone in the landscape by scrolling upwards from the home screen and then tap on the landscape icon.
You can go back to the typing mode by tapping on the keyboard icon located in the same place.
Send Hidden Messages on iPhone or iPad
Apple outdid everyone by adding an interesting interface to the new iOS 11 and iOS 12 version. The company layouts outstood other devices as of 2019, and it enables the consumers to send hidden messages with a twist.
Again, launch the application, then create a new message.
Now add a few lines to the messages, which is an essential part or else; the effect won't work. You cannot send an empty message and add the effect to it.
Now, tap on Up Arrow (↑) button visible right-side of the text field.
Among the new effects, tap on "Invisible Ink" and then tap on Up Arrow (↑) button to send it.
Some of us love to prank your friends with a hidden effect, but it doesn't work without adding a few lines.
Bottom Line
If you are an iPhone or iPad consumers, then you might have noticed that iMessage with effects is not available on older iOS. Apple developed the effects for modern devices running iOS 11, and iPhone 5S can run iMessage Effects without any issues. Keep in mind that iPhone 5S is an older device, so the performance might not be pleasant.