Are you struggling with fixing the low call volume issue on iPhone? There are fourteen top ways to improve iPhone's call volume, and we've discussed them here.
iPhone low call volume issue is a common problem that thousands of consumers are facing. Your device might be suffering from software-related issues, or it could be a hardware-level issue.
We are going to figure it out by applying software-based solutions and come to a conclusion to seek professional assistance.
What Causes Low Call Volume on iPhone?
Before you fix the low call volume on your iPhone, you should know what's causing it.
The most common reasons for a low call volume on iPhone devices during calls are software or hardware malfunction and unexpected turning off of the volume switch.
An outdated iOS version and an ongoing operating system update are also some typical causes of this problem.
Anyway, note that the low volume doesn't necessarily indicate an issue with your phone's speakers and can be easily fixed in most cases. Below, we'll go over the top iPhone low call volume solutions.
Restart Your Phone
Generally speaking, a restart can alone fix your low call volume issue. It's because restarting your phone cleans its memory and software and hardware conflicts, which are often leading to low call volume.
1. Press and hold the side and the volume down buttons until you see the power-off slider.
2. Drag the slider and wait until your phone turns off.
3. To turn your iPhone back on, press and hold the volume down and the side buttons again until you see the Apple logo on its screen.
Ensure the Speaker is Turned On
When on a call, ensure your iPhone's speaker mode is enabled, or you'll not hear any call sound from it. You can check if the speaker mode is on by looking at your phone's screen during a call.
Note that your speaker mode is already enabled if you hear the call sound but it's low.
Disable the Mute Mode
iPhone lets you mute the caller during an ongoing call. As a rule of thumb, you won't hear the caller's voice if you accidentally turn on the mute mode.
Again, you can glance at your iPhone's screen during the call to check if the phone is put on mute mode.
Turn Off the Bluetooth
Having your iPhone paired to a device through Bluetooth can reduce its volume. If your phone gets paired to an audio output device like AirPods, you'll not hear any call sound from your phone at all.
So, to ensure your iPhone is not connected to another device through Bluetooth, turn off the Bluetooth.
1. Tap Settings.
2. Scroll down and tap Bluetooth.
3. If the Bluetooth is On, toggle it to Off.
Tweak the Call Volume
If you accidentally lower your call volume from the Settings, you'll naturally experience low call volume on your iPhone. Note that the Ringer and Alerts volume on iPhone is the same as the call volume.
So, you'll face the low call volume issue if you've lowered your tone sound too. As you might expect, a good solution is to increase your call volume a bit.
1. Tap Settings and Select Sounds.
3. Scroll down to the Ringer and Alerts section.
4. Slide the volume bar to the right to increase your call volume.
Close iPhone Background Running Apps
Applications like Discord, FB, and other communication apps reserve the majority of the volume. Of course, the communication-based apps such as Discord do it, and your phone volume goes down drastically.
You cannot connect to the voice channel, and use other apps in the background is not possible at 100% volume. Your phone will distribute 70% volume to the app, and 30% to the outside of the app.
Step 1: Double-tap Home Button on iPhone 8 or earlier, and swipe up from the bottom of the screen and hold the screen in the iPhone X or later. The iOS reveals the list of apps running in the background and swipe up on any app to close it.
Step 2: Now, find the app that is causing the problem and swipe up to close it.
In our case, it was Discord and FB, and it could be anything else. You don't have to worry about closing all apps from the background to listen to music or videos on the phone.
We recommend closing running applications one-by-one to identify the culprit and close the case.
Muffled & Cracking Speaker & 3.5mm Jack Output
It is common among consumers, who mention speakers specifically in the official forum threads.
Apple engineers added one speaker in the earlier device because one grill stands for primary microphone and second grill designed for primary speaker.
The Cupertino-based company adds necessary protection layers to keep the dirt mites, and dust particles from entering the grills.
A consumer's environment plays a crucial role in the process, and age is another possible factor.
Solution #1: You can put a compressed air gun into the action to force the clogged speaker grill to free itself. You can also set the hairdryer into use, but we don' recommend it as it also releases hot air in the process.
Solution #2: Dust removing cloth or NIKON LENS PEN, which is specifically designed to remove the dust from the small areas. The fabric works flawlessly, but it might not be able to reach the small vents because of the size.
Solution #3 (worked for me): I always thought that my iPhone speaker is defective, but I tried removing the dust and dirt with air using my mouth after eight months.
However, there's a risk of releasing saliva liquid particles in the vents that can lead to many problems later down the line. But, it worked, and my iPhone speaker is usually working.
Solution #4: Cotton Bud is another solution when you don't have an air gun or compressed air gun. Dust particles don't leave the space quickly after being there for so long, so you need a scrubber that can move it.
Cotton Buds come in handy for touching the dust particles and removing it, and it works as a scrubber. You will noticeably heat the difference and make sure to blow air from your mouth after cleaning to remove remnants of it.
The solutions that I have mentioned here worked for me, and I'm accurate that it will work for you. Ensure that your equipment is not releasing hot air or liquid in the process.
The excess heat can damage the speaker, and fluid is the enemy of PCB and components.
Turn off Volume Limit (do this to all music apps)
Apple added Volume Limit to protect the consumer ears, which is a reasonable safety measure. However, you can turn it off in the Music app, but we recommend not doing it because it indeed designed to protect your ears.
If you listen to the music for (2 or 3 hours) more extended hours, then I recommend the music or media consumers keep it this way.
Tap on the "Settings" and then "Music."
Swipe down to the bottom and tap on "Volume Limit" to continue.
Keep the volume bar to a maximum of 100% and go back to check if the option is turned off or not.
We are not done yet and tap on EQ in the Music app.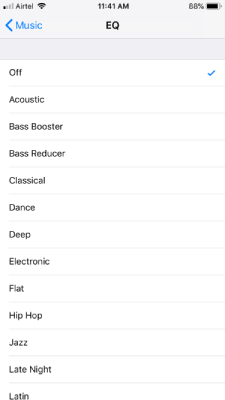 Turn off the EQ option for now.
You don't have to restart the device to apply the settings because it is considered an excellent habit to reboot the machine. Every Music app has a volume limit or EQ system that utilizes its algorithm.
Spotify has plenty of music enhancing options, and you can turn them off to experience RAW performance and culprit at the same time.
Turn off Do Not Disturb (DND)
Thousands of iPhone and iPad consumers enable the DND feature, and they forget it.
You might have helped it, and forgot to disable it because it doesn't impact the day-to-day tasks until or unless it is related to the speaker or earphones.
Tap "Settings" and swipe down to open the "Do Not Disturb" setting.
Tap on the "Do Not Disturb" setting to turn it off.
The iOS silence the incoming calls, and notifications will be disabled. Keep the function turned off to ensure that it doesn't happen again.
Turn off or disable Phone Noise Cancellation
Millions of experts suggest the iPhone consumers turn off the Noise Cancellation to improve the sound output from the speaker and earpiece. You can always revert the settings, so don't worry about the drastic changes to the configuration.
You can turn it back on, and it will work usually. You won't see drastic changes by turn off Phone Noise Cancellation, and it will impact positively for minorities only because of the environmental differences.
Reset All Settings
It's not uncommon for your existing iPhone settings to misbehave with the newly launched software update. It can affect many of your iPhone's features, including its call volume settings.
Resetting your phone settings will ensure your customizations don't come in the way of its smooth operation. On top of that, this might also make your phone a bit faster by removing the temporary cache and apps you don't need.
1. Open the Settings app on your phone.
2. Select General settings.
3. Scroll down and tap on Reset.
4. Confirm the action by selecting Reset All Settings.
Note: If you don't want to lose stored passwords, Wifi networks, custom ringtones, or Bluetooth connections on your phone, make sure to back them up before resetting its settings.
Switch Airplane Mode to On and Off
Airplane mode cuts your iPhone's connection to all wireless networks like SIM, Wifi, and Bluetooth connections. It ensures none of the networks your phone is connected to are causing the iPhone low call volume issue.
So, enabling or disabling airplane mode a few times on your phone can help fix this problem. But make sure you leave it to Off at last.
1. Open the Control Center on your iPhone by swiping from the top right. (For iPhone X and newer iPhone models).
2. Tap the airplane icon for turning it on.
3. Once this mode is turned on, tap it again to turn it off.
Note: If you're using an older version of the iPhone, swipe from the bottom to open the Control Center.
Update Your iPhone
The iOS updates improve your phone's software and hardware coordination. So, they help fix bugs like low call volume on the iPhone while protecting it from vulnerabilities.
Apart from updating your iPhone, we also recommend updating your device drivers if using a headphone for calling.
1. Connect your phone to a power source and ensure it has an active internet connection.
2. Navigate to Go to Settings > General.
3. Tap Software Update and select Install Now next to the available update (if any).
Downgrade to Previous iOS Version
While updating your iPhone's iOS version is generally effective for solving common software issues, your phone is sometimes not compatible with it.
It can lead to performance fluctuations and issues like low call volume, especially if you're using an older iPhone model.
So, rolling back to a previous iOS version can effectively fix the low call volume problem. But make sure you backup your important data beforehand to avoid data loss.
Once you've created a backup, consider saving it to iCloud or a computer. Next, follow the steps below:
1. Find your iPhone model to determine the right software.
2. Download the previous iOS software for your iPhone on your computer.
3. Connect your phone to your Mac using a lightning cable and place your phone in recovery mode.
4. Open Finder on your PC, select your iPhone from the sidebar and click Restore.
5. Now, select the downloaded .ipsw file and open it to begin the down gradation process. It generally takes between 15-20 minutes.
Apple Service Center
If your Apple device is under warranty, then you should seek professional assistance from the service center. Do not hesitate to contact the nearby Apple store and make sure to read Google reviews of the store.
Final Words
Now, you can fix the iPhone low volume issue or make iPhone louder during incoming calls by following simple solutions.
Remember, you cannot recover 100% volume and quality on an old or ageing iPhone because the components get more aged.
Apple did not add a secure protective layer to keep the device from dust particles, and you have to clean it manually in the store.