An iPhone alarm is not working is a simple problem and isn't severe at all. iPhone owners can solve the problem by following easy-to-follow solutions and focus on what's essential ahead. In this tutorial, we are going to address the iPhone alarm app that is not working and solve it using simple solutions.
Apple's official software developer team designed built-in apps for performance, stability, and lightweight environment. Only a couple of them has bugs and glitches, while remaining ones are the super optimized and perfect example for the "optimization" concept. Here are five solutions to fix the iPhone alarm app that is not working correctly.
Remove all and Create New Alarms
Device owners have multiple alarm points in the app, which can cause software-collision, and that's a common problem. We are asking the readers to remove various alarm points and remove them all. There is nothing wrong with creating a new alarm clock to wake up early and reconfigure the settings. We have laid down a simple guide below, if you haven't done this in a while, and don't want to make mistakes.
Open the Clock app and then tap on "Alarm" located at the bottom. Tap on the + button located at the right top section.
Now, select the days from the list, and the Alarm will ring on these days. We have chosen Monday – Sunday, and you can make it Monday – Saturday.
Tap on "Label" and name the Alarm for lesser confusion. You can rename the Alarm and create something new.
Go back and tap on "Sound" and then pick an alarm ringtone.
Turn on "Snooze" and then set the clock to wake up time. We have selected 6 AM as wake-up time, and the Alarm will start at 6 AM from Monday – Sunday.
Tap on "Save" to finish configuring the Alarm.
It's an easy process, but you have to do it in the right way to avoid software-collision. This is a simple guide for readers for iPhone owners, who have never used the Clock app before or misconfigured. We don't want the readers to wake up at the wrong time and end up having an adrenaline rush.
Turn off Bedtime
Bedtime is a powerful app designed to improve the human body's sleep cycle and helps in rejuvenate the strength for a long time. A good sleep cycle enables the brain to repair the body, and build up the strength for the next day. However, if you have misconfigured the Bedtime, then it might create software-collision problems. We recommend disabling the feature for the time being and confirm the problem.
Go to the Clock app, and then tap on "Bedtime" located at the bottom, and then tap to disable the option.
If you need an additional set of instructions to turn off Bedtime feature, and then we got it covered for you. After a certain period of moderation, then you can start working on configuring it properly and solve the problem.
Choose Default Ringtones
We love music, and that's why the Spotify app exists in our library. iOS mobile operating system allows the owners to use custom ringtones or songs from the music app. You should focus on using a built-in tone from the library, and avoid the songs from the library. Apple's official team prepared the default tones for sound output, keeping loudness and human psychology in mind. We are not going to pretend that every tone is excellent, but there are loud Alarm sounds like Apex.
Uninstall Third-party Apps
Apple App Store is a market for innovation as you can find thousands of apps coming from brands, third-party developers, and innovators from around the world. Alarm app is a powerful tool for device owners, and we recommend the users to uninstall it.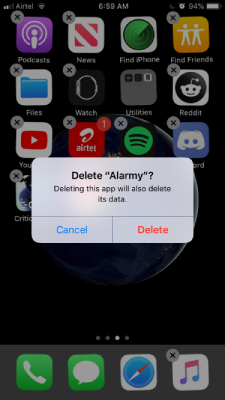 Of course, you are not forced to do it because you can switch to the third-party solution to solve Alarm not working on iPhone. Do not go back to the Apple built-in app and focus on what's important. Having two similar apps doing the same task at the same time causes software-collision. Choose one Clock app, and stick to it for everything you need from it.
Turn up the volume
iPhone/iPad device owners have the habit of turning down the volume, and that could lead to the problem. Android added a separate volume control panel for the users, and it allows them to adjust from phone volume and alarm volume separately.
However, you don't have a separate volume feature on iPhone and iPad. If you turn down the phone volume, then you have also turned down the Alarm app volume, and that's the truth. You can set maximum volume from the settings, and it takes a few moments to change it.
Tap the "Settings" app from the menu.
Swipe down till you find, and tap on "Sounds."
Increase the volume to the maximum under the "Ringer & Alerts" section.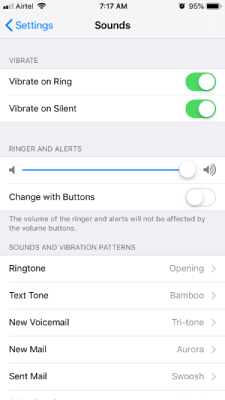 We recommend the users to turn off the "Change with Buttons" option, so you don't decrease it instantly. Your device volume and the "Sounds" setting volume are different, and maximizing the volume from the settings will unleash the true potential of the phone's speaker.
Reboot your device
iPhone/iPad and iOS mobile operating system is a perfect combination of software + hardware combo. Unfortunately, Apple consumers don't reboot the phone or restart the phone once in a while. Of course, iOS is a highly optimizing mobile operating system compared to others in the market. But, iOS needs to reboot once in a while to keep it running smoothly.
Please turn off your phone, and keep it aside for 10 minutes until the next session.
That's all there is to it.
Bottom Line
iPhone Alarm doesn't work a simple problem, and we have shown you different ways to fix the problem. Of course, we cannot fix hardware-related issues because it requires professional assistance. You can book an appointment, if your device is behaving strangely, and Apple won't charge you a single penny under warranty.