Apple allows the consumers to delete all messages on iOS and there are several options available for the act. I want to introduce simplest to advanced methods to give you an idea of what you can delete, and what you can't and how you can recover them later on. I recommend the readers to create a backup on Cloud storage and iTunes immediately because you cannot recover deleted messages on the platform.
Can you delete all iMessages on iPhone and iPad at once?
Apple treats SMS & iMessage the same, and they have placed similar functions for creating the backup, recovering texts, and managing it. Fortunately, iMessage has essential features that allow the device owners to control & manage texts on the phone. You can delete all messages on any iOS devices, and I will show you a few methods and their limitations below.
However, I implore the readers to create a backup on local storage using iTunes because I don't want the readers under the impression that they can recover the deleted data anytime. Once deleted, and it will never come back to the original state again, and you have to move on to create new conversations.
Automatic Permanently Delete Messages on iOS
Apple did not provide one-button to delete all messages instantly because they don't want anyone to misuse it, but you can remove them manually or to some extent. How about removing messages from the phone older than 30 days, and what's possible in the modern mobile operating system. We guide the readers through the process and do not follow the instructions immediately without learning the consequences of it.
Pop-up "Settings" from the menu.
Find "Messages" and tap to open.
Again, you have to swipe down until you find "Messages History" and tap on the "Keep Messages" option to continue.
You have three options available in the window, and they are
The confirmation pop-up shows up and then choose "Delete" to complete the process.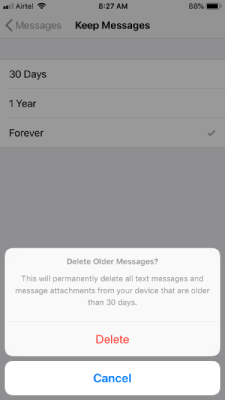 iPhone will delete SMS/iMessage older than 30 days while keeping the conversation intact in the Messages. You won't lose contact and maintain an older conversation on the phone for up to thirty days.
The selection of "30 Days" will grant permission to the device to delete the conversation without your consent anymore.
You can always turn off by following the same instructions to avoid conversation data loss. Make sure to create local storage & cloud storage backup to prevent further data loss and retain older messages for emergency purposes.
Delete Documents, Photos, and Media Separately
I'm very vocal about the media sharing process and its consumption in modern devices. Media consumption is a common factor nowadays, and capturing special moments & sending them to the loved ones using iMessage is a blessing.
However, Apple captures high-quality photos, videos, and provides document sharing on the platform. I haven't mentioned Stickers, GIFs, and other media attachments yet, and that can consume plenty of storage without your knowledge.
Regular SMS/iMessage texts do not consume plenty of storage, but the attachments do consume a lot of space in internal storage. In this tutorial, I want to guide the readers to delete media attachments including Video, Photos, Documents, GIFs, Stickers, and more without removing the conversation thread from the phone.
Open the "Settings".
Now, open "General" by swiping down and tapping on it.
Now, search for "iPhone Storage" and tap on it to continue.
Find "Messages" and tap on it.
Select one from "Documents & Data."
Tap on "Edit" to select one conversation.
Now, tap to select the conversation or attachment, and then tap on "Delete or Trash" bin icon to delete it.
The attachment is permanently deleted from the phone, and only local storage or cloud storage can recover the data. Repeat the same process for other media attachments content to remove them from the phone, and save plenty of internal storage. Make sure to create a proper backup because Apple does not provide recoverable options whatsoever.
Remove Individual Messages Manually
Technology created to eliminate manual work and focus on automation and bore more results. However, Apple does not come forward to offer proper deletion methods and I ended up having the conversation appearing in my "Messages" and it is unacceptable.
Open the "Messages" and choose one thread and swipe left on it to delete it.
The thread will be deleted including personal data such as GIFs, Photos, Videos, etc. I have been using this method to clean out unnecessary people from texting me. I love maintaining a cleaner SMS/iMessage list, and it gives me clarity, and this is an excellent method in achieving that comfort zone.
I have one more method that I have tried to remove previous conversations and save plenty of local storage. Remember, you can select one message or entire thread and delete the entire conversation at once.
Open existing thread and press & hold the message received from the recipient.
Now, the pop-up appears on the screen with plenty of options, but you have to tap on "More" to continue.
Tap on "Delete All" located at the top left corner.
Viola! All messages are deleted, and there is no chance of recovery.
Nobody will know about your secret anymore because Apple does not provide recovery options, and it would take military-grade services to access iMessage deleted data from the phone.