Blocking an individual or unknown numbers on FaceTime is important. Your FaceTime is directly connected to the iPhone and iPad mobile number, and you need to keep the strange people from FaceTime. Check out the complete guide to Block any unknown people on FaceTime.
How to Block Unknown Numbers in FaceTime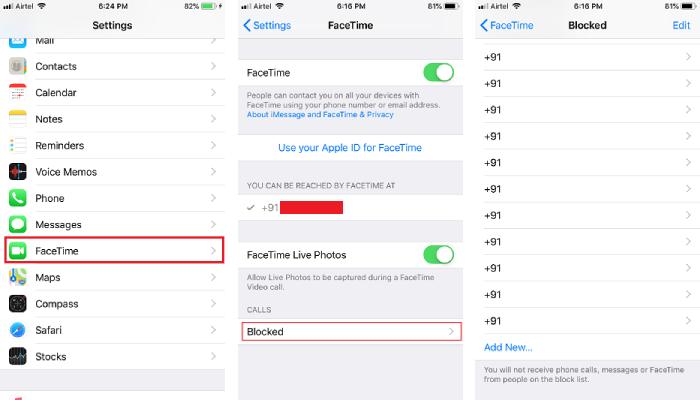 Go to the "Settings" from the Menu and Swipe down.
Find "FaceTime" and then tap on to view more options.
Tap on "Blocked" to explore further options.
Swipe down to the bottom to click on the "Add New" button.
Select any saved phone number that you want to block permanently.
Go back to the blocked number page and then make sure to find the number in it.
By blocking saved phone numbers on FaceTime, you are also blocking annoying people and spam calls and not giving them a chance to irritate you. Reboot the phone to start a new session, and it will rub off software glitches.
How to Unblock Any Number from FaceTime Manually
Some people annoy the most, and we end up blocking them for a brief period of time, and then we reconsider our decisions. Now, we don't know anything about unblocking them, and I don't want you to scratch your head. No need to look for an alternative solution because we are offering an unblocking guide as well.
Click on the "Settings" and find "FaceTime" and then tap on to view more options.
Click on "Blocked" and tap on "Edit" located at the top right.
"Unblock" option will appear on the right-side and then tap on it to unblock it.
You have to select the mobile number to unblock it. Follow the instructions to unblock FaceTime mobile numbers as well. You can repeat the process any number of times, and there are no limitations. Nobody can automatically unblock the mobile numbers, and it is a manual process. Remember, the blocking & unblocking process doesn't require Face ID, Passcode, and Touch ID.