Does your iPhone randomly restarts multiple times a day? It is a common problem that millions of consumers have to go through once in a lifetime. Over the years, Apple's loyal consumers were able to fix the problem using software-based solutions. I want to point out that this could be a sign of hardware failure. We are going to list down the number of solutions to fix iPhone keeps restarting, and you can determine whether it is a software-related problem or hardware level problem.
Outdated Apps on your Apple Device
Apple is pushing a new version of the iOS every year, and only a few major developers can keep up with newer updates. You have to remove bad apps from your library because they can create backlash with the newer operating system. We don't know the app that is causing the problem, so you have to figure it by removing the least used ones.
Remove apps that you rarely use or no longer using.
Monitor, when your phone is restarting, and which app was open or being used or open in notifications.
Disable the app notifications manually.
Unfortunately, we don't have in-depth information this as of now due to the closing date of the iOS release. You have to figure this one out yourself, and you are indeed on your own.
Clean up storage on an iPhone
Older Apple phones don't have higher storage options, and it leads to overload. You have to clean up space for the device to run smoothly on older iPhone's and I have experienced it first-hand. Clean up internal storage and ensure that it has 2GB of free space in it. There is nothing wrong with keeping 2GB free space on the phone because it helps iOS to utilize to load some pages and keep the device performance optimal.
Remove useless applications from the library and monitor, which app is causing the problem. Move on to the next solution, if you have updated applications only. Make sure to check the developer's update release date to ensure that you don't have an outdated ware in the smartphone.
Dig Deeper
Your iPhone and iPad have analytics recorded in the device, and you can choose to share the information with Apple. You can utilize personalized analytics to figure out what is going on with your device. The records reveal, what is triggering the restart process, and what you can do about it.
Open "Settings" and find and tap on "Privacy" to continue.
Swipe down to the bottom and tap on "Analytics & Improvements" to continue.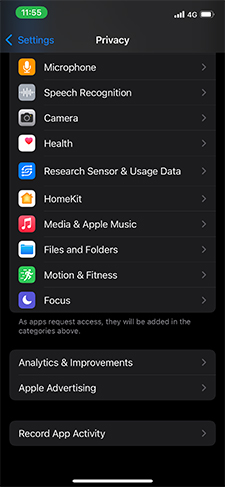 Tap on "Analytics Data" to find all files.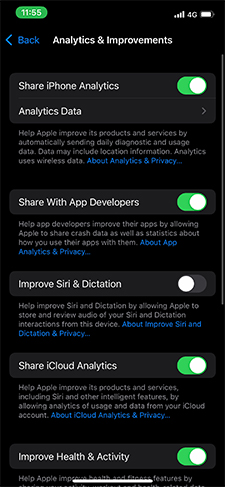 Tap on the recent report to check out the analytics data.
You can share the records via Message, Mail, iMessage, and other AirDrop sharing options. Of course, I don't know to decode the data, but you can share the information with someone that knows how to analyze it and decode it for you.
Update iOS or Restore iOS
Corrupted iOS is a common phenomenon, and it is a common problem for software in general. I'm asking the readers to use iTunes to update to the latest software or restore the iOS. Scrapping the existing copy to the fresh copy will replace corrupted files, and you will have zero problems. In most cases, restoring works flawlessly because Apple replaces entire iOS system files with newer ones.
You are good to go, and you can see our previous article to restore or update the iOS version on the iPhone.
Reset All Settings
Apple added the "Reset" button in the device to remove personal files from the device and revert the phone to its original settings. Resetting the device is an ideal option for someone, who is having software-related problems as it will kick out corrupted configuration, and give you new-like experience.
Bottom Line
If the above solutions are not working, then you might have a hardware level problem. You can book an appointment with the Apple service center and let them have an in-depth look at the device. Of course, you can seek assistance from third-party service centers but I do not recommend it as they steal genuine parts and replace it with first-copy or generic ones.