Experiencing Snapchat on PC from a different perception is fascinating. Snapchat is an instant messaging platform developed in 2010 when portable device applications were new in the market. The official developers saw a huge market, which they can take full advantage of it.
The instant messaging company did not develop & released an official version of Snapchat for Mac or Windows. In such cases, we are going to go for roundabout methods, and the open-source Android project enabled us Android emulators for cross-platform operating systems.
How to use Snapchat from PC (Windows 10) using Bluestacks
Android simulation market is taken over by Bluestacks because millions of Bloggers, Professional people, and individuals promoted it. Of course, Bluestacks requires a high-end machine to run multiple apps and services smoothly. Since we are focusing on installing Snapchat only, so it doesn't consume a lot of resources.
I am going to download and install Bluestacks along with you.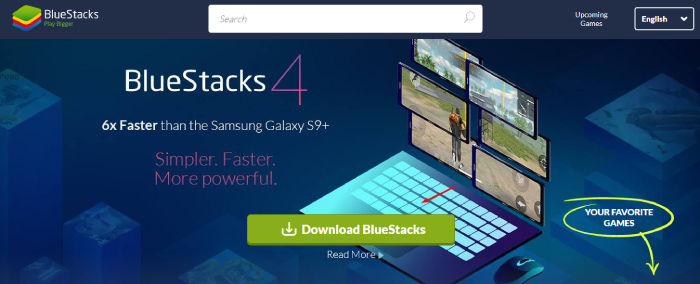 The traditional installation process does not require additional instruction, so go ahead and install it. The installation size might exceed above 1 GB, so make sure to create enough space in C: or you can change the installation location.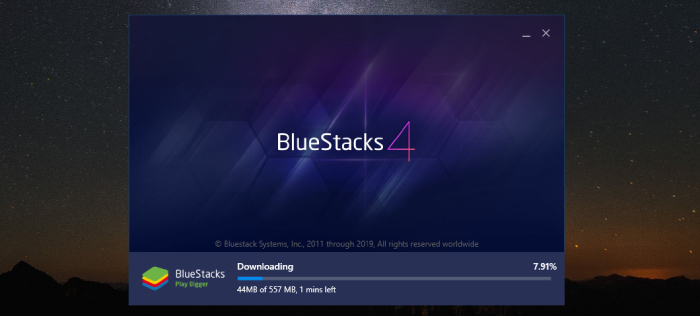 I recommend the readers to download Snapchat on APKPURE because you need to login to Google account.
The advanced simulators provide drag & drop feature, and you can install an application using it.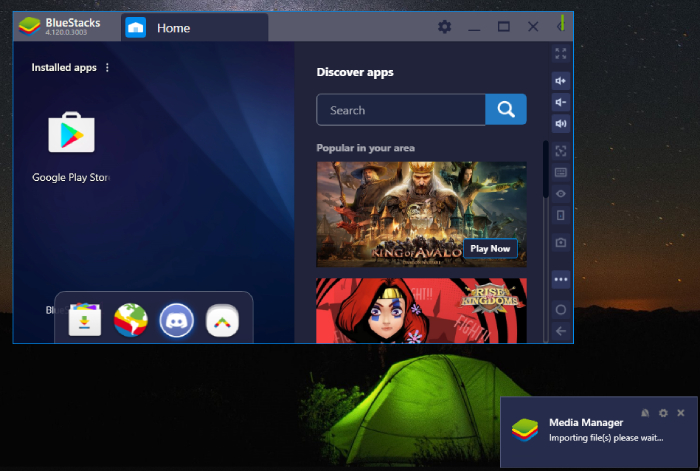 In case, if you want to sign-in to Google account, and then click on "App Center" located the bottom of the main screen.

Type "Snapchat" in the search bar, and then hit enter to proceed.

A small window will show up on the screen asking the administrator to add credentials and login to the play store.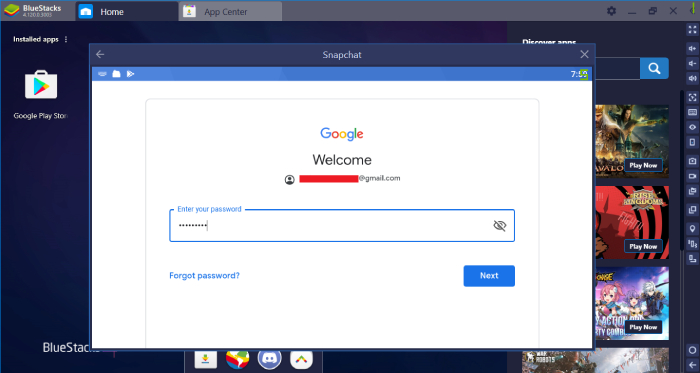 Now, the simulator engine will automatically redirect to the download option and then click to install it.

After successful installation, you can access the services without restrictions.
Bluestacks requires an active internet connection and good hardware resources to maintain a responsive experience. Make sure to go through the hardware requirement paragraph, so you don't end up wasting time on something that will never work on the current PC or Laptop.
How to Get Snapchat on Windows without Bluestacks
The most popular solution may not work for your taste, and I always go for designed solutions. I must way that Bluestacks requires modern hardware to function smoothly, and older machine might struggle here and there. You cannot run Android apps on PC without emulator because Google OS is a unique design, which is not compatible with Linux OS, Windows OS, and Mac desktop environment.
Launch Nox App Player, and then drag & drop the file into the emulator to install it. You can locate the APK file and then double-click to install it because of Nox App Player support file recognition features.
You have an option to install manually or sign-in to Google account and download it from Play Store.
Launch the application from the menu, and start exploring Snapchat.
The company does not approve the non-Android machine to run its services because it disturbs their privacy policies. Create a new account on mobile, and then log in to the newly created account on emulator.
How to Run Snapchat on Macbook or Mac
MacBook and Mac PC runs on macOS developed by Apple. The desktop environment differs from the rest of the competitors, and you can run the Snapchat using Nox App Player as well. Oh yes, I have mentioned above that Nox App is available on Windows & macOS Mojave.