You received a word from the boss and found out that iPhone messages disappeared. Such a situation leaves the iOS device owners devastated and end up suffering from technological limitations. In this post, We will be helping Apple device owners in solving the Messages disappear issue from iPhone and iPad.
How to Fix Messages Disappear issue from iOS device?
I spoke about SMS/iMessage has several options that many people don't know about it. We are going to explore a couple of options that might have been enabled by someone else or by mistake. However, it could be the contributing reason for missing SMS and leaves no trace of it.
Go to the "Settings" and find "Messages."
Swipe down a little and then click on "Keep Messages" under "Message History" to continue.
Select anything above 30 days, and it could be the contributing reason for missing texts.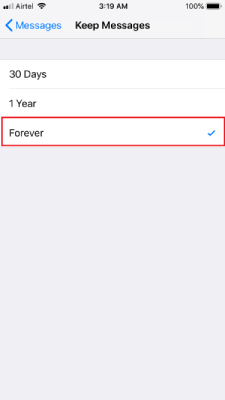 In this case, I have selected forever because I can delete them later on and never miss out on a single message from the phone. However, I won't consider this a solution for those who are experiencing missing new & unread SMS.
Restart or Reboot your Apple iOS Device
Even the most basic technique always turns out to be the solution and reboot the iOS device. I haven't turned off the phone in weeks, and the phone requires a new session to remove software-based problems. I implore the device owners to provide 10 minutes of rest after turning the device off and leave it to rest.
Update the iOS with the latest version
I have no intention to offend Apple device owners, but iOS has proven to have unknown bugs in it, and that's why Apple pushes newer updates frequently. The latest edition of the mobile operating system might have ended up with a new bug, and we recommend the readers to update the software.
Check Apple System Server Status
If we are talking about iMessage, then I have to mention physical servers in specific regions. Unique services don't work when the servers are not responding anymore, and it is an uncommon problem. You can check the Apple server status of a specific service.
Last Resort: Restore iPhone/iPad
Millions of tutorials and articles suggest the Apple phone owners reset the phone manually and then restore the phone back to its true glory. However, I figured out a couple of days ago that isn't necessary at all and you can restore the phone messages from iTunes manually.
I already covered an in-depth guide on the subject and restore iPhone from iTunes by following simple instructions. I believe there's a backup waiting in cloud storage or local storage and it can come in handy during such scenarios.
Conclusion
Apple functions differently in many countries due to its policies in Privacy, Safety, and RTI policy. I implore the readers to contact Apple customer care and carrier support team for further unknown information that we may not know about it.