Google has changed a lot in recent times, and they are moving towards the future at a faster pace. A new user may encounter complicated obstacles while creating a new Gmail account, but we can lift off the burden by providing information beforehand.
Open a new Google Mail Account for free: Preparation
One simple measure can solve half of the obstacles, and it is called preparation. I have listed several things that you should prepare before proceeding.
Mobile number
First and last name
A strong combination password
Calling support (Optional – Google will call the number to confirm the account)
That's all you need to make a free Gmail email account.
How to create a new Gmail account by using mobile number?
Enter all details such as first name, last name, username, and password, and tap on next.
Enter your mobile number and click on "Next" to continue.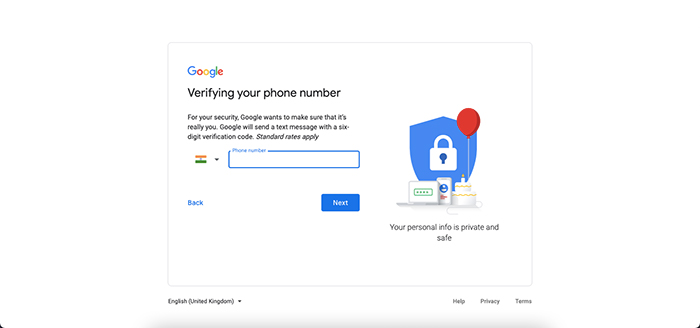 An SMS is sent to your mobile number.
In case, if the SMS hasn't made it in the inbox, then click on "Call instead." You will receive a call from Google Bot and find out the verification code in voice.
I received an SMS from Google and enter the code in the empty field to confirm the account.
Your Google mail account is activated.
How to open a Gmail account from smartphone?
I tried to create a new Gmail account on the dedicated iOS app, but it didn't have a "sign up" option. Nonetheless, it has a sign-in option only, but you can create an account within the app.
Open the Gmail app and then tap on Sign in to start the process.
Tap on the "Google" icon to continue.
A pop-up will appear, and tap on "Continue."
Enter the email address and then tap on "Next."
Choose "For myself" and then click on "Next."
Enter first name, last name, date of birth, gender (optional), and click tap on "Next."
Choose one email or choose a custom email address.
Enter a strong password with a combination of one upper case, one character, and three numbers, and then click on "Next."
Enter a mobile number.
An SMS is sent to the number and enter the code here and then tap on "Next."
The account is activated, and you can access the inbox.
You can install the dedicated Google mail app on Android and iOS devices to create and manage the Gmail account. Users can add multiple accounts, including other Google mail accounts in one app.
Google Mail Privacy
The Californian-based tech giant indeed changed the digital world with a search engine, mail, Android, YouTube, images, apps, and more. However, you should pay attention to privacy policies because Google faced many privacy class lawsuits in the past.
You can read all about it on Wikipedia and follow its outcome later down the line. The American search engine has improved the privacy policy over the years, it is a good practice to read it thoroughly.
Bottom Line
You can create a new Gmail account on your desktop and smartphone. You can add multiple email accounts in the Gmail app, which is an additional feature, so you can manage all inboxes in one place.