An iPhone is full of cool features. One of them is that it automatically adjusts your screen's brightness. So, in case, if your iPhone keeps dimming it does not necessarily mean that your iPhone is damaged. You might have to adjust some settings and you are good to go. So let me answer how to fix iPhone dimming randomly for you.
Why Does Your iPhone Screen Keeps Dimming?
The main reason your iPhone screen keeps dimming is that auto-brightness has been enabled. Depending on the light conditions around you, this feature automatically adjusts the brightness of your iPhone.
I find the feature quite useful. At night, the iPhone automatically darkens the display, so we don't have any trouble looking at the phone.
But sometimes, the auto-brightness feature might not work the way it should. In such a case, you can simply turn off auto-brightness and manually adjust your iPhone brightness.
According to Apple, if you turn off the auto-brightness feature, it can affect your iPhone battery life. In case you are someone who leaves their iPhone on maximum brightness throughout the day.
7 Ways to Fix iPhone Randomly Dimming issue
Turn Off Automatic Brightness from your iPhone
According to the light conditions around you, your iPhone automatically adjusts the brightness of your screen. As a result, the auto-brightness feature may act weird at times. However, to fix the issue, you can simply disable it.
Tap on Settings > Accessibility > Display & Text Size.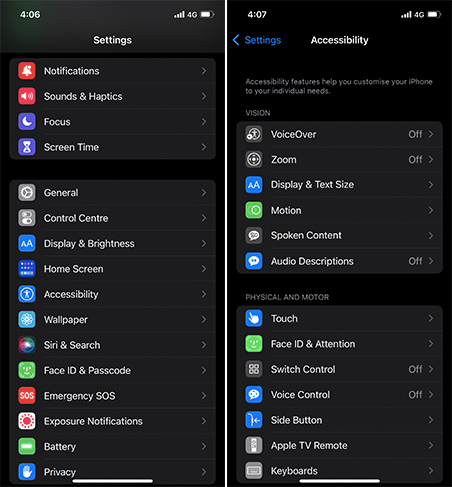 Scroll down to the bottom and toggle off the Auto-Brightness option.
Once turned off, manually adjust the screen brightness and see if it's getting dimmed automatically.
Night Shift Feature
Night Shift is another cool feature on your iPhone which turns your screen slightly warmer to help in reducing eye strain. You have to set this feature manually, and it makes your iPhone screen slightly dimmer.
In case if you have enabled Night Shift, then it could also be the reason why your iPhone keeps dimming. To change its settings, follow the below steps.
Go to Settings and tap on Display & Brightness > Night Shift.
Now turn both Scheduled and Manually Enable Until Tomorrow options to disable Night Shift.
Turn Off True Tone
Your iPhone also comes with a True Tone. This feature also automatically adjusts the display brightness and color temperature.
The feature makes the color appear consistent in different places, which could be the reason why your iPhone screen is dimming. So you can try disabling the feature and see if it worked.
To disable the feature, Go to iPhone Settings > Display & Brightness > Toggle Off True Tone.
Turn off iPhone Low Power Mode
Are you using low power mode on your iPhone? If yes, then maybe your iPhone is trying to save battery. As a result, it dims your screen brightness. So, you can try disabling low power mode and see if your screen is still getting dimmed.
You can disable low power mode by going to Settings > Battery > Disable Low Power Mode.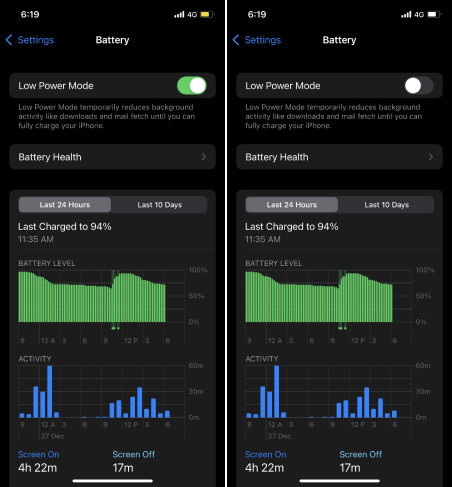 Turn Off Low Light Zoom Filter in iPhone
The Low-light zoom filter is another feature that can cause screen dimming issues. So, in case if you have accidentally enabled the feature, here is how you can turn it off:
Go to Settings > Accessibility.
Now check if the feature is enabled.
If enabled, tap on Zoom Filters from the bottom.
Then if it's set to low light, then change it to None.
Update Your iPhone
Screen dimming could also be a bug, and there is a good chance that Apple already fixed it with an update. So do check if there is an update available for your device. If there is, then update your iPhone and see if it fixed the issue.
Reset to Factory Settings
If you believe that you messed up some settings and that's what is causing the screen dimming issue, reset your iPhone to factory settings. Make sure you have taken a backup of your iPhone before doing so. As everything will get erased.
Visit nearest Apple Store
If none of the things worked for you, then there is a chance your iPhone is only damaged. So, visit the Apple Store and get your iPhone checked. If your iPhone is under warranty, they might fix it free of cost. Else, you have to pay the repair cost.
Final Words
So those were a few fixes for iPhone keeps dimming issues. Hope the suggestions above worked for you.