Experts in the industry recommend the best RTX 2060 Super over RTX 2060 and GTX-series graphics card. The RTX brings ray-tracing sacrificing performance yet bringing the utmost superior modern technology to the 3D games. Of course, RTX (Ray Tracing) series graphics cards are indeed future proof, but we have to prepare ourselves into buying the right card.
There are so many manufacturers such as MSI, Asus, Gigabyte, Galax, Colour, and more. Manufacturers have brought low-cost or budget RTX graphics cards by compromising to bring down the cost. In this best RTX 2060 Super list, we are not holding back and offering the highest quality graphics card that is indeed future proof. If you are looking for the best option and budget gaming card then you can also check our previous RTX 2070 Super Cards Buyers guide.
ASUS ROG Strix GeForce RTX 2060 Super A8G Evo Gaming
I own Asus ROG Strix graphics card and RTX 2060 Super does bring plenty of power, quality, and performance. Of course, Asus ROG Strix graphics cards do cost 15% more compared to the competition. However, I would choose ROG Strix over others, if you are planning to stick to one card for more than 3 years.
Performance: Truly a beast
Of course, RTX 2060 Super chip cannot beat the higher-end version, even if you overclock the ROG Strix card. However, the Asus card outperforms most of the high-end RTX 2060 Super editions in the segment. I do recommend this piece of technology for FPS players, and competitive, who wants to push 144 Framerate per second.
I recommend the card for streamers because Super editions have more Cuda Cores, Higher clock-speed, supports Nvidia G-Sync, and highly optimized software. Both recording & streaming is possible on this card, but you may have to turn down the settings to medium for lagless experience.
Overall, ROG Strix edition brings 2 FPS/5 FPS difference, and the advanced OC mode can bring more juice out of the card. I don't think, you have to worry about the higher temperature in the advanced OC mode, which is one of the reasons that make the extra $50 worth the price.
Monitor the card performance using GPU Tweak II owned by Asus, and optimized for it.
Build Quality: High-quality
The PCB is covered by "Super Alloy Power II" which was specifically designed to last longer, and take on heavy workloads. ROG team did not hesitate to add premium components such as DrMOS power stages, premium capacitors, and alloy-core chokes to push the card to maximum limits.
The backplate is manufactured using high-quality alloy and supports RBG lighting.
Coming to the three-fans, where you get fans that were made from high-quality materials.
Asus owns the Aura Sync RGB lighting control panel that is available for free-of-cost, and you can control the graphics card RGB lights.
Cooling System: Simply THE BEST!
The IPV6 certified fans are dust resistance that won't let it damaged by small dust particles. The Axial-tech fan won't spin until the temperature of the graphics hits 55°C, so don't panic, if the fans won't spin normally. I must say that dust particles aren't even visible after using it for months.
I have to mention the "0dB Technology" that keeps the spinning fans in silent mode. I own one of ROG Strix editions and I have never heard fans spinning noise, and 0% noise capture in Streams & Gameplays recordings.
The cooling system won't disappoint you and the temperature on idle is 30°C – 35°C and while gaming or workloads 65°C – 68°C maximum. I haven't seen ROG Strix edition temperatures go above 70°C, stock of course.
Overall, the cooling system does keep the graphics card cooler during the summer season (42°C recorded). The extra $50 investment is worth the premium hardware and the cooling system.
Dimensions: BIG!
I do have to mention that ROG Strix 2060 Super is bigger, and normally, I wouldn't say this but you need larger space in the cabinet.
RTX 2060 Super: 11.83 x 5.14 x 1.93.
RTX 2080 Super: 11.8 x 5.1 x 2.1.
Just imagine, RTX 2060 Super chip is very close to RTX 2080 Super in dimensions. This is not a compact edition for sure and consumes plenty of cabinet space. I pointed out the dimensions specifically for this card because most of the buyers don't have enough space in the cabinet, and are on a tight budget.
ZOTAC GAMING RTX 2060 SUPER MINI
RTX 2060 Super edition cards come in larger due to the chipset architecture. ZOTAC keenly saw this as an opportunity and the R&D team started to work on "Mini" edition that fist in smaller cabinets. Meanwhile, ZOTAC did not want to compromise in the quality and maintain competitive performance.
Performance: As expected!
Most of the gamers have 1080p monitor clocked either 60Hz or 144Hz, and RTX 2060 Super has 2176 physical Cuda cores. The GPU boost clock is 1650 MHz, which brings me to the power supply, where the minimum power required is 550W, and many buyers have suggested that 600W will put the graphics card at maximum performance.
The graphics card is capable enough to game and stream on Twitch, YouTube, and other platforms. The Nvidia graphics software optimization and ZOTAC compatibility are well-known in the market. Most of the readers might presume that small form factors could lead to slower performance, but that's not the case here. Overall, the ZOTAC Mini edition brings the utmost performance and can compete against big-time players in the market.
Build Quality: High-quality
ZOTAC never compromised inbuilt quality, but they did not use premium components like Asus ROG Strix edition to keep the cost lower. The PCB consists of high-quality components and designed to last for years to come, and I own one of the ZOTAC cards.
The company did not compromise in build quality, and the aluminium array made from high-quality metal. None of the components were made from cheap quality materials, and don't worry about build quality because they were designed to last longer.
Cooling System: Standard
I consider the cooling system a very important aspect because RTX-series cards produce good heat. If you are purchasing the card for gaming, animation, and 4K video editing, then I do recommend that you check the cooling functions on the card. ZOTAC added an aluminum heat sink that observes most of the temperature generated during the usage.
40% utilization hits 40°C and that's common for a graphics card. Coming to the 100% utilization, ZOTAC mini maintains the temperature from 70°C to 80°C and cabinet air flow does make a difference in the overall cooling process.
The entire setup looks standard in quality, but they implemented IceStrom 2.0 technology for a cooler environment. The IceStrom 2.0 designed to run the inbuilt fans quietly and while keeping the temperature lower. ZOTAC offers FireStorm Utility that provides in-depth information on monitoring capabilities and overclocking the GPU in a few clicks. Speaking of the rear part, they added a strong aluminum plate that assists in lowering the temperature.
Dimensions: SMALLEST!
My second pick fits 90% of the cabinets out there and makes it a viable option for smaller gaming rigs.
Dimensions: 21 x 11.9 x 4.1 CM.
I want to point out that the ZOTAC Mini edition requires dual slots, which means you need enough space to cover PCI-slot! In short, you have to leave plenty of space for the card in terms of width. Many gaming computers have a capture card, Wi-Fi card, Network card, Sound card, and more installed. Consider removing one of the external components.
PNY RTX 2060 Super 8GB Dual Fan Graphics Card
PNY is a well-known manufacturer in the United States of America. PNY offers a dual fan and triple fan RTX 2060 Super, but we are going to take a quick look at the dual-fan variant. PNY does understand the market demand and they are keeping the price lower to meet new consumer's expectations and increase popularity among the gamers.
Performance: As expected!
PNY integrated its product with NVIDIA Turing architecture, which is, of course, RTX 2060 Super processor. You don't have to worry about the performance as the graphics card can push 1080p and 1440p gaming in high settings and medium settings. You might have to tune down the graphics setting for 4K gaming and you have a butter smooth gaming experience. You can connect 7680 x 4320 resolution monitor and run it at 60Hz refresh rate and that's the maximum supported resolution.
Since PNY RTX 2060 Super dual-fan edition is a budget-oriented graphics card, I cannot complain much here but I want to point out that it doesn't support NVLink. You cannot connect two RTX 2060 Super for workstation purposes or other projects.
Build Quality: Good Quality
PNY is not a new player in the market, and they understand the competition and aggressive pricing to compete in the current USA graphics card market. PNY worked around the design and build quality. The brand skipped working on the design because it doesn't have RBG lights and fancy design.
The brand used high-quality parts in the design to keep up with modern standards. However, you won't find any fancy aspect in the graphics card and you cannot complain about ii because it comes under budget-oriented products. Regardless of the lack of design work, I think it is a good graphics card that will last longer in the budget-tight gamers.
Cooling System: Decent!
The cooling design is important because that's what decides performance, FPS, and lifespan of the graphics card. Fortunately, PNY traditional design does not lack the cooling performance and keeps the chipset cool, even during intense graphics usage. The card does not go beyond 40°C in idle state, and 70°C maximum in intense graphics card utilization, which is enough to prove my point.
Some of the folks even overclocked it and were able to keep the temperature below 70°C and it is a remarkable result. However, I'm not vouching for overclocking abilities because things can go south when messing around with the stock configuration.
What's missing?
The fans! PNY should work on the fan system because you don't want to hear the sound of fan spinning during gameplay. Many of the gamers love to record and share it with the world, and the microphone can capture the noise. I mean, you don't have to worry about the fan noise as long as it doesn't hit 100% RPM speed.
The brand demands the consumers to have an 8-pin power connector and 550W power supply.
Dimensions: SMALLEST!
Dimensions: 1.57 x 9.25 x 4.41 CM.
I would not say that PNY RTX 2060 Super Dual-fan is the smallest graphics card, but it is a compact version, and I do recommend it for someone, who does not want to upgrade the cabinet or have a smaller cabinet.
ASUS DUAL RTX 2060 S O8G EVO V2
Asus added the ROG Strix sub-brand to build and market premium products, but they did not stop manufacturing generic or standard quality products for the consumers. Asus Dual-fan RTX 2060 Super card brings more value on the table for consumers, who don't want to pay above $410 for the graphics card.
Performance: Better!
I don't want to brag but Asus has done a good job when it comes to putting together a card that can push stock clock speeds. The Dual-fan setup is clocked at 1470MHz and the boost clock is 1695MHz. The base clock 1470MHz is indeed the original stock speed, but Asus managed to tweak boost clock to 1725MHz in OC Mode, whereas stock boost clock speed is 1650MHz. The RTX 2060 Super has 2176 Cuda Cores, which should offer [email protected] under ultra graphics settings.
Overall, the Asus variant does offer a value-for-money package, where you are getting the compact design, OC Mode feature, and decent quality card. In terms of stock performance, it's nothing special here because it will perform as most of the standard quality cards and equivalent to Founder's edition of RTX 2060 Super. Asus does put the cards on a 144-hour testing period to ensure that there is nothing wrong going on in the card.
Coming to stream and gameplay, you have nothing to worry here because Asus DUAL RTX 2060 S O8G EVO V2 is not missing NVIDIA Encoder (NVENC), which is a capable technology for streaming and gaming from one gaming PC.
Build Quality: Standard!
The Taiwan-based manufacturer did not compromise on the quality and pushed the Auto−Extreme Technology in this edition. The engineers added aluminium backplate to the construction to prevent PCB bending and improve rigidity. The IP5X Dust Resistance brings the utmost protection to the fan blades and keeps the graphics card cleaner for a very long time.
The brand equipped Axial-tech Fan in the budget-oriented product that was made from high-quality material. The middle part is made from copper and the heat pipes are directly in contact with the GPU processor. However, I would say that it lacks a modern design element, and has little to no RBG. Asus did add a small RBG strip but it isn't even worth looking at. I would not argue considering the price point and I can live without modern design and RBG lights.
Cooling System: Best!
I'm not surprised that Asus pushed the 2060 S to 1725MHz because it has Axial-tech Fan design. The Axial-tech is the flagship-grade fan design of ROG Strix, and it is probably the best the market today. I did not expect it, but Asus bundled 0dB Technology in this edition, which is a smart technology that allows the graphics card fan to spin only when the temperature hits above 55 °C. The DirectCU II Heatpipe design is directly in contact with the GPU processor for an effective cooling process. Overall, I am satisfied with the cooling system because it is a flagship-grade technology that you cannot miss.
Dimensions: Supports 99% Cabinets!
Usually, I'm always delighted to witness Dual-fan cards, but Asus packed a fat card. My cabinet can house it, but I have to sacrifice a couple of things, so I don't recommend this card for smaller cabinets owners. I must point out that Asus Dual RTX 2060 S O8G EVO V2 adds greater value to the bank and worth checking out.
MSI RTX 2060 Super Overclocked Graphics Card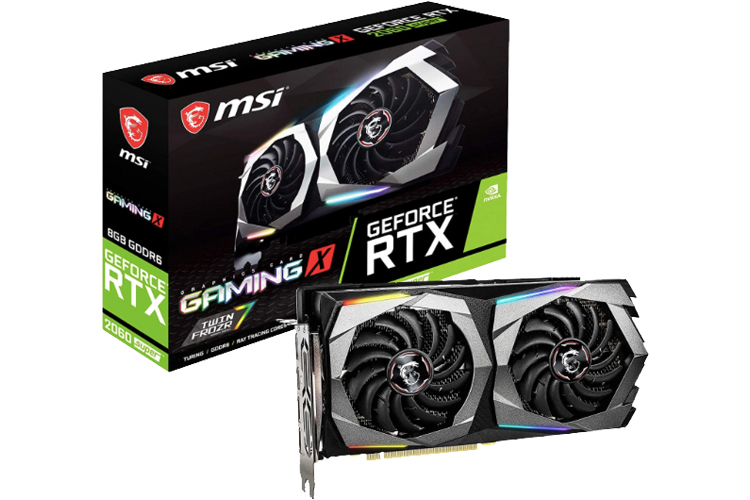 MSI is a reputed manufacturer and I am using MSI motherboard and it delivers high-quality products around the world. MSI bundled RTX 2060 Super Dual-fan edition under $500, which makes it an ideal entry-level Ray-tracing Turing Technology.
Performance: As expected!
MSI launched RTX 2060 Super under the Ventus OC category, which is a premium card that housed from high-quality material and components. MSI did not mention base clock frequency, but it is 1470MHz, which is the stock frequency from the founder's edition. However, the manufacturer tweaked the boost clock to 1665MHz. The stock boost clock of the founder's edition is 1650MHz, so the MSI Ventus OC variant is slightly better.
In terms of performance, you won't see the massive difference from other RTX 2060 Super cards, and it should push [email protected] gaming in high graphics setting. You can play any popular title on MSI Ventus OC RTX 2060 Super edition in Ultra/High/Medium and can achieve a better frame rate by lowering the graphics setting.
Nvidia spent plenty of time on RTX card technology, where you can stream and game from the same gaming PC. Nvidia added New NVIDIA Encoder (NVENC) based on RTX Turing Technology in RTX 2060 Super, so don't worry about quality and frame rate drops, while streaming using this same card.
Build Quality: High-quality!
MSI never compromises on build quality and utilizes high-quality materials & components for the Ventus OC variants. The Taiwan-based manufacturer used neutral colors to maintain industrial looks that fit modern builds. The design coupled with 6mm thick copper heat pipes, which were made from high-quality copper that directly is in contact with the GPU processor. The Engineers used a premium thermal compound to secure the contact between the GPU processor, and thermal design. There is a backplate included in the build, which plays no part in keeping the temperature down, but helps in strengthen the graphics card.
Cooling System: OC Capable!
Ventus OC is an over-clocking capable card, where you are guaranteed to get a good thermal design and cooling system. Consumers can overclock the GPU to push the card to the maximum capacity, and extract extra performance out of the card. The TORX FAN 2.0 is an award-winning technology, which improves the cooling system and effectiveness of the airflow. The Dispersion Fan Blade improves the effectiveness of the airflow and cooling of the GPU.
Dimensions: Good!
Dimensions: 9.1 x 1.7 x 5 CM
I have a small cabinet that cannot house a modern graphics cards because they are manufactured in a bigger size. I can easily fit this component in my cabinet since MSI Ventus OC RTX 2060 Super is a Dual-fan variant and smaller in size.