Are you looking for RTX 2070 Super for professional gaming, streaming, and overclocking? Nvidia designed the RTX series to put the predecessors to shame, and bring new lineup to encourage the gamers to experience boost performance. The RTX stands for Ray Tracing, which is the next-gen technology that brings natural lighting and it is one leap forward towards realistic gaming.
We have complied with RTX 2070 Super graphics cards that were designed for high-end gaming under extreme conditions. Of course, I have also included standard RTX 2070 Super editions to meet your budget and not break the bank vault. Read the entire guide thoroughly to understand, which edition is for hardcore gaming and that one that meets your budget.
EVGA GeForce RTX 2070 Super WATER-COOLED XC Hybrid Gaming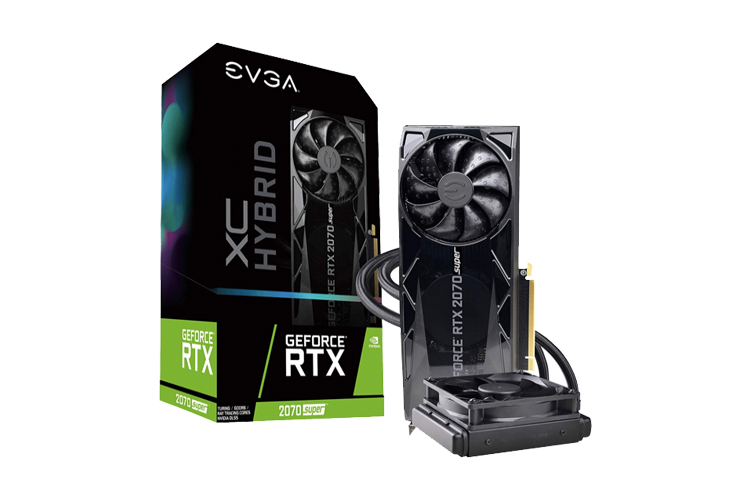 EVGA is a reputed manufacturer that launched the Super XC Hybrid Gaming edition for the hardcore desktop consumers. Of course, EVGA is working towards creating a card that could bring the ultimate cooling system in a gaming computer. The desktop graphics card is going to bring ultimate value to your buck, only if you are investing it for what it was originally designed for.
Performance: Excellent!
The RTX 2070 Super XC Hybrid Gaming is all about performance, which does not only bring performance but excellent boosts clock. EVGA designed the card to push the limits while keeping the card in stable condition throughout the session. Nvidia pushed 1770MHz boost clock on founder's edition, while EVGA managed to bring 1800MHz boost clock. Of course, it won't make a huge difference in gameplay, but it can push 3fps – 5fps extra when compared to the founder's edition. You can consider the EVGA graphics card for designing, rendering, and more. It coupled with Super XC Hybrid technology brings the utmost gaming performance in story mode based games. The desktop consumers can play almost any game in High to Ultra graphics settings.
Build Quality: Good!
EVGA had to consider plenty of options because the manufacturer wanted to deliver a card that doesn't need hardware maintenance. Fortunately, EVGA worked on the housing that offers high-quality plastic build and you won't metallic elements in the front panel and have one fan the front and a separate fan with the radiator in it. EVGA used a high-quality copper base to control the temperatures.
The engineers looked deeper into the design and finalized the design that smartly manages the cables and wiring. I should point out that you are getting a metallic backplate, and it is missing in the variant. I would not call it perfect or excellent, and it is standard build quality that gets the job done.
Cooling System: Good!
EVGA brings the ultimate cooling system in RTX 2070 Super XC Hybrid Gaming edition. The brand added a dedicated memory plate, which is in contact with the water cooling block. The idea of having a separate 120mm radiator is to bring the temperature below 65° during extreme conditions. Of course, EVGA built the graphics card for overclocking and 120mm radiator won't disappoint you. You can read reviews at Amazon and consumers cannot stop bragging about the cooling system.
Dimensions: Big (15.1 x 8.1 x 5.9 CM!)
It weighs 4.9 pounds or 1.9 KG. Overall, it is a heavy card that requires a strong cabinet and fittings to keep it that way. EVGA card is not small in size, and requires decent free space to insert the card, and requires additional room to connect 120mm Radiator fans.
ASUS ROG STRIX RTX 2070 Super Overclocked 8G GD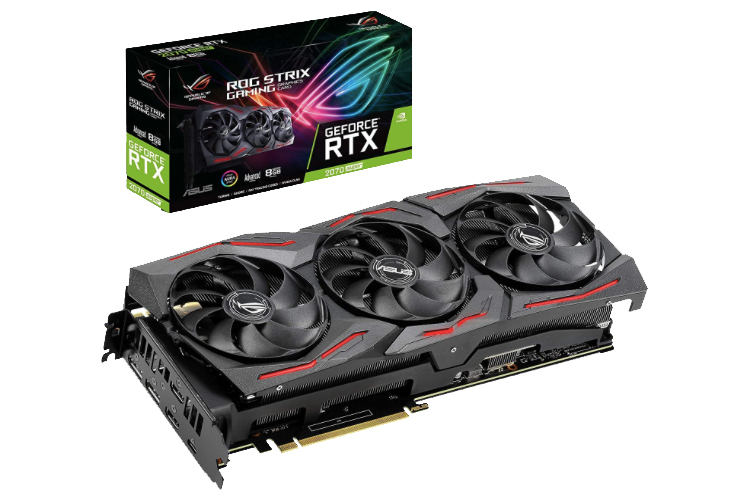 Asus is known to build premium-quality products under the ROG Strix brand, and this RTX 2070 Super might meet your requirements. This ROG Strix edition brings the utmost performance and quality on the table that the competition may not be able to withstand. However, the ROG Strix RTX 2070 Super does come with an expensive price point.
Performance: Best!
Most of the buyers often seek gaming performance to measure its true power, and it can deliver 100+ FPS on any triple-A title. The ROG Strix edition capable enough to deliver 70 fps – 90 fps on 1440P resolution with high to ultra graphics setting. The graphics card is capable enough to push 4K@60fps gaming by setting high to medium settings with RTX turned off. The card is ideal for graphic designers and streamers because Asus added OC Mode and Gaming Mode (Default) in the product.
The Gaming Mode base clock is 1605 MHz, meanwhile, the boost clock is 1905 MHz by default. You do have a dedicated option to switch to OC Mode, which stands for overclocked GPU that has a base clock of 1635 MHz and 1935 MHz of boost clock speeds. Overall, most of the beginners don't have to spend a dime on overclocking guides and take further risks.
Build Quality: Best in the market!
I own ROG Strix graphics card and I have experienced the build quality first-hand on every product that they launch in the market. Auto−Extreme Technology allows the automated process to conduct precise manufacturing that reduces strain and chemicals for overall strength and longevity. The RTX Turing technology requires stronger build components to withstand GPU intensive tasks, and ROH Striox brought Super Alloy Power II technology on the table. The high-grade components in the graphics card enable the consumers to have a stable performance during GPU intensive tasks.
Cooling System: 3 fans card is best in class!
As I have mentioned above that I own ROG Strix card, and the modern cards equipped with Axial-tech Fan Design. The new fan design brings the utmost cooling system for RTX 2070 and never worries about hitting above 70° even during GPU + CPU intensive tasks. The premium-grade material used to manufacture fans is outstanding, and won't disappoint you at all. We have to address the elephant in room, and it is called "fan noise" that our microphones can pick up. Fortunately, ROG Strix RTX 2070 has 0dB Technology, which is quiet, very quiet, and I never heard my graphics card fan noise during FPS gaming.
Dimensions: Big (11.8 x 5.13 x 2.13 CM!)
I agree that it is a big card for RTX 2070 Super, but it is worth for your buck as it has RBG, premium-grade hardware, Axial-tech Fans Design, 0dB Technology, and OC Mode makes it worth your money.
Zotac RTX 2070S Mini Gaming Graphics – Super Compact
Most of the newer graphics card focuses on the number of fans and that could break the consumer's heart as the majority of them don't own fancy cabinets. Zotac was able to bundle the RTX 2070 Super edition in dual-fan housing that meets 99% of the cabinet's housing. I will mention the downsides and everything you need to know about the Zotac mini editions.
Performance: Good!
RTX 2070 Super chipset is a capable processor that requires a modern cooling system to keep the temperature below average. Zotac did not tweak the GPU whatsoever, and they stick with out-of-box frequencies and provided 1605 MHz base clock followed by a 1770MHz boost clock. Overall, you can experience 1080p coupled with 240Hz monitor performance using RTX Mini edition. I should point out that HDMI 2.0 cannot push 2K & 4K resolution above the 60Hz refresh rate. However, you got three DisplayPort 1.4 ports in the graphics card that is enough for modern gaming and designing.
Build Quality: Good!
Nowadays, the majority of consumers prefer modern design and RBG, which might not be what you are looking for in this edition. Overall, I want to inform the readers that it has a standard design with a glowing "Zotac Gaming" logo on the card. Don't even think about RBG controlled fans and other sorts of fancy lighting elements in the card. Zotac did not miss out on Wraparound Metal Backplate that maintains decent looks aesthetics wise. Overall, It has a standard build quality.
Cooling System: Good Enough!
The "Mini" edition does give out the impression of high temperature and that's not the case in this card. Zotac followed RTX 2070 Super stock clocks and sacrificed GPU tweaks, which contributed to creating a card of the capacity. The Hong Kong-based manufacturer created a term called "IceStorm 2.0 Cooling" which sounds fancy. The fancy word invented after the engineer's input in the design, but you cannot compare it with the triple-fan setup. It will keep the GPU chipset temperature below 80° during intensive tasks. You can manage the card using FireStorm Utility from the official website.
Dimensions: 8.25 x 4.96 x 1.61 CM!
Zotac was able to bundle the Dual-fan RTX 2070 Super for $459 that fits 99% of the cabinets in the world. Even I own a smaller cabinet that doesn't have enough room for the triple-fan setup, and it is appealing for me.
Gigabyte GeForce RTX 2070 SUPER WF OC Card
Gigabyte launched RTX 2070 Super under Windforce OC brand that delivers exceptional performance. I want to highlight the triple-fan feature because it delivers a magnificent cooling system for the GPU and maintains temperature during graphic-intensive tasks.
Performance: Good!
The Taiwanese brand packed the RTX 2070 Super under stock clock speeds. The Windforce OC edition is clocked 1605MHz and the boost clock is 1770MHz (the stock base clock is 1770MHz). Overall, I would not say that it won't perform as compared to the competition, but it will perform 3% – 5% less compared to the ROG Strix and EVGA edition. The ATX design has a USB Type-C port, which is a blessing for modern consumers and has three DisplayPort 1.4 including HDMI 2.0 port. The Windforce OC is an overclock edition and pushes the card further for extra performance that you get in the rival competition.
Build Quality: Good!
The Windforce OC edition is engineered to keep the burning temperature down. The triple-fan setup has an RGB logo on the top, which can be controlled by RGB Fusion 2.0 program. It has high-quality copper pipes and metal fans. The housing is made from high-quality plastic and has a metal backplate with an excellent finish. You are missing RBG fans on this card, but I would invest my money on it for stable performance and cooling efficiency for years to come.
Cooling System: High-end!
The heat pipes made up of copper that is directly connected to the GPU and has three 80mm unique blade fans to push the heat out of the card. The Gigabyte edition is capable enough to push the card to maximum limits and the design eliminates turbulence. The Taiwanese brand always bragged about "Alternate Spinning" which eliminates turbulence in the triple-fan setup. Overall, I would not talk about the cooling system as it is best in class. The metallic backplate is designed for protection and does not play a major role in cooling the card.
Dimensions: 11.04 x 4.58 x 1.58 CM!
It offers a value-for-money price tag and is one of the major reasons for listing the card in this category. The Gigabyte Windforce OC edition is priced at $500 or below, which makes it the cheapest card available in the market.
Bottom Line
I have selected four Best RTX 2070 Super graphics card that brings performance, value for money, and best in class in the market today. I urge the readers to compare the prices on different shopping websites, and then purchase at the best price.