You can find thousands of best photo editing app on the Google Play Store and the Apple app store. Many apps come with interesting features to enhance the existing photos, but a few of them are superior. Instead of looking at basic apps, we are going to list down the best photo editor apps for Android and iPhone.
What do we need the best Photo Editing App for Android and iPhone?
Android and iPhone smartphones come with editing tools, but they do not come close to ADVANCED category. The basic editors cannot suffice social media requirements because millions of users want to display art and creativity online.
The manufacturers + operating system developers do not plan to add the best photo editing app with a clone tool anytime soon. The handset consumers left with no choice and they have to opt for alternative instead of utilizing default editors. In order to save the consumers from the limited version of editing apps, we are going to list down the best free and paid photo editing app for you.
Snapseed by Google
Android is a Google OS and the company released an application for the consumers. The freemium application adds greater value to photography because it comes with advanced features that exceed Android consumers expectations.
It is a professional application for photographers, editors, and creators. The new users can get their hands on 20+ different advanced tools to enhance an existing picture. After adding great effects, you can save the images as RAW files, JPG, PNG, and more image formats.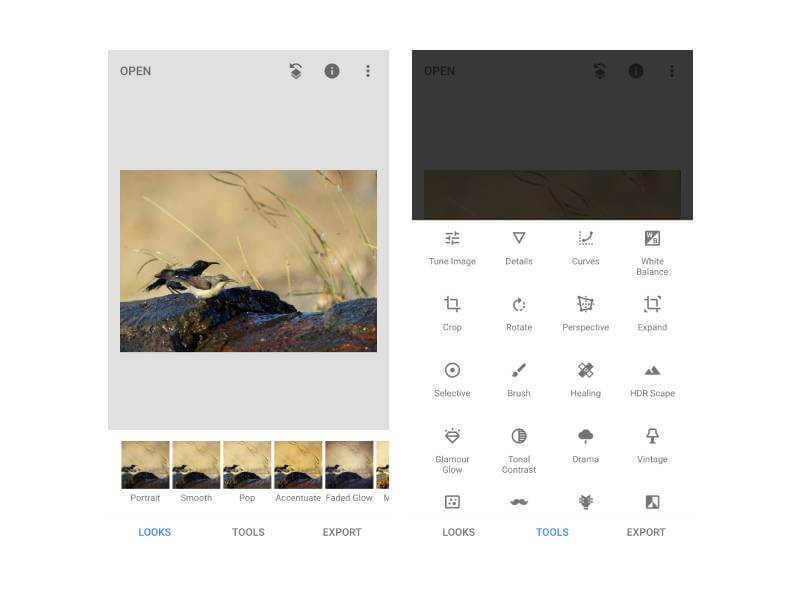 The official developers made efforts on the brush, so the precision can match up with PC programs. The stability added to the brush undeniably precise and perfect in every format. All basic functions are available on Snapseed such as Edit, Crop, Rotate, White balance, Tuning, and more. Check out our recent article how to use Snapseed on PC Windows.
PicsArt Photo Editor
PicsArt is the best app for photo editing for iPhone downloaded by millions of users around the world. The app entered into the business of photo editing category in early 2016 and it took off roofs. Millions of people could not stop appreciating advanced features and gestures.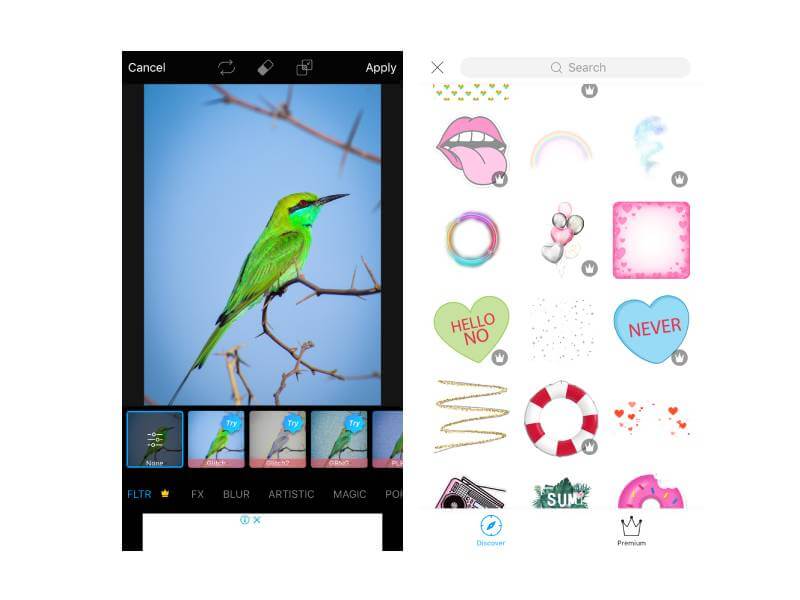 The official developers took basic features to an advanced level and it reflected in the pictures. All basic functions are available such as Clone, Crop, Rotate, Stretch, Cutouts, Adjust curves, Add text, and more. If a photo needs a quick artistic photo filter, then users got HDR, backgrounds, frames, cutouts, borders, and more.
The developers worked around the brushes to ensure that precision isn't lacking in it. Adding 100+ fonts + memes text is no big deal with PicsArt, and the application tweaked for creating memes. By using AI-powered effects, creators can add multiple layers to the photo and start adjusting the transparency of each background.
The DRAW function offers customizable brushes, multiple layers, live effects, and professional drawing tools. The PicsArt originally started out as a secondary option for Instagram, so you can share photos to the masses. PicsArt community challenges and contest can take encouragement from your artistic skills and win the challenge as well.
PixelLab
I can find millions of text editors or fonts online, but they are not as effective as the application I have listed down here. PixelLab is a text editor and it is the primary daily driver to add 3D text and cool text on thumbnails. In PixelLab application, you can export PNG or interlaced text to the gallery and merge it on another picture using PS Touch app.
The extremely easy to understand interface comes in handy when the users want to edit the text, increase the size, adjust placement, and rotate the text. The text app maker did not miss out a single basic feature such as color addition, white balance, 3D adjust, and more. The app supports extra fonts packs as well, so download larger than life fonts online and use them right away.
Adobe Photoshop Lightroom – Famous Photo Editor
Adobe is a famous software company that introduced PDF editors, Flash players, Photoshop, Video editors, and more. The software developing company never took the smartphone industry until a few years ago and Lightroom CC released in the market. Originally, Photoshop Lightroom CC is an Android & iOS picture editing application. The Adobe mobile app offers capture pictures and shoots videos on the platform. The company charges $3.99 one-time upgrade for 1080p or above video recording.
VSCO
I do not present similar featured apps for the readers/visitors, and this time I got a film-inspired and professional photography app called VSCO.
Taking HD pictures are no big deal, but can you add a vintage feel to it? The natural effect does not come that easily, but VSCO algorithm can achieve that goal in a few moments. The classic film effect adds a greater impact on the latest clicked pictures and turn them vintage looking ones.
VSCO does not overdo unlike other similar apps because you have an advanced option such as Soft, Edits, and Faded effects that compensate the overpowering filters. The subtle effects do not overpower the images and it ends up looking natural.
You got 10 free filters presets & editing tools that assist the beginners in tuning the exposure of a photo. Using advanced functions, you can change the colors or adjust the colors. VSCO is FREE to download from the App Store & Play Store, but It is a premium app that requires VSCO X membership ($19.99 a year) to access over 130 filters and advanced editing tools.
Bottom Line
Now, the readers/visitors can get their hands on best photo editing apps and start putting creative ideas on the action. Make sure to give PicsArt because it is free to try & adds greater value to a creative person.