It's infuriating when your iPhone fails to save contacts. Simply said, you will be unable to contact the individual via iMessage, FaceTime, or WhatsApp. Additionally, you must memorize their phone number and physically enter it before phoning.
You certainly do not want to do that incorrectly. The question then becomes how to resolve the iPhone won't Save Contact issue.
Correcting the error is not as difficult as it may appear. Rather than that, there are a few quick fixes that you may implement immediately to resolve the problem.
Why is my iPhone Won't Save Contact?
You may not be able to save contacts to your iPhone's address book after an iPhone update. Also, you may be unable to save a phone number due to a temporary bug.
Moreover, you may not save the contact if you switch from the Phone or Contacts app to another app while you are in the middle of saving it.
The Phone/Contacts app may occasionally fail to display saved contacts from a third-party app (e.g. saving via WhatsApp). If you were doing that, it's possible that your changes are not saved. It is an uncommon error, but it is possible to occur.
How to Fix the Error?
iPhone not saving contacts can be an annoying error. It does not occur often, but if you face an issue like this, here are some of the fixes you may use to eliminate this error.
1.Restart your iPhone
Rebooting your iPhone is an excellent first step. Some customers report that a quick restart solved their issue completely. At the very least, those who began encountering problems following a software update. So, restart your iPhone and see for any kinds of improvements. If the step didnt solve your problem, move on to the next step.
2. Toggle All Groups
You may have moved some of your contacts to a different contact group. In addition to the basic iCloud account, you can use Outlook or Gmail to store your contacts. When it comes to Contacts, the only thing you need to do is turn off all groups to see every contact on your phone. What you need to do is as follows:
Navigate to the Phone app.
Click on the Contacts Option Present at the Bottom
At the Top Left Corner, Tap on the Groups Option
Check All the Present Groups
Go back to the Messages App and Check if the Missing Contacts are Visible Now.
3. Check iCloud Settings
If the missing contact were made in iCloud (remember, this is the default service on iOS), you'd have to turn on the Contacts switch in the iCloud settings on your device. As a result, your device's Contacts will automatically sync with iCloud. Contacts can be turned on and off in iCloud settings by following these steps:
Open Settings on Your iPhone
At the Top, Tap on your Profile
Search for Contacts, Toggle them on
4. Toggle off Short Name and select Default Account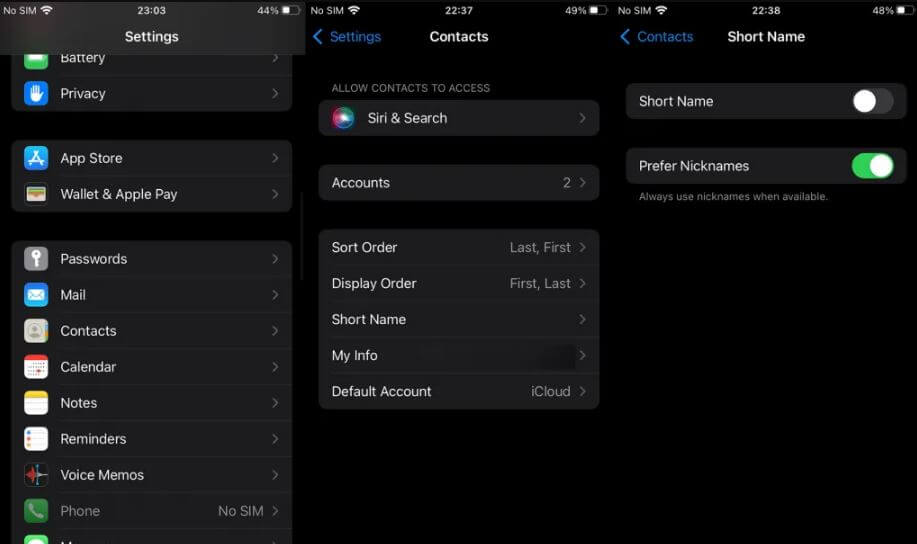 Try disabling Short Name in the contacts app and then choose your default account to see if that helps. To turn off "Short Name," navigate to Settings > Contacts > Accounts. Reopen Contacts and set your preferred account as default to continue using the app.
5. Update or Reset All Settings
Some bugs may be to blame for the Apple iPhone not saving contacts problem. Even more likely, Apple has already addressed the issue in one of its software releases. Consider checking whether an updated version is available. To see whether it helps, you can update your iPhone to the current version of iOS. The following instructions will help you update your iOS version.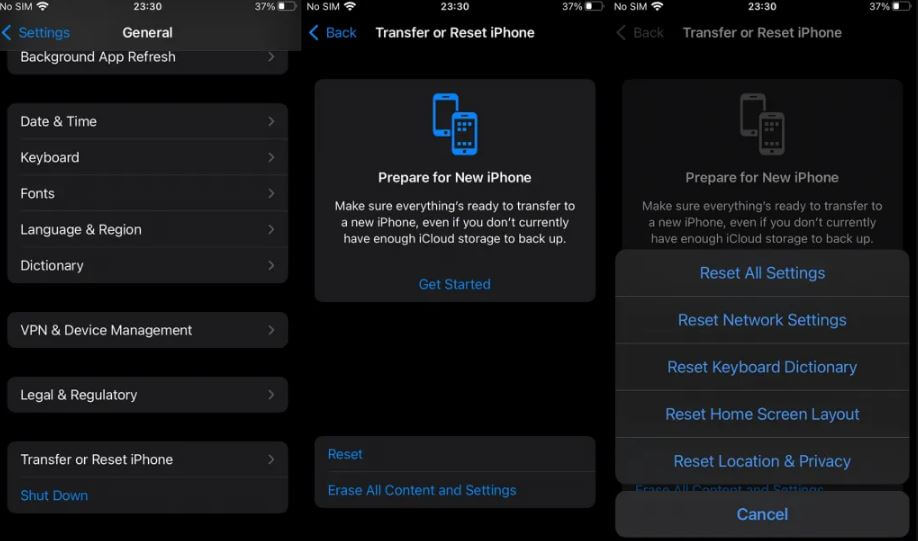 Navigate to the General Options
Your iPhone is now searching for a new version of the OS. If an update is available, you'll see a Download and install option appears. Simply tap on that to begin the download process.
6. Don't use Third-Party Apps. Save using the Contacts App
Third-party apps, such as WhatsApp, are frequently used to exchange our mobile phone contacts. It is possible to save contact information directly in these apps. It can sometimes fail or fail even after it appears to be successful.
For example, even if you believe the contact has been saved, it may not appear on the Phone/Contacts app. Restarting your device two to three times a week should address the problem. Keep it in your Phone/Contacts app if you don't want to use a third-party app.
7. Report the Issue to Apple
A bug can keep you from syncing contacts on your iPhone when you install a new version of iOS. Those not saving contacts errors cannot be resolved using Handley solutions. If this is the case, you must notify Apple of the problem. For a long-term solution, as well. Continue to upgrade your iPhone to the latest iOS version.
FAQs
Q1: How can I Save Changes to my Contacts?
A: When you modify or change a contact, the changes are saved automatically. In addition, you can sync your Gmail contacts with your Outlook contacts. Google will be able to keep track of and save any changes you make to your contacts.
Q2: Why won't my contact changes save on my iPhone?
A: Your iPhone's contacts permissions may not allow you to save new contacts. It is a possibility to correct this. Navigate to 'General' in the options menu. Select'restrictions' and then 'contacts' from the general drop-down menu. Make it possible for you to add additional contacts to the database.
Q3: How to Fix iPhone Contacts Not Showing up after iOS Update?
A: A glitch in the new iOS version is most likely to blame if your contacts aren't showing up on your iPhone after an iOS update. To resolve this issue, you can try updating your iPhone to the latest iOS version. Find out if there is a new iOS version by going to Settings > General > Software Update. There may be an app for that. If so, install it.
If your iPhone's contacts are still missing following the newest iOS update, please get in touch with us to look into the matter further.
Q4: Why are my contacts showing up as numbers on my iPhone?
A: Disable Dial Assist. Dial Assistants may be to blame if a contact appears as a phone number on your iPhone. You should turn off the "Call Me" option in Settings > Dial Assistants > Dial Assistants. You should see the contact's name instead of a phone number when this feature is disabled.
Conclusion
The annoying part—iPhone won't Save Contact—should be a thing of the past now that you've read the above. You may have a problem with your phone's settings if you can't save new contacts. Changing the parameters will solve the problem.
Try a factory reset if all other options have failed. It will be of benefit. If you take the time to read this post thoroughly, you will learn several methods for quickly and efficiently resolving the contact-saving issue.