I wanted to listen to the new music dropped by Skillet, and Spotify stops playing. I wouldn't want to spend plenty of time on fixing the problem because it could kill the excitement and moment. In this tutorial, I want to provide solutions that you can use to fix Spotify keeps pausing on Windows, Android, and Apple iOS machines.
Why does my Spotify keeps pausing and How to Fix?
I want to highlight a couple of things in this paragraph because I don't want to cover obvious solutions, where you could have solved the problem instantly. The music streaming application works smoothly on cross-platform and all thanks go to the streaming engine compatibility.
Internet connection interruption.
Content is removed or not available in your country.
Offline mode.
Double-check these common problems to avoid misunderstandings.
Spotify services are not available in many parts of the world, and they are not able to monetize their subscription plans in your country. In this tutorial, I will introduce the reader's new solutions that they can use to resolve the problem.
Tone down Spotify audio quality
S.A Technology informs the music consumers that the music streaming services run smoother on the Wi-Fi connection, and that directly affects audio output quality. I have messed around the sound quality section because I wanted to listen to the best audio possible the current technology can offer to me. However, I won't recommend messing around with the audio output settings and turn down the settings.
For Desktop-class Spotify: The interface remains the same, regardless of what environment you are running this application.
Open Spotify to click on "Arrow Down" to expand the drop-down menu, and then click on "Settings" to continue.
Scroll down, and select "Automatic" in Music Streaming Quality.
For Mobile: I want to remind the readers again that the option remains the same.
Open the "Spotify" on the phone, and tap on gear icon "Settings" to continue.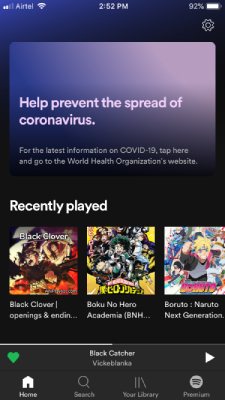 Swipe down to find and select "Music Streaming" to continue.
Swipe down to click on "Music Quality" and select "Automatic (recommended)" in Streaming & Download.
In the past, I have maintained "High" settings in terms of sound output, but I had to tone it down for the smoother experience. Nonetheless, Spotify will stream high-quality music, whenever possible, and no need to worry about the worst experience.
Sign out everywhere on Spotify and Sign in again
Here we go, where Spotify has some unknown limitations in the system that causes the account to suffer software-based errors. Our die-hard music lover's community has found a solution that seemed to work out for everyone. You need two things, 1) Desktop-class browser and, 2) Active internet.
Log in to Spotify Settings Dashboard directly from here. Finish login by adding correct credentials, and click on "Login" to continue.
You'll land on the dashboard and scroll down till you find "Sign out everywhere" in the window.
Now, click on it to remove login on multiple devices.
Open the application on your phone or wherever you want to listen to the music, and log in the account. The limitation or software-based bug will be removed from the phone, and continue using the free services uninterrupted.
Disable optimize battery usage for Spotify in Android
Samsung custom Android skin optimization has earned plenty of praises and credits for making "One UI 2" highly optimized for performance. Despite having high-end specifications in S-series and N-series devices, they have added power optimizer and it limits the usage of the battery.
Spotify covers up a lot of internal storage and power consumption and "One UI 2" optimizer might be interfering. I want to inform the readers that this tutorial supports Android 9.0 (Galaxy S9 / Galaxy S10) running devices.
Open the "Settings" and swipe down or find "Apps" using the search bar.
Find & tap on "Spotify" to continue.
Tap on "optimize battery usage" to continue.
Use the search bar, and lookup for "Spotify" and tap to disable battery optimizer for the application.
We should appreciate the Samsung software team for adding the battery saver option for individual apps. However, I think they shouldn't have enabled it by default and should have been introduced as an add-on. Regardless of what was the outcome, this solution will work on Samsung devices running Android 9 (Pie) only.
Final Words
Make sure to check, whether the song is not available in your region because it could be the reason why Spotify stops playing in between the track playback. Try to force close the application from the app drawer and restart again and it should work normally