Did your iPhone contacts disappear out of blue? It happens in rare cases due to software problems or Apple cloud service issues. You should be able to solve the issue by following official solutions, and we will go through the causes to ensure that it won't happen again.
Why did iPhone contacts disappear in iOS 15?
Apple added iCloud service in the eco-system, and it is an integral part of iPhone, iPad, AirTag, Mac, and other line up. iPhone or iPad contacts missing for many reasons, and it has a direct connection with the iCloud service. However, we have to consider other situations that Apple never talks about it.
Software Bugs
It's not a secret that new iOS editions come with bugs & glitches. The official developers take a long time to figure out the software shortcomings and fix them in the next updates. You may have heard experts suggesting skipping the first version of the new iOS edition because of the software bugs and glitches.
Third-party iCloud Intervention
Let us assume that I have access to Apple ID, then I can modify or delete contacts from MacBook or iPhone, and it will reflect on all devices.
iCloud might be powerful, but it is weak if the user is given access to another individual. You can connect iPhone, iPad, Mac, Watch, and other products with one Apple ID. You may not know, but anyone with Apple ID access can delete or modify the contacts.
Jailbroken Devices
Jailbreak is a modern software modifier specifically designed for iOS devices. Your iPhone is no longer protected by the Apple iOS because the security layers are modified by Jailbreak software. You should not get surprised by such a phenomenon because it tends to happen on jailbroken devices.
Hardware Problems
Many assume that iPhone or iPad internal hardware is invincible, which is a myth. I did have an iPhone 4S that had a logic board or motherboard problem and I had to dump it in a recycle bin. In short, it is not uncommon for an iPhone or iPad to have a hardware failure.
Threats
Millions of new threats are introduced by invaders to penetrate iOS and macOS-powered machines. Apple does not inform the users about the new threats, and they release security patch updates instead. You may have seen new updates for iOS 12 or older devices, and they all are related to security updates.
We will tell you how to deal with this and follow our guide to restore the missing contacts on an iPhone.
Restart Apple iPhone or iPad
Every iOS device user should restart the iPhone or iPad before proceeding and applying solutions. Millions of iOS device owners do not turn off the phone once in a while, and they keep the machine in standby mode for weeks.
Give the iOS device minimum of five minutes of sleep time and then turn it back on. Make sure to keep the device connect to the internet and then check if the contacts returned to their state or not.
Edit One Contact
Millions of iPhones are connected to iCloud service, and it is one of the reasons why contacts are missing in the first place. You have to connect the iPhone to the internet and edit one contact, so iPhone can update the information.
Open the phone app.
Choose any contact.
Click on "Edit" located at the top right corner.
Add new information anywhere and tap on "Done" to finish the process.
Let iPhone synchronize the data with Apple ID, and it will connect to iCloud service. Your device will be updated in iCloud servers and missing contacts will be synchronized as well.
Software Update or Upgrade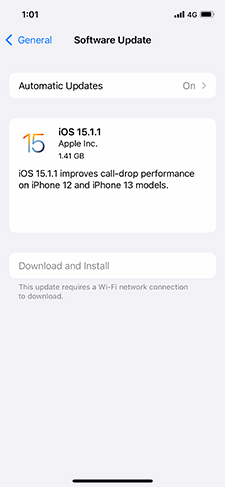 Our iPhone is running on iOS 15, but we recommend the users update the iOS software to the latest edition. Make sure to read online reviews on the iOS version because I found a couple of shortcomings in the latest update.
Force iCloud to Sync Contacts
There is a way to force your iPad or iPhone to synchronize the contacts with the iCloud server. There is a slight risk of losing data during the process and make sure to create a backup in iTunes or local storage.
Tap on the "Settings" app.
Tap on your name to view the iCloud account options.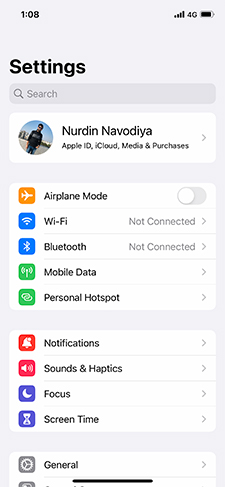 Choose "iCloud" from the options.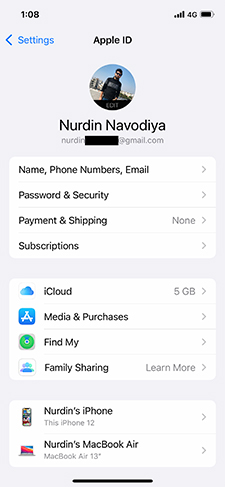 Toggle to disable "Contacts" in the iCloud account.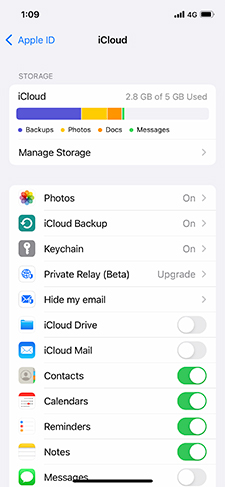 A pop-up will appear on your device, and choose "Keep on My iPhone" to keep the contacts in the device.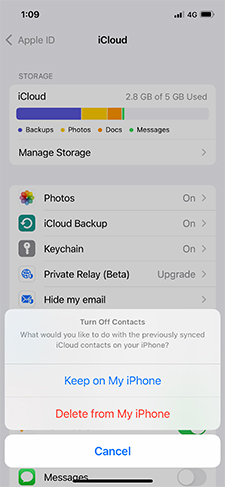 Toggle to enable "Contacts" in the iCloud account.
Another pop-up will appear on the screen, and tap on "Merge" to update the missing contacts.
All contacts will be updated on iPhone, and missing data will show up in the phone app. Remember, there is a chance of data loss, so make sure to create local data backup via iTunes.
Bottom Line
Jailbroken devices should switch to Apple signed iOS software because it will protect the users from security penetration and maintains stability. If your iPhone contacts disappeared again then it could a hardware problem. It's not easy to diagnose hardware failures, so book an appointment with Apple to resolve the matter.