Just imagine, one tech-savvy individual recommends you to delete iCloud backup from the cloud storage and local storage. If I received this suggestion over 6 years ago, I would have called this person insane.
Who would delete a backup that meant to be a precaution and savior for many?
Of course, iCloud backup consumes plenty of storage space allotted in Apple cloud services. In the free account, you receive 5GB of free space, and you can upgrade the account by spending USD 0.99 per month, and that does sound cheaper in many ways. You can also downgrade the upgrade account later with the help of this article.
How to Delete Old Backup in iCloud on your iPhone or iPad
This set of instructions supports iPhone or iPad running iOS 11 or above. I want to inform the readers that you need to have an active internet connection and make sure to Apple ID credentials. Remember, you could lose plenty of personal data stored in iCloud storage and you won't be able to access it later.
Open "Settings" and tap on your name or iCloud account.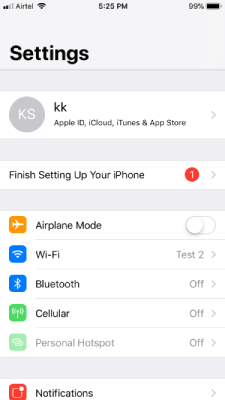 Click on "iCloud" to continue.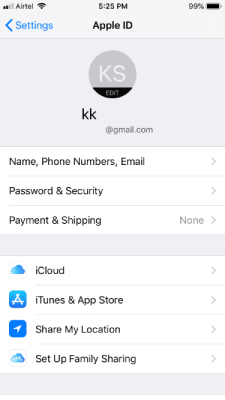 Let the phone load cloud storage details for a moment, and then tap on "Manage Storage" to continue.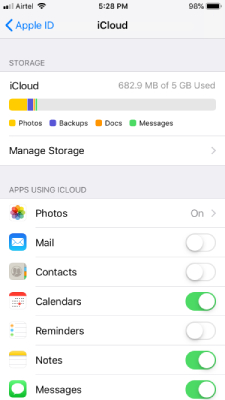 I mentioned something about active internet connection, and this is where iCloud fetches updated information, and you have to wait for a moment. Tap on "Backups" to proceed further.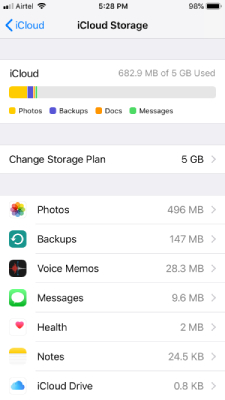 If you have connected multiple devices, then you can access them here and tap on "iPhone" or "iPad" and in my case, I have connected the iPhone only.
Let the phone fetch updated information and it could consume 10 seconds.
Swipe down all way to the bottom, and then tap on "Delete Backup" to end the process.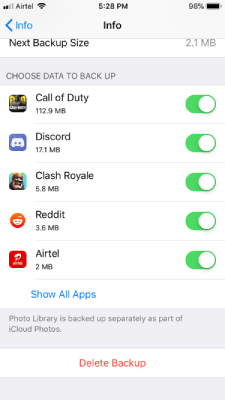 Confirm the action by tapping on Delete Backup to complete the process.
Apple device will begin initiating the deletion process for a moment and complete it within one minute of the period. You cannot stop the action in-between the process and old iCloud backup will be removed permanently. I want to remind you again that there is no trash can function available here, and once deleted, and it will remain that way permanently.
How to Remove Backup from iCloud on your Macbook or Mac
Apple developed a desktop-class operating system called "Mac OS X" and nowadays, Apple calls it "macOS" for modern consumers. The premium machine manufacturer has many ways to keep the existing consumers occupied by the eco-system and it works. The Apple eco-system center stage occupied by iCloud account and it holds the old backup in macOS running iMac and MacBooks.
Click on "System Preferences" from the dock or open System Preferences by clicking on the Apple logo or Finder.
Click on "Internet Accounts" and then tap on "iCloud".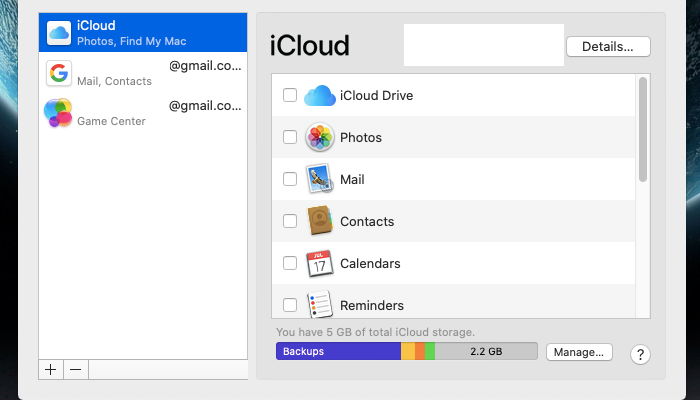 Now, Find "Manage" and click on it.
Tap on "Backups". If there are multiple old backups available in the window, then you have to select one to delete it.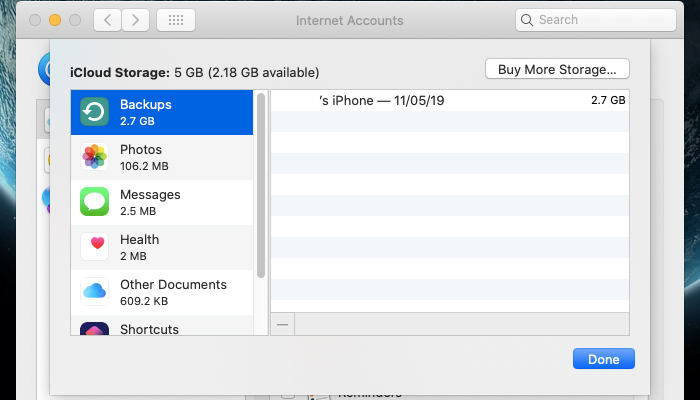 Click on (–) located at the bottom left the pane.
Click on "Delete" to confirm the action.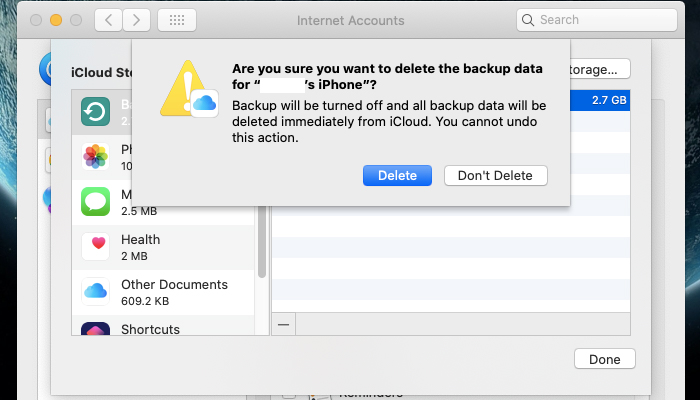 Apple does not provide automation service in this area to preserve and give enough time to the account owner to reconsider the actions. Overall, you have to delete iCloud backups one-by-one and that's how you have to get rid of the old backup files from the cloud storage.
What happens when you delete your old iCloud backup?
Every single individual should understand what they are getting into and how this is going to turn out.
Unfortunately, you don't have an option to recover the deleted copy of backup because there is no policy or function available. Apple cannot be held responsible for your actions and you should read the policies for further information.
Conclusion
I have shown two ways to delete your Cloud Storage Backups from your Apple device. I would love to know your opinions on how it went, and what worked, and what sort of complications you faced during the process in the comment section below.