Annoying people appear in our inbox and blocking someone on iMessage is the last resort to keep them from texting. Anybody can look up for the individual on Apple's unique texting platform, and that's how several random conversations happened for many years. You can search for funny conversations, and you will 100% find iMessage texts in it because any registered user can look up with the mobile number.
iMessage introduced on the iOS platform several years ago, and the company made it an exclusive solution for the premium device owners. Of course, it has innovative capabilities on the platform, and that's what made the solution usable in the modern period. You also got basic functions available, and they have been simplified by Apple.
How Do I Block Someone on iMessage from iPhone or iPad
You can block any iMessage Contacts or unknown numbers on the iOS platform. I will provide proper instructions along with the visual presentation, so you can follow them step-by-step. It doesn't matter what iOS version you are using because Apple did not mess around with the interface since iOS 8, and our guide will work on the 5 years old device.
Block iMessage Number on any iOS Phone
Follow our instructions to block iMessage Contact in the Apple texting platform, and it will also block them from texting normally. You will no longer receive any texts and replies from the annoying people, and this is how you put an end to the conversation.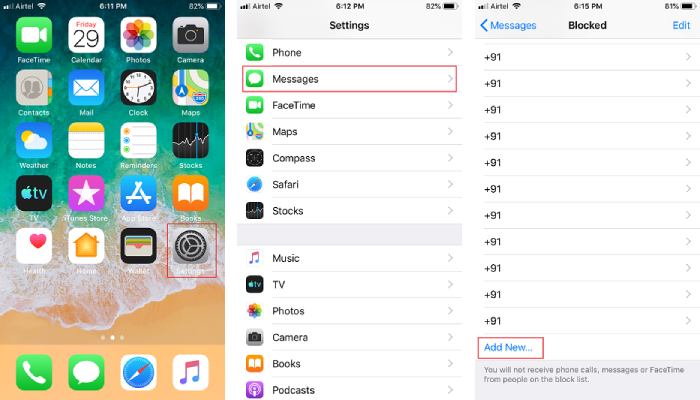 Tap on the "Settings" and swipe slightly down and then click on "Messages" to open it.
Now, select "Blocked" to view more options.
Click on "Add New" to start working on blocking people.
Select any contact that you want to block them as long as you want it.
After selecting the contact, you can go back on the numbers screen and then find the contact in the list.
Block Unknown Numbers in iMessage
Apple's official developers added additional functionality to keep unknown people from texting on your mobile number. The function will block strange people from sending spam links and messages.
Again, Go to the "Settings" and swipe down a little to find "Messages" and tap on it.
Click to enable "Filter Unknown Senders" on the list.
The button will turn green after enabling it.
Bottom Line
I have shown a number of ways to block someone in iMessage on any iOS device. I would love to know your feedback and what challenges you faced in the comment section below. Let us know your thoughts on which method worked for you in the comment section below.