Users can create Apple ID without a credit card, and there is no rocket science behind it. Apple created an eco-system for the consumers, who are using iPhone, iPad, Watch, iMac, MacBook, and other products. The account plays a crucial role in the eco-system, where users can use proprietary apps like FaceTime, iMessage, Garageband, iMovie, and more. We are going to show you how you can create an Apple ID using a credit card.
What do you need to create an Apple account?
Users have to prepare themselves to activate the Apple ID and ensure that no mistakes have happened during the process. You should not take the preparation lightly because it is one of the major reasons why millions of iPhones & iPad go to the wasteland. An iCloud lock is notorious for locking down the phone, and no one can break it except Apple themselves. You should not make a mistake because you might end up locking down the phone and you can get help, only if you don't make a mistake here.
An Email address that you will keep active for a long time because it plays a crucial role in resetting the password & access the account.
A mobile number that will remain active as long as the Apple account is active. Your phone number is the first ground, and it will help the user in keeping the account active.
How to create Apple ID without payment details?
Allow me to show you how you can create an Apple id without iPhone by following our easy-to-understand guide.
Go to Apple ID page and then tap on "Create Your Apple ID" to start the process.
The website will take you to the next page, and you have to enter your first name and last name.
Select country or region. You can find all countries, where Apple products services are available.
Don't be surprised if your country is listed in the section because Apple is not available in many countries due to restrictions and border laws.
Enter a valid email address.
You have to confirm the email address to activate the account, and a non-working email address won't get you anywhere. We recommend the users enter an active account because the Apple website can recognize a temporary email address.
Enter a new password and re-enter the password to confirm the combination.
Users have to type one uppercase, lowercase, one character, and one symbol to make it a strong combination. You have to follow the pattern to avoid errors, and it will save lots of time but make sure to choose a password that you can remember later on.
Choose country phone number origin.
Enter a valid phone number.
Select what way you want to verify the mobile number.
Readers can choose to receive announcements or uncheck all newsletters.
Confirm that you are not a robot by entering the text in the image.
Click on "Continue" to create an account.
You will receive a confirmation code in the registered email address inbox.
Find the code and enter the six digits code on the website.
The Apple ID will be activated after the code is entered & confirmed by Apple services.
When do Credit Card details are required?
Apple has an App Store & iTunes services in the eco-system, and that's where the money is spent. Allow us to provide in-depth details on the purchases and where you have to add Debit Card or Credit Card to Apple devices.
First of all, the Cupertino-based company does not charge a single penny to use the device or services after the purchase.
Millions of app developers offer free apps in the App Store, but they add premium subscriptions called "in-app purchases" in official listing. You can take PS Express app, where it offers a free version to the users, but you have to pay for the premium package.
You don't have to spend a single penny on the services and use the iPhone, iPad, and the rest of the apps for free-of-cost.
We have been using the Apple ID for a long time without credit card details.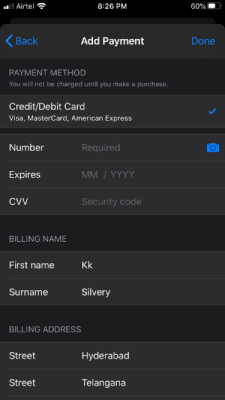 You can add credit card details manually in App Store, and that's entirely up to you. We recommend the users to read the Terms & Conditions because millions have lost money from the Apple loophole. You can ask for a refund from Apple, which is a powerful option, but you should keep an eye on the transactions because carding is a common fraud that has happened to millions of users.
Bottom Line
Anyone can create an Apple ID without credit card or debit card details. You have to add a valid phone number & email address to verify the account status and recover it when you have lost credentials. iCloud is a serious business, and once you lose credentials & device purchase bill, and then you have no hope for bringing the device back to life.