Many consumers are complaining that the MacBook gets so hot after a few minutes. Apple has been working on the proprietary CPU and GPU due to the shortcomings of Intel and AMD chipsets. It is a well-known fact that Apple computer's thermal management criticized over the years. There might be several factors playing in the heating internal components if your machine is overheating unusually. Let us explore official solutions that will fix your MacBook from overheating.
How to fix your MacBook Pro and MacBook Air from overheating issues?
Mac computers have a reputation to overheat CPU/GPU under normal usage and it's not something that you should be surprised about it. But you shouldn't slide it away since overheating internal components degrade faster than a well-cooled machine.
Aging hardware slows down and has problems internally.
Mac maintenance.
Software update.
Threats.
Old Intel and AMD processors.
Entry-level Mac.
There are several contributing reasons why MacBook or Mac computer is overheating, and we will go through each solution.
Maintenance
Every electronic good in the world requires occasional maintenance, and Mac is no exception. Mac computers have running fans, and it has vents for the air to flow inside & outside.
Fans will struggle to get the heat out of the machine due to the blocked vents, and you should consider booking an appointment with a certified engineer.
Do not work on the Apple computer and seek assistance from a professional to disassemble the machine to remove the dust particles.
You don't have to approach Apple for the maintenance because any trusted certified engineer can do the cleaning. I have disassembled the machine in the past myself and upgraded the storage drive as well.
Resources Hungry Browser
The desktop browser market is occupied by Chrome and they hold 69.28% market share.
Google's browser is indeed superior compared to the competition, but it comes with a trade-off. Chrome is hardware resources hungry that impact the Mac performance over time, and it is the contributing reason why Apple is improving Safari.
I'm aware of the Safari browser limitations, and that is why I recommend Firefox over competitors. The open-source browser is developed by Mozilla and it doesn't cause the CPU/GPU/RAM to work overtime. Do not open multiple tabs in Firefox or any other browser.
Open Activity Monitor and find out which program is consuming CPU, RAM, Energy, Disk, Network, Cache, etc.
Go to the Applications folder.
Click "Utilities" to view its content.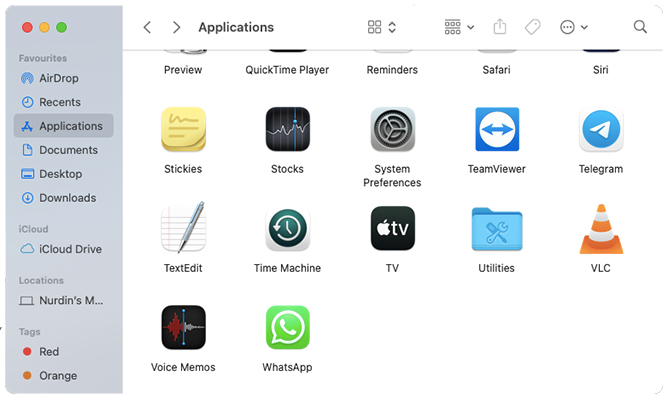 Double-click "Activity Monitor" to open it.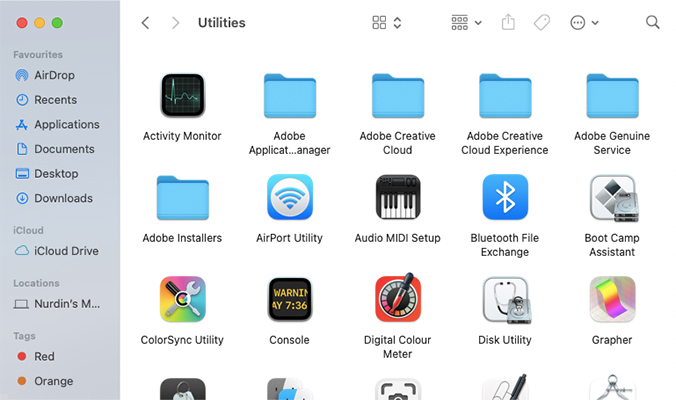 Now, you can monitor what program is overworking the Mac CPU and take the necessary action. Keep running the Activity Monitor in the background and take a look at it every few minutes for broader results.
Multitasking Overloading Hardware
Older Mac machines running on Intel processors should keep the thermal throttling in mind. There is a reason why Apple worked on the M1 Silicon chipset. Intel processors didn't cut out for the next-gen requirements and it did not meet Apple's expectations as well.
The Cupertino-based company always struggled to maintain the temperature in MacBook due to the Intel CPU limitations.
Lower the number of programs, tabs, and background apps running on the Mac.
Mac is a lot different from the rest, and the software will continuously work overwork the CPU/GPU for a seamless experience. Limit the number of tabs in the browser and close programs that you don't need for the session.
Automate GPU Consumption
Several MacBook and Mac computers have a dedicated GPU along with integrated GPU in the same machine. A dedicated graphics processor consumes more energy, meanwhile, it is the opposite for an integrated version and it will make a huge difference in thermals. You should let macOS decide, which component will handle the task better, and it will take down two birds at the expense of one arrow.
Click on the Apple logo.
Choose "System Preferences" to view more options.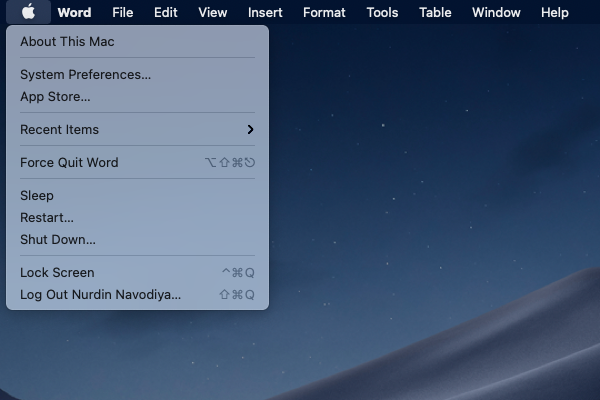 Click on "Battery" to continue.
Choose "Battery" from the options.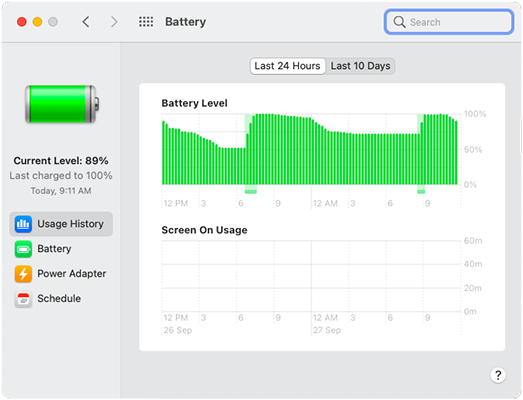 Enable "Automatic graphics switching" to let macOS control it.
Automating GPU choice for the task will limit the energy consumption and avoid further heat in the machine.
Physical Fan System
Mac computer fans do age and slow down with time. You should conduct a manual test to determine its integrity for the coming years. Apple added Apple Hardware Test software (2013 or earlier) and Apple Diagnostics (2014 or later) to find out the internal components' health and its condition.
Note: Remove all connected peripherals such as a mouse, keyboard, USB storage devices, iPhone, iPad, etc.
Remove all connected devices and "Restart" the machine.
Press the D key on the keyboard, while restarting the machine.
Release D key after Apple Hardware Test (2013 or earlier) and Apple Diagnostics (2014 or later) shows up on the screen.
Click on "Test" under Hardware Tests.
The process takes a few minutes to scan the internal components and provide in-depth information on the condition.
The diagnostics report will provide a variety of codes to state its current condition. Code "ADP000" states that there are no hardware problems in the Mac computer. You can look up the meaning of diagnostics reference codes on the official site.
Faulty Hardware
Always keep in mind that CPU or GPU heating is not the only culprit in overheating the MacBook. A faulty internal component has reached its life cycle and showing signs of final moments. Consult an engineer to rectify the situation because it could be a low-quality Mac charger that is damaging the internal components. Also, the physical CPU fan might have slowed down or stopped working, which should be easy to identify.
Several Mac M1 owners have reported that the laptop fried up after using external hubs such as USB-C Multiport Hub Adapters, Docks, External Hubs, etc. I suggest the Mac consumers go with high-end variants and purchase genuine chargers. Of course, there is a way to identify the faulty hardware without approaching a certified engineer.
Note: Big Sur 11.2.2 fixed frying motherboards, so update the software.
Aged Hardware
Older MacBook's age and the internal component reach end cycle, so you should keep an eye on it. Do not worry about Mac's health because it is repairable by replacing the aging components such as CPU fan, SSD, HDD, and smaller components.
You can continue a MacBook as long as the motherboard and CPU are in healthy condition. I won't suggest the readers inspect themselves because it requires professional assistance, and Apple designed it to make the repairs difficult.
Consult a certified engineer to identify the problem and fix it immediately.
Change Thermal Paste
Usually, the engineer will replace the thermal paste applied in the CPU and GPU during maintenance. However, I have come across several engineers, who utilize cheaper thermal paste solutions to maximize profits.
The thermal paste used in your MacBook requires dire replacement, and consider applying thermal paste manufactured by a reputed brand such as Corsair, Cooler Master, etc. Do not overspend on expensive thermal paste solutions, and don't get ripped off by the manufacturers. You can choose Corsair TM30 for MacBook Air or similar products, which should suffice the requirements.
Update your MacBook with the latest macOS
Apple is known for releasing optimized software for the existing hardware and newer machines. It's a common complaint that MacBook Pro gets a bit hot after a software update, but you shouldn't let it slide. Overheating components age faster, and it will lead to slow CPU and GPU performance.
Click on the Apple logo.
Choose "System Preferences" to view more options.
Click on "Software Update" to continue.
Install the latest software update.
I implore the readers to check online news and reviews before installing new macOS updates. Remember, there is no such thing as perfect in this world, and Apple official developers can mess up big time. I rather avoid paying a huge price later on than reading a review coming from reputed content creators and publishers.
Bottom Line
Overheating MacBook will result in slow CPU and GPU performance, and it will impact the overall experience. Find out what's leading your MacBook to get so hot after a few minutes. Let us know which solution helped you cooling down the Mac computer in the comment section below.