It's not complicated for Windows 10 to stuck while checking for updates. Several factors do play in leading to the error, and you can resolve it as long as there are no corrupted system files. You don't need additional tools to figure out the problem and resolve the issue using official solutions. You may have landed in the situation with a unique event, but it won't change the core error whatsoever. Apply the solutions one by one, and it will address the error persisting in your case.
Fix: Why is Windows 10 stuck on checking for updates?
Microsoft developed Windows for modern consumers, and the software changed drastically over the years. The operating system is far from perfect, and It's a known knowledge among long-term users. I have been a Windows user for almost one decade, and the 10th edition is not fully stable. There are several shortcomings of the software, and you can resolve them with a simple restart.
Press the Start key from the keyboard.
Click on the power button located on the left side.
Click on the" Restart" button.
Let your PC end the session.
Do not underestimate restarting your machines because it can resolve almost any software-related problem. Your machine's OS will end the session and re-load drivers, programs, and services.
Use Windows Troubleshooter Program
Windows 10 or later editions have an inbuilt troubleshooter that you can put to good use.
Press Windows Key + I button together.
Choose Update & Security and tap on Troubleshoot.
Click on Additional troubleshooters and choose Windows Update and tap to Run the troubleshooter.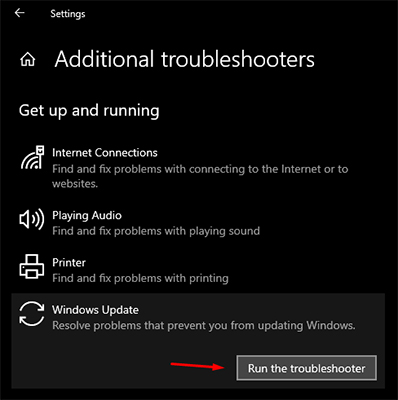 A new window will show up on the screen and let it go through a few tests.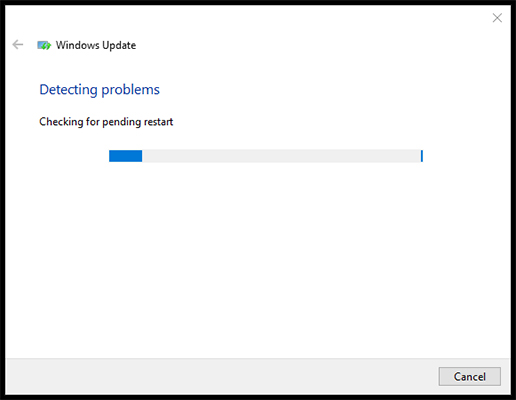 You can click on "Close" to end the window.
My Update troubleshooter couldn't find any problems, so I chose to close it. However, you may have a different result on the screen and follow the suggestion to resolve any further issues.
Windows Threats
It is safe to say that millions of Windows machines are infected with a virus, malware, adware, and others. Unfortunately, several Windows users are using a pirated edition, which leaves a backdoor for the invaders. You may have allowed an invader to spread viruses or other forms of threats in your software.
If you pay attention to the update description, then you would know that Microsoft frequently pushes security patches.
Newer threats are aware of Microsoft's detection tool, thus, they block the updates to weaken the security system.
I implore the users to dump pirated Windows and move on with the official copy. Microsoft limited the "Personalization" settings only, and the rest of the features are fully functional.
Force Restart Windows Update or Upgrade
The troubleshooter has ruled out the possibility, but you can force restart the Windows Update service.
Press the "Start" key to search for "Services" and run as administrator.
Scroll down to the bottom and find "Windows Update" services.
Click to select "Windows Update" and right-mouse click to view more options and then choose "Properties."
The service status is running.
You can change the startup type to "Automatic."
Click on "Apply" and then "Ok" to save the changes.
Now, you won't have problems updating the software, and you can repeat the same method later down the line if the problem is persisting. However, you should consider other solutions since the Windows Update service doesn't need manual action.
Synchronize Time and Date
A secure connection is created between your machine and Microsoft servers via certificates. The digital certificates are required to have the correct time and date to synchronize with the servers. It does sound odd but it is indeed written in the security policy, so fix the incorrect clock.
Press Windows Key + I together to open "Settings".
Choose "Time & language" from settings.
Turn off and turn on the "Set time automatically" option under the "Date & Time" setting.
You do have another option below and click on the "Sync" option to let the Windows server correct the clock.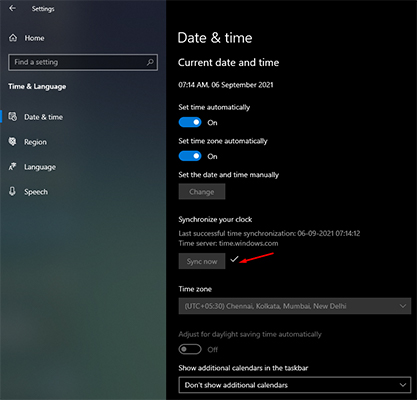 I'm assuming that your machine is connected to the internet and that's what you need to make this work. Windows is capable enough to find out your precise location, and if you have selected a different country or region, then Windows Update will fail.
VPN Configuration in Windows
Are you using an active VPN? Many VPN users face conflict with Windows Update because they have activated the software at home, and then connect to the internet using VPN services.
Your region setting and VPN network location don't match, and they end up creating security problems. Your machine software needs to meet the security policies requirements, and you should set the region location according to the VPN location.
Allow me to show you how you can change the region settings.
Press Windows Key + I together to open "Settings".
Choose "Time & language" from settings.
Choose the "Date & Time" option.
Turn off automated options such as "Set time automatically" and "Set time zone automatically."
Click on "Time zone" to choose the regional clock.
Google the location region and choose accordingly in Windows.
That's it, you have saved the region successfully.
Many users don't do this, which leads to location exposure despite having the VPN protecting them. Several web applications are capable to detect the system clock and region settings and find out your location as well. Nonetheless, the Windows Update will work normally again since we have eliminated the security conflicts.
System Files Corruption
Microsoft is a software giant and I'm always criticizing the company for not adding enough tools to prevent system files corruption. However, they did address it in the Windows 11 edition but that's a different environment.
Bottom Line
I have been using a computer for a long time, and I started with Windows XP. A non-working Windows Update does say a lot about your software health, and it could be a signal that something is wrong with the operating system. Do not use pirated programs and operating systems because it leaves a backdoor for the hackers to mess around with your machine and stored data.