In this guide about what happens when you close a DM on Discord we will walk you through the steps on how to send a DM to someone, and also what actually happens when you send a DM. If you want to learn more about Discord, this is your chance.
Is it difficult for you to access your Direct messages on Discord? You can close DMs to remove them from recent messages if necessary. We'll walk you through the essentials in the following fast tutorial.
Your friends and other server members can send you private messages in Discord. You may use this functionality to connect with others without using a channel on a shared server.
Once a discussion has started, Discord will include it in your recent messages. If you're getting many messages from many individuals, you may have a hard time finding your most crucial ones.
Closed conversations in Discord are hidden and removed from the list of your recent messages. Here is a step-by-step tutorial to help you get started.
Discord: What is a DM?
Direct Messages (or DMs) on Discord refer to one-on-one chats between you and another user. You can send them to anyone, even if they aren't on the same server as you. No one can read your messages. You can send Discord DMs via PC, iOS, Mac, or Android.
How can I send a Discord DM to someone?
Step#1: Go to the top-left corner of your screen and click the Discord icon.
Step#2: Go to the 'All' tab by clicking the 'Friends' button.
Step#3: Click on the avatar of a user you're interested in finding out more about.
Step#4: DM someone by typing the message you wish to send in the textbox and pressing the 'Enter' key
Can you Send DMs to People that are not on your Friendlist?
Your user privacy settings can determine whether or not you can send a private message to unknowns. To send a DM to a user, you must be on their 'friends' list, which means you can't do so if you are not on their DM list.
Discord's 'Privacy and Safety settings include this function, which aims to keep users safe and secure on the platform. Chatting without spam, trolls, or other irritating messages is now possible. You may be unable to communicate with someone who is not a buddy on Discord due to this.
To DM someone on Discord, you must be a friend of that person, and unless they've altered their settings, you can't do so.
How can One Close a Discord DM?
Are you a person that does not like DMs to show up in your Discord's recent messages? Good for you; you can close DMs on the platform. You'll be able to spend more time participating in conversations that matter to you this way.
Even if you're using Discord on your phone or PC, you can close the DMs. Go to the lessons provided below to learn how to accomplish this on Android and iOS.
On your PC: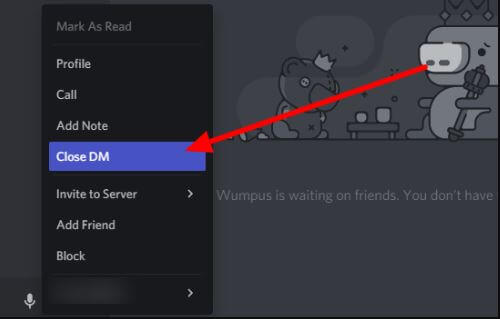 Step#1: Sign in to your Discord account using the online or desktop app.
Step#2: When you're on the Direct Messages area of the Home tab, right-click on the communication you wish to delete.
Step#3: Close DM is the third option when the menu is shown.
Closing a direct message does not remove the contents of the Chat. On Discord, this will erase the Chat from your Direct Messages. You may utilize the search bar to open the previously closed DM. Go to the user's profile and start a discussion with them there.
On the Mobile Discord App:
Step#1: Open the app and navigate to the Home tab by tapping the hamburger symbol in the upper left corner of the current channel.
Step#2: If you'd like to send a direct message, open it and hit the symbol in the chat header's upper right corner.
Step#3: Tap the three-dot symbol on the top right of the screen and select "Close DM" to exit the conversation.
You can close Discord DMs in this way. Your Direct messages list will no longer contain any previously closed conversations. However, if you use the search bar, you may always reopen a previously closed chat.
Do Discord Communications Expire?
No formal method exists for retrieving a communication that the sender has removed. As a result, when a user deletes a message on Discord's servers, the message is immediately deleted. On the other hand, Discord has a wide range of Bots that we'll discuss in a moment.
FAQs
Q1: When you delete a Discord account, what happens?
A. You cannot reactivate the Erased accounts, and Discord will permanently delete them. It would help if you did not temper with this feature. It is not the wiki's responsibility if any harm occurs. A user can remove their Discord account if they no longer want to utilize it.

Q2: Can Discord save chat logs?
A: You may use Discord History Tracker, a browser script, to record all the chats you've had on servers, groups, and privately. You can download all messages from a particular text channel to the first message that the script has loaded for offline reading.

Q3:How can I view past Discord messages?
A:You may access settings by clicking on the gear icon in the screen's bottom-left corner. You may find the "Advanced" part by clicking on "Appearance" and then searching for it. You can activate the "Developer Mode" by turning on the option next to it. Right-click on the user's name and pick "Copy ID" from the context menu.
Q4: Can Discord Server Owners View Deleted Messages?
A: Are Deleted Messages Visible to Discord Server Admins? You cannot view the deleted messages even if you are the administrator of a Discord server. You can see a message notification that says it is no longer available, but not its content, using an automated tool like Dyno Bot.
Conclusion
Keeping track of the conversations you've had recently in Discord is easier now that you've learned how to close DMs. Use the methods in this guide for easy access to interactions with friends and other users on the app. When you close a discord DM, this article explains exactly what happens. We sincerely hope that this post has answered some of your questions.