Due to iOS updates, many of us face an issue on Find My App that shows an error in which it shows no location found iPhone. Here, I will discuss the steps to help you eliminate this issue on your iPhone. The Find My application is full of features, so we will also uncover information on how you can find various devices on your iPhone.
The iPhone software Find My Friends uses the user's location to facilitate communication with other users, both old and new. This app facilitates communication between your iOS device and theirs, be it an iPad, Apple Watch, or iPhone.
However, there may be a few misconfigurations in the settings that you need to adjust if the iPhone reports no location. You need to do it, especially when using the Find my Friends app. Here is instruction on how you can solve it.
iPhone Shows No Location Found – What to do?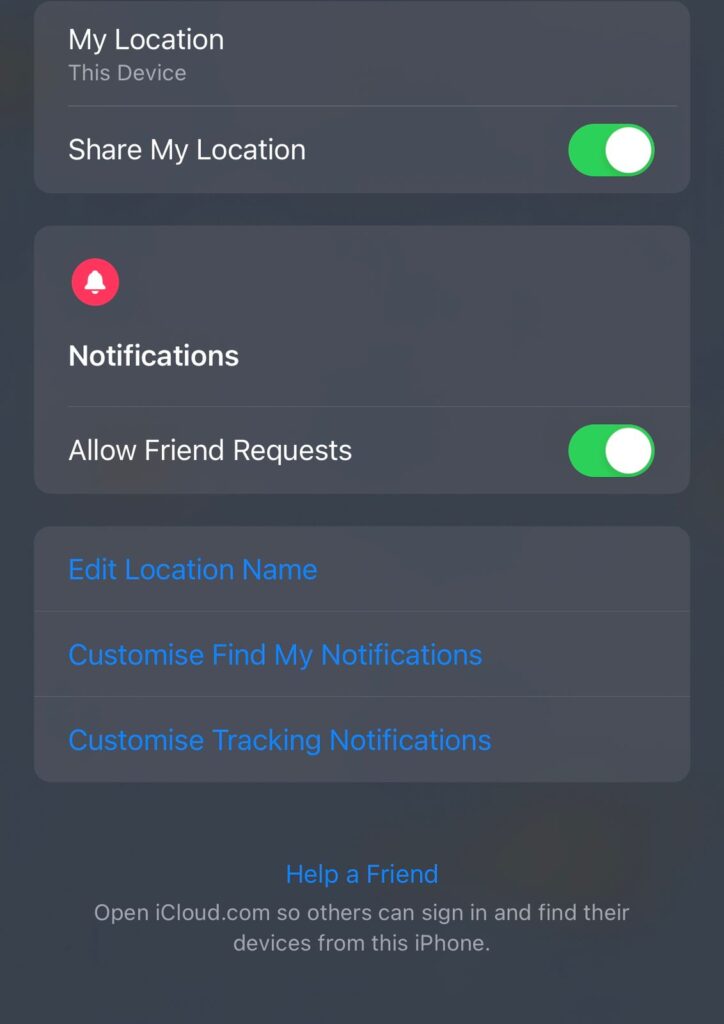 Let's discuss what to do if the Find My Friends app doesn't pinpoint your friend's location.
1. Verify Local Support for Find my Friends
Not all nations or areas support the "find my Friends" function. Consequently, if you can't find your friends, check to see if the Find my Friends option is accessible in your country.
2. Restart The Program And Log Back In
If the app can't find your location, try restarting it and signing in immediately. Try this out first to see if it solves the issue before trying anything more complicated.
3. Verify That Your Device Supports Location Services
To preserve battery life, we frequently disable Location services. The Find, my Friends service can still follow your movements thanks to the information collected from your phone. So, what gives with the message "no location found"? So, activate the global positioning system.
Here are the necessary measures:
To access your iPhone's Privacy settings:
Follow that by going to Settings > Privacy > Location Services and toggling it on.
If this doesn't fix it, try the next thing.
4. Verify the Time and Date Have Been Set Correctly
The time and date on your iPhone must be accurate.
Additionally, "Automatic Date & Time" is an option
We hope this resolves the issue where "No location detected on to discover my friends." is shown
Tests to see if the app typically responds again; if not, move on to the next option.
5. Turn On The "Share My Location" Function
If you did follow the instructions above and are still wondering, "Why does Find My Friends show no location found?" check sure the Share My Location setting is on. The problem may have arisen because the functionality was disabled.
Now, proceed as follows to activate the function:
You may access the iPhone's iCloud Settings from the device's main menu.
Then, go to Settings and see if the "Location Services" option is on. If not, allow it.
I think we've fixed the issue now.
What Exactly Does "No Location Found" Mean on iPhone?
If the Find My Friends app reports that it can't pinpoint your friend's position, the app's location services are likely down. The software relies on your mobile device's GPS and location services.
The no location detected on the iPhone issue might also appear if the date and time on your device are incorrect or if there is a technical problem.
Why Does 'Find My Friends' Say No Location Found on iPhone?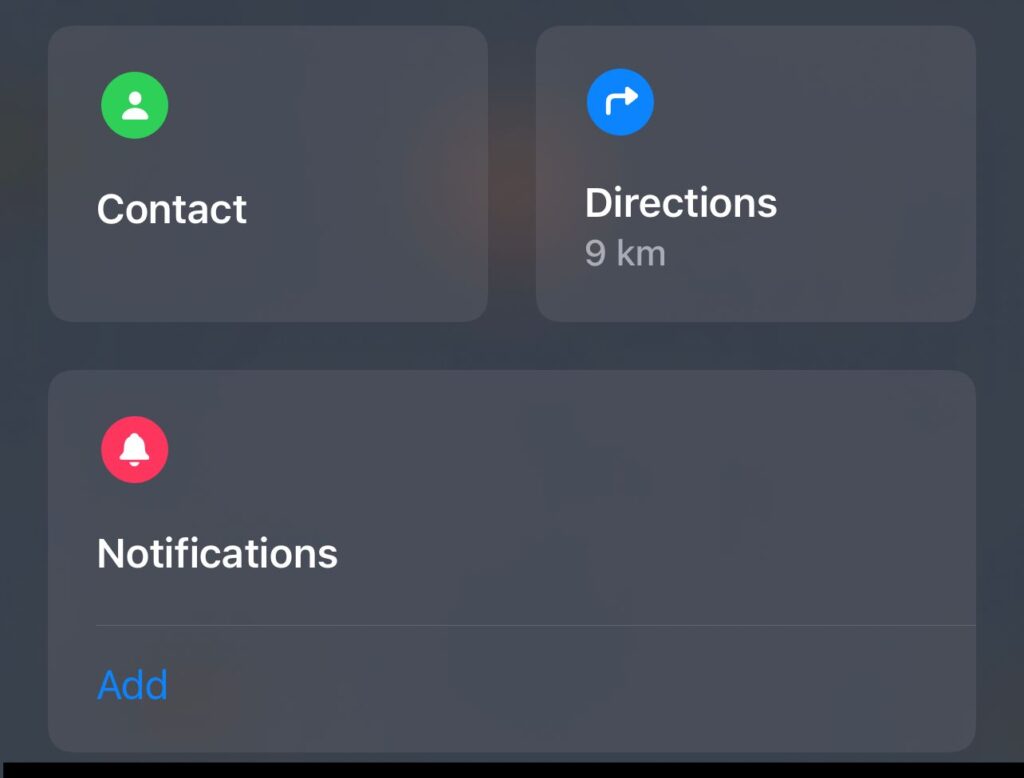 Here's why the Find My Friends app can't seem to pinpoint your pal. Check this out:
Your pal's phone is either not on or not linked to a reliable network.
Your pal's iPhone is from a territory where Apple doesn't support this function.
You or your buddy may have the wrong date/time.
Your friend may have enabled Protect my whereabouts in the Friends Locator.
Your device doesn't allow Location Services to work.
Your region doesn't support Find my Friends.
Your iPhone may have an issue.
What Exactly Is The Find My iPhone App?
If somehow you misplace your iPhone, iPad, Mac, or Apple Watch, you can use Find My iPhone to locate it. The Find My app can view a lost iPhone's last location on another device. Before iOS 7, Find My iPhone and Find My Friends were two distinct programs.
With the help of Find My iPhone, Apple's iOS devices are becoming less desirable targets for thieves.
When the Find My feature is activated on an iOS device, a Mac, or an Apple Watch, the device will be locked and require the original iCloud password to be opened.
How To Enable Find my Location on iPhone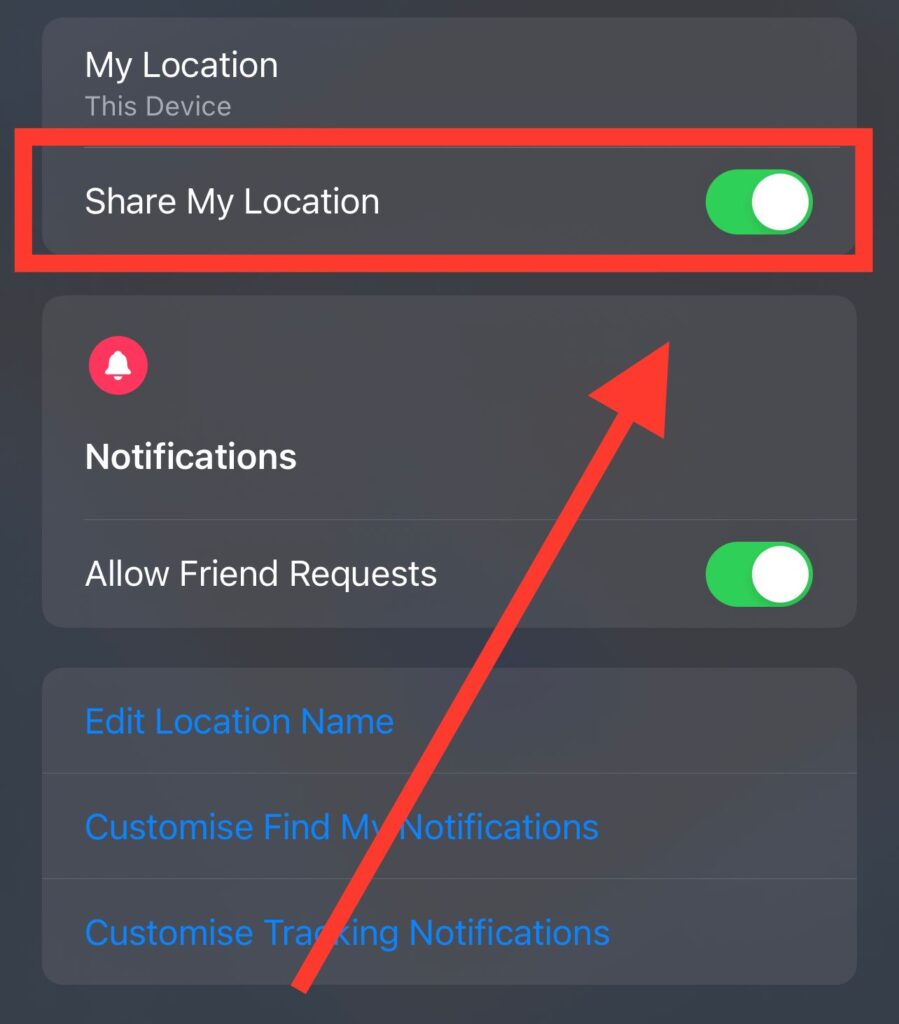 You must activate Find My iPhone on your iPhone in case you ever lose your phone.
It would help if you also started it on your Apple Watch, iPad, and computer. Launch the iPhone's Settings app and tap Your Account. Please visit Find My. Check the top menu to make sure it is on.
By activating "Share My Location," you may inform your loved ones of your location at any time. If you have Family Sharing turned on, you may utilize this to see where your spouse or kids are at any given time.
You'll want to turn on this function if you own a HomePod and wish to perform data-related queries using voice commands.
Tracking Down A Misplaced Apple Device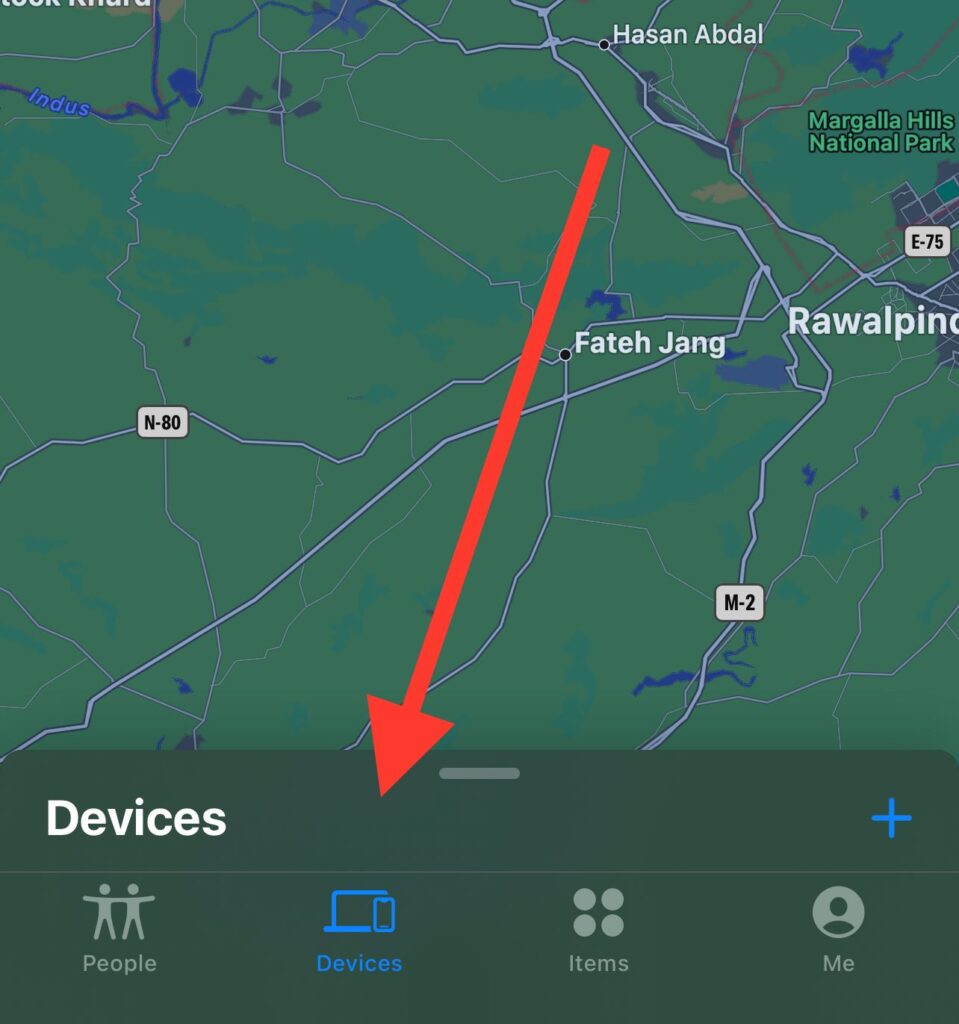 Find My may be accessed from any iOS device or on iCloud.com, making it easy to locate a missing iPhone.
To locate your missing device, launch Find My, choose the Devices option, and select it from the list. When you find your gadget on the list, you may play a sound, obtain directions, mark it as lost, or delete it.
Once you connect the device to the network again, it will begin receiving orders it missed while offline. If you need the data on the device in the future, don't delete it.
Methods for Turning Off Find My iPhone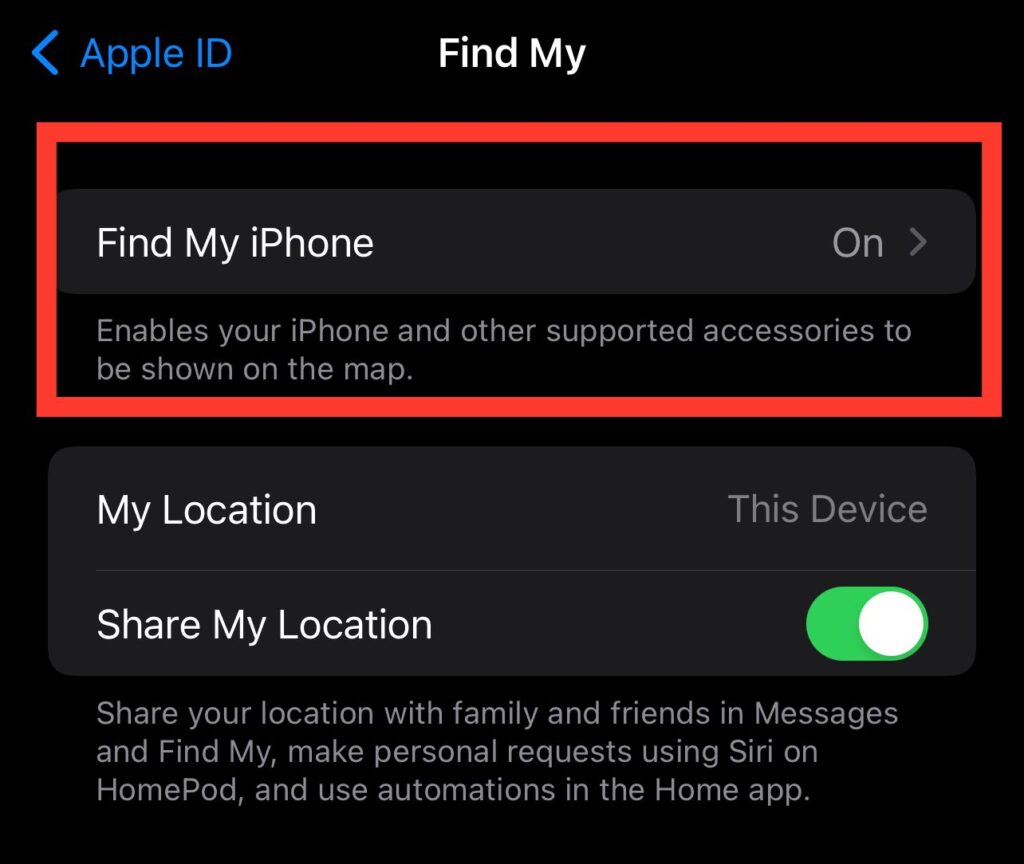 Before an Apple device may generate a return code. Turn off Find My iPhone by selecting Settings > Account > Find My > Turn Off from your device's main menu.
Your iCloud password will be required to disable this feature. To restate, the only times you should turn off the service are when you are selling the device and when Apple Support asks you to before sending the device in for repair.
How To Circumvent Apple's Lock
Your iPhone, iPad, Mac, or iPod touch will only be accessible once you enter the correct iCloud password or contact Apple for assistance. Apple will unlock the machine for you if you provide the original receipt that matches the device's serial number.
The goal of Apple's policy is to prevent stolen devices. If you have forgotten your account password, you can have it resent to you at the recovery email address.
Locate the Lost AirPods
When you turn on Find My on your iPhone, AirPods will also begin to function similarly. You can use the Find My app to track your misplaced AirPods, even if they aren't in the case, as long as you know where they are.
The Find My app can help you locate your AirPods even if they are not within range of your devices, have run out of battery, or are in the case. Your AirPods will make a sound when you locate them on the map.
If you ever drop one of your AirPods and can't find it, this function might come in handy. If you misplace your AirPods, Apple will show you their last known location. With your AirPods online, you may command them to play an audio file.
Locating Lost Devices
The Find My app has a few different menus you may reach by touching the tabs at the very bottom.
The people section is on the left, your devices, AirTags, or Find My-enabled Bluetooth objects are in the middle, and your personal information and preferences are accessible through the "Me" section on the right.
All your Apple devices are cataloged the same way they were in the original Find My iPhone app. It is possible to track down any of your iCloud-enabled devices with the Find My app.
You can see where all of your gadgets are at once by scrolling across a map and adjusting the magnification level.
You can obtain directions to a specific device on Apple Maps, play a sound to help you find it if it's nearby, or receive an alert when it's detected even if it's not online by tapping on it.
A misplaced device may be locked, Apple Pay can be disabled, and emergency contacts can be shown on the lock screen; as a last resort, there is a tool to delete all data.
Separation Alert
Apple has updated the Find My app in iOS 15 with new features called Separation Alerts, which are to notify you if you accidentally leave behind an Apple device, an associated AirTag, or a third-party device with Find My support.
You may use the Find My app's Separation Alerts function to prevent yourself from forgetting essential items like your keys or iPhone.
Finding Acquaintances
Use the Find My app to track down loved ones who have already disclosed their location to you. The "People" tab on the Find My app will show you where they are.
If you haven't already done so, the Find My app will show you a list of individuals who have revealed their location to you and give you a choice to do the same.
Sharing Location
The "Share My Position" button allows you to broadcast your current location to all your contacts, regardless of whether or not they have published their location to you.
By tapping a name in the list, you may access that person's Contacts card, from which you can initiate a new conversation or request driving directions to their location.
If it is a mutual location sharing contact, there will also be options to remove friends and disable your location sharing with the individual. It's up to you whether you always let others know where you are for an hour or the rest of the day.
Notifications
If you want to let a buddy know when you leave or arrive at a specific location, you may set up an alert for either of those events.
Me Tab
Your current location is on the "Me" page of the Find My app, along with toggles for sharing your site, accepting friend requests, customizing who receives location updates, and naming a specific area.
Identifying Devices That Do Not Have a Connection
With the release of iOS 13, Apple included the Find My Network feature, which uses Bluetooth and the proximity of neighboring Apple devices to help you locate a misplaced device.
If the gadget you've misplaced is online and near another device, it can connect to it through Bluetooth and provide its position to the other device.
This increases the likelihood of recovering a misplaced item and the ease with which you can keep tabs on all of your connected gadgets. Therefore tracking is only possible if it is enabled.
While your Apple device will be untraceable if you turn off Bluetooth and power, it will still be trackable if it is on, has Bluetooth, and is near another Apple device, regardless of whether or not it can connect to WiFi or LTE.
Bluetooth tracking works the same as tracking over a cellular or WiFi connection in the Find My app; the device will appear in the list of devices and other devices with a standard reference.
Offline Mode Activation/Deactivation
You may turn off Offline Finding at any time from the Settings menu. To enable offline finding, go to Settings > My > Find My > Find My iPhone.
Although the technical intricacies of how Apple's device-to-device location feature works are complex, the company has provided a high-level description of the process.
A built-in encryption scheme stops individuals from misusing the functionality for nefarious purposes like tracking you. To utilize Find My, Apple customers need to have two devices.
Apple devices in the area will detect your devices by their continual emission of a public key that will encrypt your location data and upload it.
You need a second Apple device with your Apple ID signed in and two-factor authentication enabled to decode the location signal. Nobody, not even Apple, can intercept the encrypted location signal transmitted from a misplaced iPhone and use it to track you down.
If you forgot your iPhone on a plane when it was in Airplane Mode, you might still be able to locate it. A flight attendant or airport worker carrying an iPhone may potentially find it in such a setting.
By picking up your public key through Bluetooth, the flight attendant's own iPhone might connect to your misplaced device.
The flight attendant's iPhone would then upload the encrypted position of your device and a hash of your public key to Apple's servers, where one of your own devices would get the encrypted information and decode it to enable tracking of the offline device.
Privacy of Find My iPhone
Even Apple can't utilize Bluetooth to track your devices since the entire Find My system is encrypted. Only you can find your missing gadgets.
The Effect on A Device
Apple claims that the Find My app's background Bluetooth location monitoring capability consumes meager amounts of data and rides along with the device's regular network traffic. Hence, it does not affect the device's battery life, data use, or Privacy.
Find Disconnected Electronics
After upgrading to iOS 15, the Find My network can locate even powered-down devices. Even if a device's battery is low or a thief intentionally switched it off.
Apple's Find My Network function, introduced with iOS 13, makes it possible to locate an iPhone, iPad, or Mac nearby using only the devices' proximity to one another rather than a WiFi or cellular network.
Apple hasn't explained the ins and outs of this function, but it appears to use the U1 chip to keep track even when the device is turned off or out of juice.
Using near field communication (NFC), Apple's Car Keys function works for around five hours after an iPhone's battery has died. If your iPhone breaks, you may still use this feature to unlock your automobile.
You'll need to turn on "Find My Network" for this to function.
This feature is on by default, but you can verify this by heading to your profile, hitting the Find My button, and then choosing to Find My iPhone.
Removed Traceability Measures
In iOS 15, even if someone steals your iPhone and subsequently deletes everything on it, it will still be visible in the Find My app and may be tracked. Activation Lock stops strangers from accessing your iPhone without your Apple ID and password.
Previously, wiping an iPhone caused it to disappear from the Find My app, but this is no longer the case.
With the ability to monitor an off device, the Find My app becomes an even more effective anti-theft tool.
The Hello screen on a freshly wiped iPhone makes it evident that the phone is secured, can be located through Find My, and is someone else's property, preventing the device from being fraudulently sold under a pretense.
Find My iPhone App: How to Reload Current Locations
The Find My app, available in iOS 13 and the iPad's OS X, combines the functionality of the deprecated Find My Friends and Find My iPhone applications into a single, easier-to-use interface.
Similar to Find My Friends, the Find My app allows you to see where your friends are at any given time. The software also lets you receive notifications anytime your buddy leaves or arrives at a location, provided they permit you to do so.
The former Find My applications allowed you to manually update the location information of a person or device by swiping down from the top of the screen.
With a strong connection and the latest version of the Find My app, the location pins in the People and Devices sections of the map automatically refresh every minute or so.
You can force a refresh immediately if you suspect your connection is flaky or if you can't wait for the next scheduled update. To zero in on the precise location of a particular person or piece of equipment, you need only touch on their name to access their card.
If the last seen time doesn't update when you access the location card, it might be because of a weak signal at either the transmitter or the receiver.
Attempt the process again from a place with better mobile phone reception. Swiping up will close the app, and reopening it will renew the connection on all your devices.
Turning Off Find My Device Location Sharing
Apple's Find My Friends and Find My iPhone applications have been merged into a single app named "Find My" in iOS 13 and iPadOS. This app serves as a catch-all interface for locating friends and devices.
Find My functions in the same way as the apps it supplants. It's similar to Find My Friends in that it lets you manage your location sharing settings, including turning off location services entirely on your iOS device.
Here's how to stop the Find My app from broadcasting your location. Remember that when others following you check their smartphones, they will see "Location Not Available" instead of your name in Find My.
This will give the impression that your device is offline, switched off, or airplane mode.
Open Find My in iOS.
If not already chosen, tap Me.
Toggle Share My Location off.
Turning location sharing on or off in Find My will also affect the setting in iCloud. To enable or disable location sharing, open the Settings app, hit the Apple ID banner at the top, tap Find My, and then tap the Share My Location toggle switch.
The toggle is accessible under Privacy> Location Services > Share My Location in the app's settings menu.
What to Do If You Forget Your AirTag or Apple Device
To help you remember when you left an AirTag or other Apple gadget behind, Apple included separation warnings in the Find My app in iOS 15. Third-party accessories enabled with Find My may also be used with separation alerts.
The new Find My separation notifications, dubbed "Notify When Left Behind," sound an alarm whenever an item you've brought with you on your travels or outings is left behind in an unrecognizable place.
To activate the function, you must first add your home address to your contact card in the Contacts app.
In this article, we'll walk you through setting up separation alerts in the most recent developer beta of iOS 15, which will be released to the general public the following month.
Open Find My on iPhone.
Navigate to the tab labeled "Devices or Items" and choose the item you want to configure notifications for.
Select the option to be notified by the app when you are left behind.
Activate the "Notify When Left Behind" option.
Tap New Location under "Notify Me, Except At" to specify a Trusted Location.
Navigate to the "Add Location" section of the map and either look for the location in the search bar or manually type the address into the text box.
If you have finished adding the locations you wish to exclude from the rule, choose Done.
If you happen to forget your AirTag or another Apple product in a public area in the future, you will receive an alert in plenty of time to go back and get it before continuing on your journey.
To get these notifications, you must always keep your iPhone on you; therefore, you should never leave your iPhone behind. This fall, Apple will release iOS 15, its newest mobile operating system.
How To Know If You Left Your AirPods Pro
To help you remember when you leave an AirTag or other Apple gadget behind, Apple updated the Find My app with separation warnings in iOS 15.
In a software upgrade released in October 2021, AirPods Pro included the ability to receive separation notifications.
This article delves deeper into their operation and configuration options.
The Find, My separation notifications in iOS 15, are aptly named "Notify When Left Behind," and they notify you each time you become separated from an item you've brought along on an outing. In the same vein as the AirPods Pro, for instance.
To activate the function, you must first add your home address to your contact card in the Contacts app. First, make sure your AirPods Pro is running the most recent firmware version before attempting to utilize separation alerts. Let me explain.
Update AirPods Pro Firmware
Get your associated iOS device (iPhone or iPad) close to the charging case and online. Any new software updates should be downloaded and installed as they become available.
If you want to use AirPods, your device must have firmware version 4A400 or later.
You must first link your AirPods or AirPods Pro to an iOS device.
Launch the system preferences utility.
Click the "General" button.
Method: Click the "About" button.
Don't forget to use your AirPods.
Check the number in the "Firmware Version" column.
Setup Guide for AirPods Pro's Separation Warning
The following is a detailed guide on activating the separation alert feature in iOS 15 on AirPods Pro with the latest firmware installed.
Open Find My in iOS.
You may set up alerts for your AirPods Pro by following these steps: 2. Navigate to the Devices menu and press the AirPods Pro you wish to configure.
Select the option to be notified by the app when you are left behind.
Start by activating the "Notify When Left Behind" option.
Choose "Notify Me, Except At," then press "New Location" to add a Trusted Location where you do not wish to receive notifications.
Navigate to the "Add Location" section of the map and either look for the location in the search bar or manually type the address into the text box.
Choose Done if you have finished adding the locations you wish to exclude from the rule.
When you leave your AirPods Pro behind in a public location in the future, you'll get a notification so you can go back and get them before you continue on your journey.
To get these notifications, you must always keep your iPhone on you; therefore, you should never leave your iPhone behind.
How to SetUp "Find My" on your Mac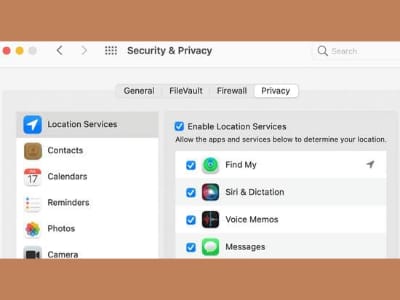 The 'Find My iPhone' service is now called 'Find My,' and you can use it to locate any Apple product, including your Macbook.
Apple's "Find My" service does more than help you find your misplaced, stolen, or lost MacBook; it also allows you to lock and erase all of its data remotely. In this way, no one will be able to unauthorized use of your private information.
So, let us discuss the steps of setting up "Find My" on a Mac:
Step #1: Click the Apple logo in the top menu bar and pick System Preferences from the drop-down menu that appears.
Step #2: On the System Preferences window, select iCloud.
Step #3: Enter your Apple ID login when prompted to access iCloud.
Step #4: You will need to configure two-factor authentication on the next screen. Let's select Not Now and go to the following screen.
Step #5: Select the Do Not Upgrade option on the next screen, as we are not yet setting up two-factor authentication.
Step #6: After entering your iCloud Account, click on Use Find My Mac and Next.
Step #7: You will notice a pop-up prompting you to "Allow Find My" service access to this Mac's Location. Click the Permit button.
Step #8: You may need to enter your Admin Username and Password via a pop-up.
Step #9: Next, go to the bottom of the screen and confirm that the Find My Mac option is on.
Step #10: Currently, you may close the iCloud window. However, avoid clicking the Sign-out, as doing so will stop the Find My Mac feature.
Using Find My Mac Service, How to Track your Lost Mac?
If you lose or misplace your MacBook, you may follow its whereabouts using the 'Find My' service by logging into your iCloud account from your iPhone, Windows computer, or another Mac.
Step #1: Visit icloud.com on your iPhone, Android phone, PC, or other Mac.
Step #2: Sign in to iCloud with the login associated with the misplaced, stolen, or lost Mac.
Step #3: Once you have logged into your iCloud account, select the Find iPhone option.
Step #4: Enter your Apple ID Password when prompted to sign in to the Find iPhone Service.
Step #5: On the following page, pick your device by clicking on the All Devices option.
Step #6: If the Find My Mac service reports that it cannot locate your Mac, you can choose to Notify me when found on the subsequent page. It might occur if your MacBook is out of range or turned off. The email address linked with your Apple ID will receive a notification whenever your MacBook is on.
Step #7: If your MacBook is online, Apple's 'Find My' service will display your MacBook's location on a map and give the following options:
Erase Mac
Play Sound
Lock
Steps to Finding an Apple Watch
Apple offers free software for iOS users to find misplaced Apple devices. Find My iPhone is compatible with all iOS devices. You may download it from the App Store for free if the app does not load on your mobile device.
Step #1: Tap Devices in the Find My iPhone application.
Step #2: Select your Apple Watch from the list of iOS devices.
Step #3: The map will now display your Apple Watch's position. Select Play Sound to make your Apple Watch produce a sound; it should now be simple to identify if it is close.
Steps to Finding an Apple Watch using iCloud
You can find your misplaced Apple Watch from any internet-connected computer if you do not have access to another Apple device.
Step #1: Sign in to iCloud.com using your Apple ID credentials.
Step #2: In the icon grid, tap Find iPhone.
Step #3: Select All Devices at the top of the screen.
Step #4: Choose your Apple Watch from the list.
Step #5: The map will now display your Apple Watch's position. Click Play Sound in the upper-right corner of the screen.
Conclusion
Using Find My Friends to track down one another's whereabouts is a somewhat secure activity.
Protecting your personal information on the Internet starts with choosing a solid password. But if you don't want someone to keep tracking your whereabouts, you may add or delete them from your list.
On the other hand, phony location applications can be helpful in a pinch. In other words, you shouldn't worry about failing if you try. Here we come to an end to our article. We tried to explain everything related to the location services on iPhone.
You may face many problems with the Find My iPhone App. However, there's also room for learning the functionality of an app. In our article, you may find ways to help you use the Find My iPhone App at its fullest. That's It from our side.
Stay tuned for more informative articles.