Apple introduced Focus in iOS 15, and they are aiming to provide next-level Do Not Disturb features. The software developers took disturbance prevention to another level and instated the Focus feature in the latest iOS version. The Internet has revolutionized the entire world, but it came at a cost of mental stress, and you can minimize it with the assistance of the Focus feature.
What is Focus Status Feature on iOS 15?
I have explained the feature purpose below, so make sure to refer to it, if you are not able to follow me. Focus Status informs the users that you have silenced notifications, and it will only inform those who have texted you on Messages, iMessage, or other apps.
The name "Focus" is generic, and it is inspired by the community. Apple wants you to focus on what's important and eliminate distracting elements from the smartphone. An average user receives 100+ notifications in 24 hours, and it is an exhausting task for a business person or corporate employee to check out. Nobody wants to miss that one message or email from an important contact, and in that vein, we end up reading all notifications every day.
iOS 15 integrated with Focus feature and you can eliminate flustering notifications, apps, and contacts from the device. Anyone can benefit from blocking certain parts of the smartphone and focusing on the task beforehand. Let me guide you to create, delete, and manage Focus features in iOS 15.
How to enable DND Focus Status on iPhone and iPad?
Focus Status is an integral part of the Do Not Disturb feature. I will show you how to turn on the Focus Status in iPhone running iOS 15.
Tap the Settings > Focus > Do Not Disturb.
Tap "Do Not Disturb" to enable it.
You have successfully enabled the "Do Not Disturb" feature in the iPhone.
Tap the Focus Status > Share Focus Status to enable it.
Focus Status is enabled in Do Not Disturb.
Recipients who texted you will be reminded that you have enabled Do Not Disturbed mode.
How to enable and set up Focus mode in iOS 15?
The focus feature seems complicated for a new user, but I have simplified it for you. I have shown you how to set up Focus in iOS 15 device and enable Focus Status in it. This is the only setup tutorial you need to learn and master the Focus controls.
Tap the "Settings" app.
Swipe down and tap "Focus" from the settings.
Tap + icon located at the top right corner.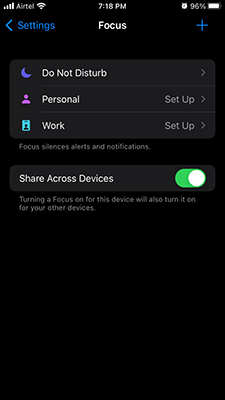 Choose one category. and I selected "Gaming".
Allow people to contact you while you are gaming or whatever category you selected in the Focus.
I added one contact, then tap "Allow" to continue.
Choose one app that is allowed to disturb you when you have enabled the Focus feature.
I selected the Health app, then tap "Allow" to continue.
You can either select "Turn Gaming on Automatically" or choose "Skip", which I did.
Click "Focus Status" to view more.
Tap "Share Focus Status" to enable it.
Focus Status is enabled for Gaming.
Now, the iOS device will inform the texted users that you have silenced notifications.
Focus Feature in Control Centre
Did you know Focus is optimized in Control Centre?
Yes, you can enable/disable and configure a few Focus functions in Control Centre, and I would love to show them to you. A streamer or someone who is studying can benefit from it and eliminate distractions.
View Control Centre.
Tap on the "Focus" icon located in the Control Centre.
Gaming option is showing up on the screen.
Tap to enable it.
Tap the three-dot setting to reveal the options that I have shown in the snapshot.
Choose when Focus "Gaming" should expire automatically.
I selected "For 1 hour", so your forgetfulness wouldn't bother you later on.
Users can select other options such as "Until tomorrow morning" or "Until I leave this location".
Enable Location Services in the iOS device, or else it won't work, and you are allowing iPhone to track you via GPS technology.
You have enabled Focus without opening Settings, and that is why I have shown you how to set it up earlier. Control Centre's Focus shortcut is optimized for basic functionality, and you don't have advanced options in it. Anyways you can edit Focus points in the device and modify the settings.
How to delete Focus from the iOS device?
You will find 100's of tutorials out there related to Focus Status on iOS 15, but only a few of them show you the deletion process. I always go through the deletion process whenever I look for a tutorial online, so I don't regret it later.
Tap the "Settings" app.
Swipe down and tap "Focus" from the settings.
Choose Focus that you want to delete, and I selected "Fitness" for demonstration purposes.
Disable Focus by tapping on the button.
Fitness Focus is disabled and swipe down.
Tap "Delete Focus" to take the first step.
Confirm deletion and tap the "Delete Focus" option.
Focus is removed permanently in the iOS device. Users can configure a new Focus later on and never have to worry about deleted points.
How does the Focus feature work?
Turn on Focus Status to inform the texted users that you have silenced notifications in the iPhone.
By the way, you can share the Focus across Mac, iPhone, iPad, Watch, etc.
Go to Settings and choose Focus.
Tap on "Share Across Device" to enable it.
That's what senders who text you via SMS, iMessage, or third-party apps will see. It's an innovative way to inform the sender politely that you are going to be notified about the message.
However, I don't know how well it works with third-party apps such as Messenger, WhatsApp, Snapchat, and other platforms. Of course, I would love it, if the third-party communication apps read the "Focus Status" on the iOS device.
Bottom Line
I have shown you how to set up Focus Status in iOS 15 devices, and this is the only guide you need to learn about Focus. Your iPhone or iPad should be updated to the latest iOS 15, so you don't miss out on any newer features. The focus icon shows up on the Lock Screen, so you don't have to worry about forgetting about the active service.